Does falling in love have an age limit? SilverSingles begs to differ! As the adage goes, love is sweeter the second time.
It's not uncommon to hear stories of people getting over their scorned love by dedicating their whole life to family and career. These people are successful, charismatic even, but at a point in their highs, they long for something they gave up on: love.
SilverSingles warmly welcomes people who are opening up to a second chance at love. Catering to singles who are aged 50 and up, SilverSingles slowly but surely became the top of mind when it comes to senior dating sites.
Member Profile
Users are mostly from the United States, Canada, and the United Kingdom. SilverSingles is also popular in Russia and Ukraine, and even in Asian countries of Vietnam and Turkey.
In terms of relationship history, most are empty-nesters who were either divorced or widowed. You can say they've already been through love in its most casual and rocky; thus, the members of SilverSingles are no longer up for short-term relationships. They want something genuine and committed—a partner for life.
This matchmaking service by US-based company, Sparks Networks, doesn't only match users based on their gender preference and location. To ensure that the match is highly successful, SilverSingles takes personality and compatibility into consideration.
Most members are in their early 50s and up, but a smattering of users in their late 30s and 40s are also present. Women slightly outnumber the men, but given that the service enjoys a constant increase in membership, there seems to be someone for everyone.
SilverSingles claims it successfully matched an average of 2000 couples every month. With an impressive success rate and good member activity, does new love await you at SilverSingles?
We donned our thinking caps and spent the time to thoroughly check every cost and feature that this senior dating site offers. Read on to find out if SilverSingles is the service you have to try.
Sign Up Process
---
Sign up for free
Facebook registration is not offered
Registration takes up about 20-30 minutes
Members are required to complete a detailed personality test
Personality test results are given for free
---
Since the target demographic of SilverSingles are seniors, the registration process is straightforward to accommodate those who are not as tech-savvy.
An option to sign up via Facebook is not offered. Instead, aspiring members will need to complete a form that will need their orientation and preference, their preferred email address, and the nominated password.
The Personality Test
Once completed, SilverSingles will redirect you to answer a personality test. The detailed test comprises of more than 100 questions. Licensed psychologists developed this test. The results of this test will help the service analyze compatibility. It's safe to say that this personality test is what makes a SilverSingles match viable.
Since it's quite lengthy, one can spend 20 to 30 minutes answering the test. If something urgent comes up mid-test, you can save your progress and finish it at a more convenient time.
The test consists of personal questions about your traits, character, perspective, and habits. In it, you'll rate how well the statement applies to you. As mentioned, SilverSingles uses your results to come up with suggestions; be honest in assessing yourself.
Once you are done answering, you will upload your profile photo and to answer seven more questions. These questions require an essay-type answer, and it will be displayed on your profile.
Profile
---
Profiles are detailed
Members can edit their profile details for later
Viewing the profile photo is not free
Members are required to upgrade to browse galleries
---
Since the registration process asked quite a lot of information right off the bat, it's quite expected that the profiles at SilverSingles will be detailed.
Paying and non-paying members can browse profiles, but only the former can view profile photos and other media uploaded to the Gallery section.
What's in a profile?
Apart from the photos, a SilverSingles profile has various sections and separate tabs. The member's primary photo, name, age, location, and occupation are displayed at the upper part of the profile. Your match score, how well you match on a scale of 1-100, is also included here.
Right below will be fast facts about the member. This includes their physique, vices, if any, language, and educational attainment. Following it are the answers to the seven questions you were asked upon registration.
The answer to your personality test and more details on your interests are divvied up into separate tabs aptly named Personality and Interests.
Reading a member's profile, you can see the sincerity behind every word and assessment. Most of the SilverSingles profiles were lovingly completed; you'll feel like you met the person already by just reading what they have to share.
Contacting Functions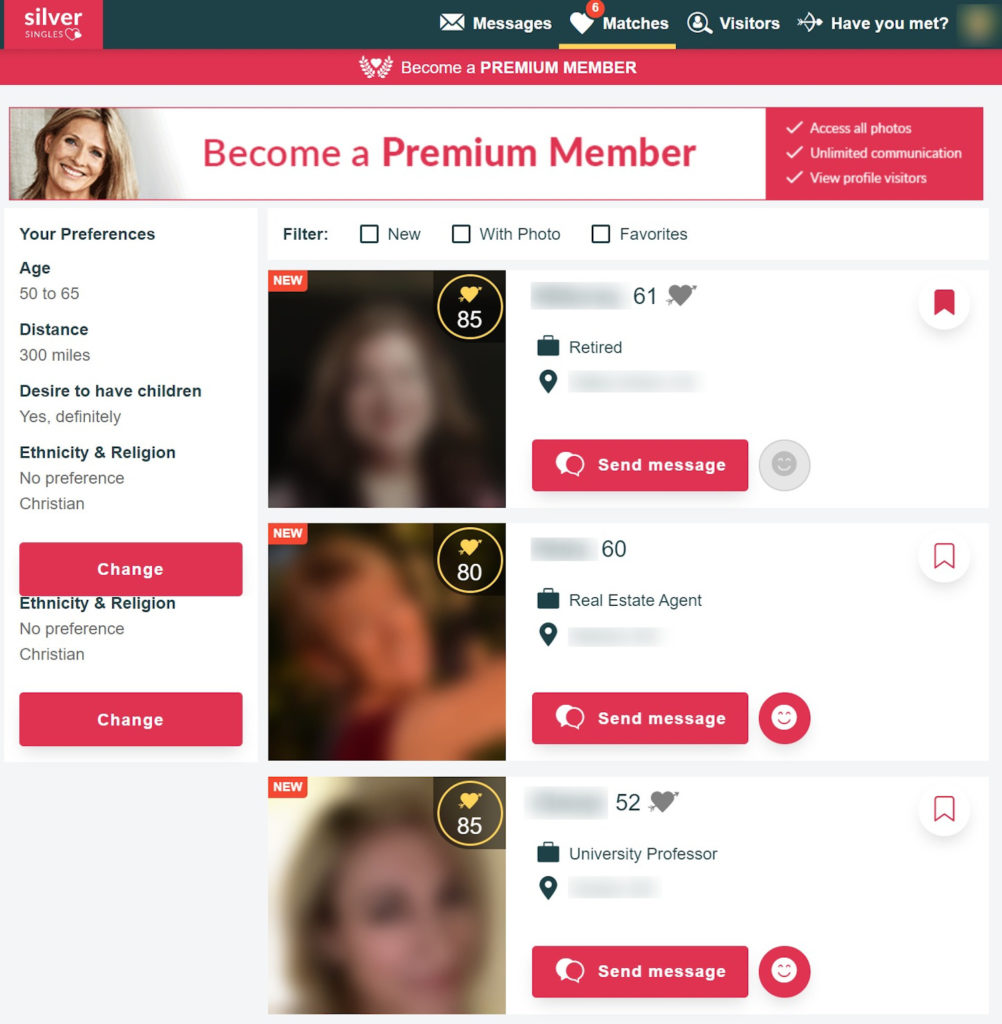 ---
All the members can send smiles to one another
Become a premium member to access the chat function
Add interesting matches to your Favorites List
Receive Match Recommendations every day
---
The communication functions available at SilverSingles may not be something new, but it gets the work done. Members can flirt, interact, and form a deep and meaningful connection with these features:
Favorites List
As the name suggests, the Favorites List includes the profiles of all the members you find interesting. It works sort of like a directory making it easy for you to back and interact with a particular member.
Sending Smiles
Even in real-life interactions, a smile is a positive greeting. At SilverSingles, sending a smile alerts a user that you got your eyes on them. They may send back a smile or initiate a chat: either way, it gets the ball rolling
Match Recommendation
SilverSingles matches you with a partner by analyzing how compatible your personality test results are. Every day, you get at least eight new match recommendations from the matchmaking site.
Have You Met?
Review all the matches you previously received via the "Have You Met?" feature. Borrowing the idea from the infamous swiping function, press the heart if you like what you're seeing, or the "X" if you'd like to keep searching.
Wildcard Matches
Get acquainted with 20 more eligible singles with the Wildcard Matches. This feature is only available for paying members
Instant Chat Messaging
No matter how accurate the analysis may be, having a conversation is the only way to determine if you share an undeniable chemistry. This can be done with SilverSingles' instant chat messaging function. However, only paying members are allowed to initiate, read, and reply to messages.
If you're serious about finding the person you're going to spend the rest of your life with, it may be beneficial if you upgrade your SilverSingles account to premium.
Costs
The premium offerings at SilverSingles are monthly plans covering 1, 3, and 6 months. These plans are slightly more expensive than other senior dating sites, but subscribing to one gives you more leeway and chances to meet the one.
To purchase a premium plan, you may pay via credit card, direct debit, or PayPal. The members who signed up using the mobile app can also buy via the App Store or Google Play.
For the member's convenience, SilverSingles automatically renews a subscription on the day of its expiry. The duration of your renewed subscription will match what you bought initially. Take note, if you don't have plans to resubscribe, you'll have to cancel your membership before it expires.
You can cancel your premium membership via desktop or in-app. For the former, the cancelation link will be located under the "Membership" section of "My Account."
For members using the app, make sure you also cancel the automatic renewal function care of Google Play or the App Store. If you only canceled within SilverSingles, the preexisting settings on your application store hold; your subscription will automatically renew
App
Seniors are getting a little techy at SilverSingles! Acknowledging that a sizable chunk of its user base owns smartphones, the dating site launched free-to-download mobile apps for Android and iOS users.
Initially, the app was a perk that comes with a premium subscription. However, with mobile dating enjoying a surge in popularity, new SilverSingles members can start their dating game via the app.
The mobile counterpart also sports a simple design. All the functions are also available in the mobile app, so the transition from big to smaller screen won't pose much of a problem.
Overall, the SilverSingles mobile app is easy to navigate and very reliable, even for members who are not as tech-savvy
Experience Reports
There's a lot of dating sites for seniors like me, but this caught my eye. Honestly, the personality questions felt like I was being cross-examined, but I was pleased when I saw the results. The women are amazing, but I can tell that SilverSingles is trying to match me with the one. Wish me luck!

Rob, Cardiologist, 65
I accepted my life as an old maid, but my niece wouldn't hear of it. She signed me up and told me to let my hair down. Since then, I bonded with gentlemen who share my passion for bonsai plants, or support my quest to find fantastic cheesecake shops. SilverSingles made me feel so young again.

Daisy, Teacher, 54
Conclusion
Catering to a demographic that's otherwise left out in terms of technology, SilverSingles encourages single seniors to find love a second time around. SilverSingles is not complicated; compatible personality test results, direct-to-the-point functions, and real singles pursuing the same goal are the factors that make the senior dating site a hit. So, why aren't you saying yes to love? All you have to do is click on our affiliate link and sign-up at SilverSingles now!
Frequently Asked Questions
Facts
Is SilverSingles a legitimate dating site?
Yes, SilverSingles is a legit dating site for singles in their senior years.
Who owns Silver Singles?
Spark Networks, the company behind Elite Singles, owns and operates SilverSingles.
How do I contact the support team of SilverSingles?
You may contact the SilverSingles Support Team through any of the following:
Address: 3300 N. Ashton Blvd, Suite 240 Lehi, UT 84043
Telephone: 1(844)877-7713
Are there more men or women at SilverSingles?
As of writing, women outnumber the men by a slight margin at SilverSingles. Still, the dating site enjoys a constant increase in new members, so there's still enough singles for everyone
Payment
Is SilverSingles free?
Registration and profile creation is free, but most of the communication functions at SilverSingles will require that a member upgrades to any of the monthly plans first.
How do I cancel my SilverSingles membership?
To cancel your SilverSingles account, head to the "My Account" section, and click "Membership." Select the cancelation link and tap your reason for canceling. Enter your password and hit "Confirm" to successfully cancel membership. If you availed a subscription through the mobile app, make sure to cancel your membership via Google Play or the App Store.
How much does it cost to join SilverSingles?
SilverSingles currently offers three monthly subscription plans covering 1, 3, and 6 months. A one month plan is US$54.95 and is payable via credit card, direct debit, or PayPal.
Usability
How do you delete matches from SilverSingles?
The deletion of a match is equivalent to blocking a member at SilverSingles. Once you delete a match, you won't be able to see or contact them again. If you're sure, visit the profile of the said match. For desktop users, click "Delete Match," confirm, and provide a reason for the deletion. For app users, tap the 3-dot menu on their profile, select "Delete Match," and confirm.
Does SilverSingles match gays?
SilverSingles also cater to seniors looking for same-sex relationships; if you specified your orientation and preference upon registration, the site would match you accordingly.
How do I change my profile photo at SilverSingles?
On the website, click the icon located in the top left-hand corner of your photo. For those using the app, open the picture and select "Set as profile." Note that you can only set the photo as profile if it adheres to the guidelines set by SilverSingles.
Why is SilverSingles not uploading my new profile photo?
Your chosen photo may not comply with the following guidelines:
Your photo should only feature you
The file should be no larger than 10MB
The file should be a photo, not a drawing
It should not have been uploaded already
The photo should not be blurred or pixelated
It should not be skewed
The photo should not be indecent, offensive, or inappropriate
Should not be commercial
The image should not contain your personal information (full name, address, or email address for example)
It should not include the face of unaccompanied minors
How do I change my name or age at SilverSingles?
You will need to contact the Customer Support of SilverSingles to be able to change these details.
Can SilverSingles members communicate with non paying members?
Unfortunately, non paying members cannot read or reply to your messages.
Security
How do I delete my SilverSingles account?
Deleting your SilverSingles account is final and irreversible. If you're sure, you'll have to cancel your subscription first. Once done, visit "My Account" and select "Delete my account." Click the deletion link and provide your reason for deleting your account. Click "Continue" and input your password before hitting "Confirm."
How do I report a concern at SilverSingles?
In the inbox, tap the 3-dot menu and click "Report Messages." Mark all the suspicious messages you'd like to report then click " Report Message."
For other concerns, get in touch with the Customer Support and prepare the following details for a swift investigation:
Name
Age
Location
Occupation
Reason for report