If hot, no-strings-attached sexual relationships are your thing, you have a chance to live your wildest dreams in AdultFriendFinder where you can find swinger groups, threesomes, and a variety of sexual partners.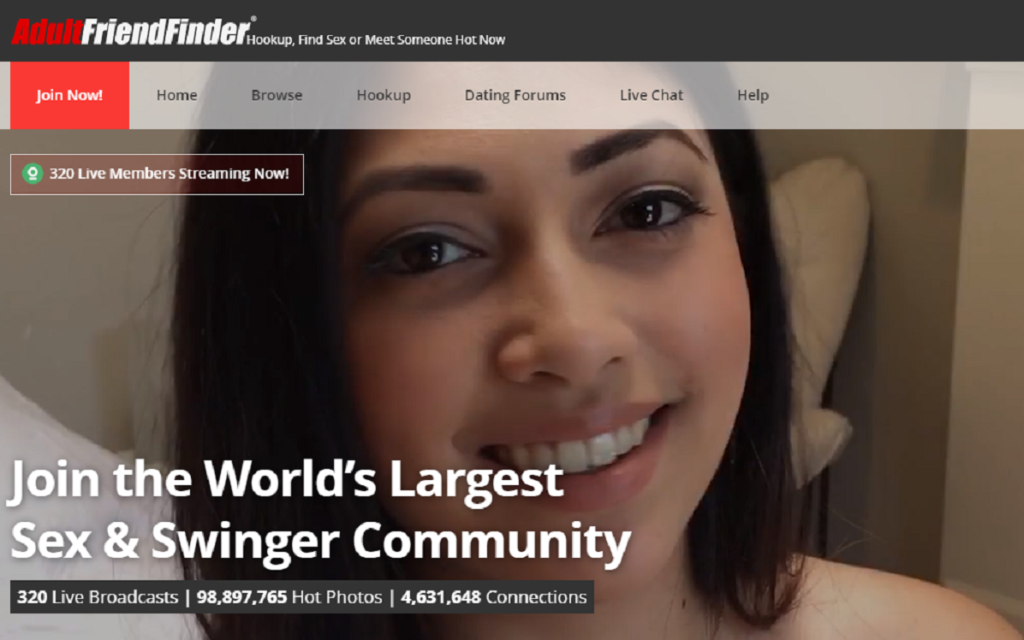 Not everyone who comes to a dating site is looking to tie the knot. More often, you will find people who are only after satisfying their sexual needs — and AdultFriendFinder is tailor-fit for this purpose.
While AdultFriendFinder also advertises for building regular relationships, its reputation gravitates more towards the non-commitment sexual hookups. It offers a variety of services to make every sexual kink you can think of; from one night stands to swinger parties.
AdultFriendFinder is one of the go-to sites of adult couples and individuals. Naturally, there is a significant number of adult men who are looking for women or couples who are down for some hookups.
Men make up the majority of the site membership at 80%—gays and bisexuals included, while women take up 20% of the site population. In terms of age, you will find most of the members belonging to the 25 to 34 age group who are down for some hookups.
It has memberships across the continents but a huge chunk of members hails from the United States. After the US, the country with the most number of members includes Canada, the United Kingdom, Australia, and Germany.
Sign Up Process
---
Registration only takes a few steps
Creating an account is free
Minimal information is required to sign up
You need to verify your email address after registration to use the site
Allows creating an account for couples, groups, and individuals
---
Joining AdultFriendFinder is fast, convenient, and free. You only need to tick a few boxes and choose among drop-downs the information that suits you. You can finish this process in a matter of minutes.
To get you started, the site will ask you relevant questions about your gender and sexual preference. You can either create an account as an individual or group and in turn gives flexible options on who you are interested in meeting. With this, you can say that AdultFriendFinder offers a wider match possibility.
Like its sister sites in the FriendFinder network, it will ask you to verify the email address you've used to make sure that it is really yours. But this will only take a few seconds of your time because of a convenient activate button that will be sent to you upon registration.
Profile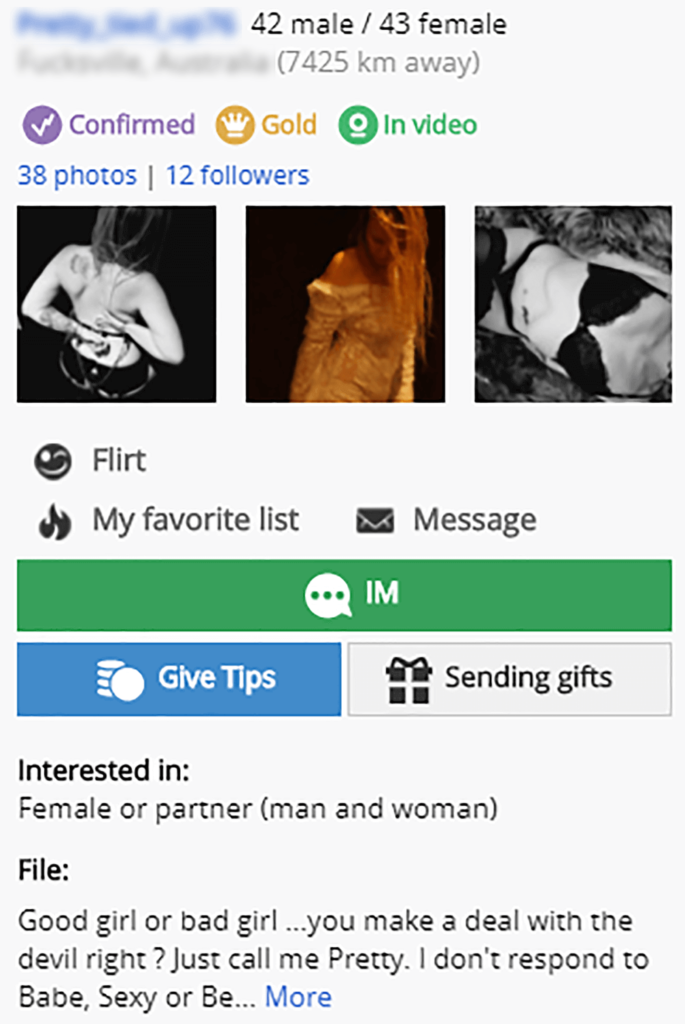 ---
Viewing profiles is a premium features
You can upload and view photos and videos for free
Shared profiles by couples and groups exist
You may change your profile information anytime
Profiles are filled with sexually-charged information
---
Good sexual hookup profiles are laden with sexually-active terms. This is the first thing you need to check to gauge how effective the site is in bringing you a like-minded partner–and AdultFriendFinder has these qualities.
AdultFriendFinder profiles will easily give you an overview of what a person or couple is looking for. This cuts back a significant amount of time knowing whether someone wants the same thing as you. Each person on the site has different kinks, sexual preferences, and fantasies that needed satisfaction, so the information has to directly point to the direction that is intended.
Overall, the profiles are leaking with sexual juices and appealing to the eyes with the many photos and videos being uploaded by horny members. The one thing that may block you from enjoying these qualities is the premium subscription required to access one's profile.
Contacting Functions
---
Lots of communication features
Liking another member's photo or video is free
Everyone can add in a comment to a photo or a video
You can send a virtual gift using points
Free members can buy points
---
You will never run out of options when it comes to the communication features of AdultFriendFinder.
There are multiple ways to interact with other users and although there are premium paid-only features, there is a healthy amount of free communication features that you can choose from.
For instance, you may add someone to your hotlist or send them flirts for free. There is a feature that will allow you to buy virtual gifts using your points that you can send to another member.
You can get points through the tipping system where another member gives you some of their points, or you can buy them in bundles. You can buy points even if your account is not yet upgraded to premium.
Overall, the communication features do not only give you the means to talk to other people, but it also has entertaining features to break the ice with your prospective mate. Here are some of the contacting functions available on the site:
Groups and Adult Chatrooms
You are in for a treat at AdultFriendFinder if you are after adult chat rooms. Browse through thousands of public rooms where everyone is free to express their sexual desires.
Live Member Webcams
Do you like to watch members broadcasting publicly on their webcams? Then this feature will work out for you. This feature allows you to watch members who are online and publicly broadcasting.
Tip
Ever saw content from a member that you like so much? You can send them a tip as appreciation! Sending tips is a good way to motivate people from posting and providing more content to the community.
Virtual Gifts
Be cute and send gifts to the person you want to pursue on AdultFriendFinder. You can choose gifts according to your budget.
Costs
The AdultFriendFinder subscription is classified into three membership plans according to the duration of time. You can choose to be billed monthly, quarterly, or yearly.
Aside from the regular Gold Plan subscription, you can avail of points on AdultFriendFinder to use as currency in buying virtual gifts and sending as tips to other members. You can get points for the following price:
3 USD for 200 points
6 USD for 500 points
10 USD for 1000 points
Your Gold Plan gets you unlimited access to all members. But, free members can't contact you. You may, however, choose to have that through the enhancement "Standard Plan" on top of your Gold Plan which costs:
24.95 USD for 1 month
35.85 USD for 3 months
107.40 USD for 12 months
App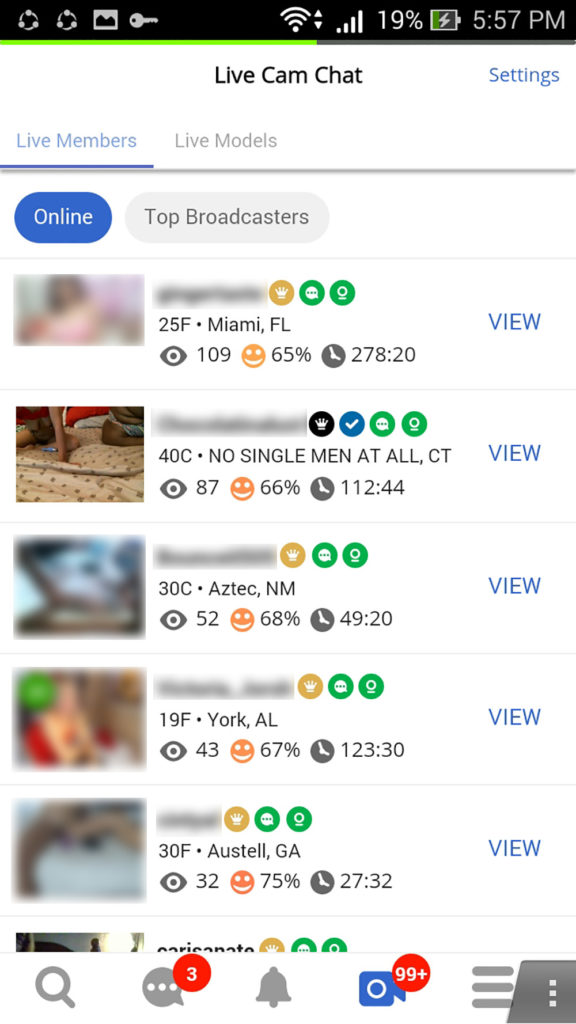 ---
Download the app for free
You may create an account using the app
The app is available for Android and iOS device users
A mobile version of the site is also available
Features are similar on the desktop and the app version
---
The AdultFriendFinder app is a bit different than most dating apps because it is also compacted with other sites under the FriendFinder network.
This means that the FriendFinder network has a single app that combines all the sites it manages called the All FriendFinder app.
You can access your account using the AdultFriendFinder login option.
There is also a way to solely access AdultFriendFinder, which is to download the AdultFriendFinder app instead of the All FriendFinder app.
Both apps are available for free on both Android and iOS devices.
Experience Reports
AdultFriendFinder helped me unlock a few things on my bucket list. It is effective for me so far. The people are real and you can actually talk to them and meet up. It did not disappoint in its promise.

Joshua, 25, Student
I didn't worry at all about using the site because my friends highly recommended AdultFriendFinder to me after a recent break up. The only thing I don't like is that messaging is premium.

Karla, 28, Nurse
Conclusion
AdultFriendFinder is a fairly good dating site if you are looking to find safe and sure like-minded sexual partners. Its strength lies in the combination of free and premium features that lets you try it out and have a feel first if it is a viable site. The healthy amount of premium roadblocks then doubles as a security layer that weeds out the trolls who are up to no good. Are you ready to live your sexual fantasies? Sign up to AdultFriendFinder now!
Frequently Asked Questions
Facts
Is AdultFriendFinder com legit?
Yes. AdultFriendFinder is an adult-oriented social networking site that has been around for years.
How can I contact AdultFriendFinder?
AdultFriendFinder customer service form can be accessed by going to their site homepage and clicking on "Contact Us."
How do I reach AdultFriendFinder by mail?
If you would like to contact AdultFriendFinder by postal mail:
Various, Inc.
910 E. Hamilton Ave., Sixth Floor,
Campbell, CA 95008
Ventnor Enterprise Limited
Suite 2, Second Floor
145 High Street, Colchester
Essex
CO1 1PG
What is the phone number of AdultFriendFinder?
You may reach them at 1-408-702-1033 (toll-free US & Canada – 888-575-8383).
What company owns AdultFriendFinder?
Palo Alto-based Various, Inc., which owns AdultFriendFinder and scores of other sites
Is AdultFriendFinder any good?
The high number of members on AdultFriendFinder makes it possible for every person to find a like-minded partner. It is also one of the oldest in its category so more or less, the site knows what it is doing.
Is AdultFriendFinder com a scam?
AdultFriendFinder is a legitimate adult social networking site company that is registered in the United States and operates across continents.
Cost
How much does AdultFriendFinder cost?
The AdultFriendFinder subscription is classified into three membership plans according to the duration of time. You can choose to be billed monthly, quarterly, or yearly.
How to cancel AdultFriendFinder auto-renewal?
From your member homepage, click on the My Account link from the top menu. Click the Billing History & Credit Card Info link in the Account section. At the top of the page, you will see product status. To turn off your auto-renew, click OFF under product status.
Is AdultFriendFinder really free?
AdultFriendFinder standard membership is always free, and although paid membership packages give you unlimited access, there are plenty of fun things to on AdultFriendFinder for free.
Usability
How does AdultFriendFinder work?
The site works by providing matches to people who have similar sexual preferences.
How to use AdultFriendFinder for free?
The site has a combination of free and paid features. If you are a new user, have a feel of the site by trying out its free services.
How to delete my AdultFriendFinder account?
Login to your AdultFriendFinder account and click on your username on the top right to get to your My Account page. Locate the Close Account button and click Please delete my account. Enter your password and then click Submit.
Can I change my AdultFriendFinder username?
Yes, it is possible to change your username. Just click on My Account and scroll to Change Username. Add a new username and click "Check Availability." Order page loads to check out 19.95 USD to change the username.
What are Virtual Gifts?
Virtual gifts are fun gifts you can send to other members using your points. Gifts appear in the message center.