Can a faith-centered relationship rise above the infamous casual arrangements? Only if you know where to look.
Start your search for a faithful lover at ChristianMingle.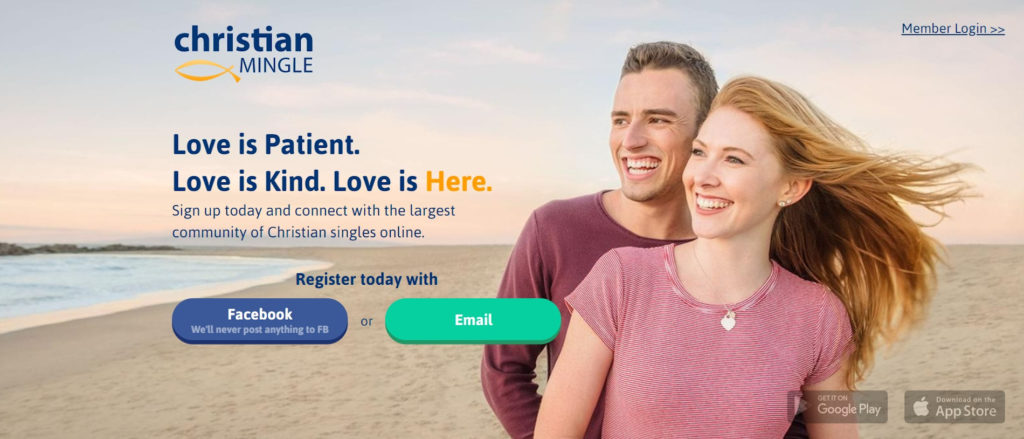 With the rise of dating apps, finding a person you can spend the lonely nights with becomes easy. So easy that there comes the point in your life when all you can say is: "Having loose contacts is good sometimes, but have you ever tried falling and staying in love?"
Maybe staying committed is possible when you center your relationship around a common ground—your Christian faith, for instance.
At ChristianMingle, singles are introduced to potential partners who share more or less the same faith. They also share the same objective: finding a match they can fall in love with and eventually marry.
USA-based company Spark Networks owns the Christian dating site. The company is no stranger to faith-based dating sites; joining ChristianMingle are dating sites JSwipe, JDate, LDSSingles, and Adventist Singles.
Who are the members?
ChristianMingle's claim-to-fame is that it boasts the largest population, with over 9 million registered users worldwide. More than a million are active monthly, and almost 300,000 new users join every month.
In terms of sex, there's an equal ratio of men to women; it is highly unlikely that you won't find even a single possible date through this Christian dating site.
Most of the users are in their late 20s to mid-40s, the age range many countries perceive as the marrying age. Although a more significant chunk of the population is searching for their potential spouse, there is also a smattering of recent singles looking to have a second shot at love.
Since Christianity is a major religious group, it is no surprise that ChristianMingle's popularity goes beyond the borders of the United States. Canada, Germany, the United Kingdom, Brazil, Venezuela, and the Philippines—countries that are notably known for their strong Christian following—also use the dating site. Surprisingly, there are also singles coming from countries with a relatively small Christian population. These nations include Sri Lanka, India, Turkey, and Morocco.
For the faithful soul that's tired of short-term dates, is ChristianMingle the answer? We took the time to thoroughly explore every cost and function of the biggest Christian dating site. Read on to find out if it's worth the signup.
Sign-up Process
Happily ever after is just one sign up away at ChristianMingle. You may opt to use your email or link in your email, but ultimately, registration at this Christian dating site is 100% free.
The entire process will take up to eight minutes of your time, tops. To start, input your preferred email address and nominated password, then click next.
You will then key in your real first and last name, followed by your orientation (a man or woman), your complete birth date, and your zip code. Since ChristianMingle suggests matches based on your location, take extra care to ensure your address is accurate.
After making sure you have all the details down pat, tick the box affirming you agree with the dating site's Terms of Service and Privacy Statement and hit "Next."
Right after, you are required to upload a photo or six, if you feel like it. Take note that the website has a team of dedicated moderators who reviews your account. Don't get suspended by following these photo guidelines:
Choose clear photos where everybody can see your face
Upload photos with dimensions of at least 375 x 375 px
Make sure your selected images are not copyrighted (pictures of celebrities, paintings, caricatures are not allowed)
No suggestive or offensive images
You're halfway there!
The next part of the registration process requires you to choose your username. You can use your first name, or create a pseudonym for your privacy.
You will also include details on your height, marital status (never married, divorced, or widowed), religion (Catholic and other Christian denominations included), church attendance, occupation, parental status, and education.
To top off your registration, ChristianMingle will ask you to provide your interests and hobbies, ideal type, the type of relationship you want, and a summary about yourself.
And voila! The moderators will take some time to review your photo and profile, so don't be surprised if yours looks empty. In the meantime, mingle and meet the nearby matches ChristianMingle scouted for you.
Profile
Viewing a profile for free is probably one of the best things about ChristianMingle. Especially considering that the profiles in this Christian website are detailed enough to help you create a vivid picture of what the person is like if you meet offline.
The profile includes mandatory information such as the person's marital and parental status. Knowing these nuances is helpful since ChristianMingle promotes the objective of dating with marriage in mind.
Some other required details are their religion (Catholic or other Christian denominations) and how often they attend church service.
The profile also displays their name (or screen name if they chose not to use their real ones), age, location, and free-for-viewing primary photo.
If the member diligently completed their profile, you may also read about their occupation, their hobbies and interests, current pet situation, and vices, if any. Unfortunately, these fields are not required, so it's possible to read a profile with lesser details.
However, no matter how limited a profile may be, take comfort in the fact that ChristianMingle employs a dedicated screening team. On top of the website's detailed profile testing process, this team screens profiles and photos to detect bogus or fraudulent accounts.
Some of the security steps the Christian dating site employs is the suspension of a fake account minutes before or after it was created and reverse searching photos to ensure the images you uploaded were authentic and not lifted from search engines.
The team even goes as far as comparing your submitted details with your IP address to ensure you meet and mingle real people.
Since users are seeking genuine relationships, it seems like the website is headed in the right direction by securing all their members are real.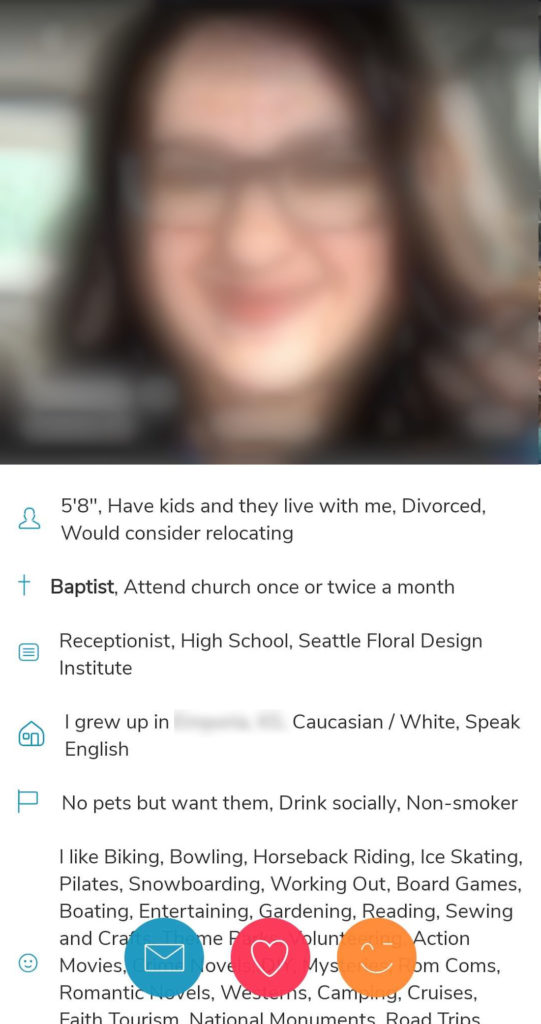 Contacting Functions
If you're looking for an assortment of functions that are exciting and new, ChristianMingle may not be for you. Since it encourages online interactions to blossom into something else, the functions available are tested and proven, albeit simple.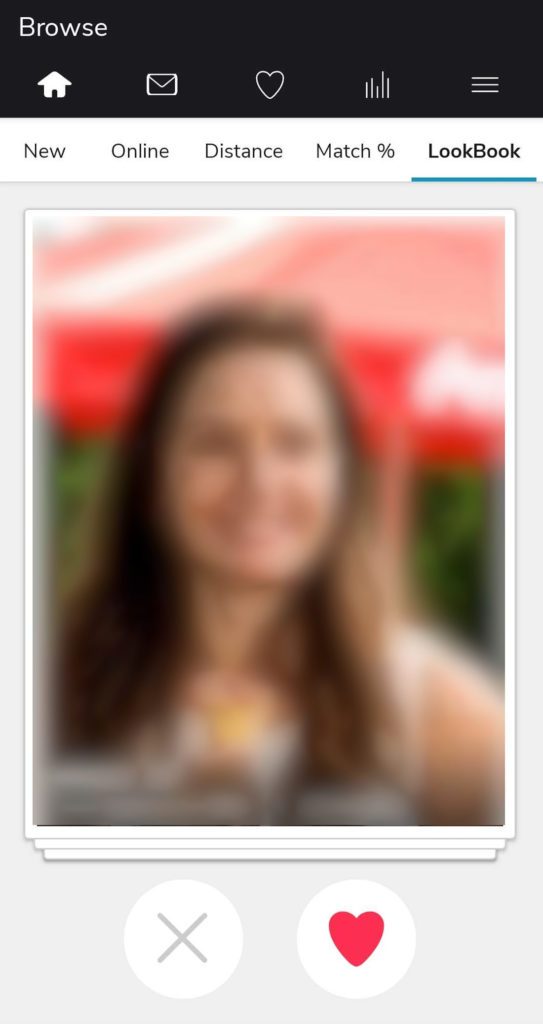 Smile
This free function sends a virtual smile to a member who caught your eye. If you're in luck and they're online, this immediate notification may lead to a chat.
Like
When you send a "like," the member automatically becomes a part of your My Likes list. As with sending a smile, the like is a free function.
LookBook
Browse members who fit your Discovery Preferences via LookBook. Since the profiles are shown one-by-one, you get to take your time viewing their details. Click on the "Heart" if you like what you're seeing, and the "X" if you wish to see more options. This function is also free.
Chat
Of course, no amount of smiling or liking will ever replace a direct conversation between the two of you. Only premium users can initiate, reply, and exchange messages at ChristianMingle.
Messaging+
Another premium function, Messaging+ lets you communicate with all members, free or paid alike.
ChristianMingle may not offer as much, but the functions enable you to get to know members on a personal level. If you're serious about dating, it's probably best if you subscribe to a paid membership.
Cost
Most of the members are serious daters. They subscribed to a paid membership to gain full access to the dating site's potential matches and features.
At ChristianMingle, members can subscribe to a Premium membership that covers 1, 3, and 6 months. Apart from full access to chat other paid users, a Premium member can also message standard accounts, hide their online status, and browse anonymously. You can purchase Premium via credit card, PayPal, or your smartphone (Google Play or the App Store).
Aside from the monthly plans, members can highlight their profiles through the Spotlight function. A boosted profile appears at the top of the search results and attracts more attention. This feature is available for a day, week, or month—whichever suits your pocket.
Your subscription automatically renews to ensure you continuously enjoy the dating site's services. If you wish to cancel your Premium, the first step is to disable the auto-renewal function.
App
Figures show that most of the ChristianMingle members prefer using their mobile phones when they mingle with potential matches. With a reliable mobile app available for free, it's easy to see why.
The Christian dating site made its services available by launching free-to-download apps for iOS and Android users. New members can start their journey to forever solely on their mobile devices since they can register and purchase premium subscriptions through the app.
Meanwhile, existing members can pick up where they left off immediately. They can log in with the same credentials and enjoy the same features they used on the desktop version.
Save for the occasional pop-up ads advertising an event or mixer where singles can mingle, ChristianMingle's mobile app is a reliable alternative for on-the-go daters.
Experience Reports
I'm not for hookups and casual dating; I want a good Christian man who shares my values and expectations in a relationship. So, instead of downloading hook up apps, I signed up at ChristianMingle. I haven't found love yet, but I like what I'm reading and seeing.

Merle, 28, Secretary
ChristianMingle is the ideal dating site for a single Christian man like me. However, I live in a place where people seem to not know about its existence. The choices are limited, so I need to expand my range to find the Christian woman of my dreams.

Eugene, 32, Restaurant Owner
Conclusion
ChristianMingle proves to be the authority when it comes to Christian dating sites. With an ever-increasing user base, simple yet straightforward features, and a genuine desire to create God-centered unions, ChristianMingle is the dating site to be if you're in search of a happy love story. Ready to start your happily ever after? Click on our affiliate link and mingle with members at ChristianMingle now!
Frequently Asked Questions
Facts
Is ChristianMingle legitimate?
Yes, ChristianMingle is a legitimate dating site for Christian singles looking to mingle and find the perfect match who will share their desire for a God-centered union.
Who owns ChristianMingle?
The US-based company Spark Networks owns and operates ChristianMingle.
What are the contact details of ChristianMingle?
Contact ChristianMingle through:
Address: 11150 Santa Monica Boulevard Suite 600, Los Angeles, CA 90025
Telephone: (866) 660-7924
Email Address: [email protected]
Are gays allowed at ChristianMingle?
ChristianMingle does accept members of the LGBTQ who also follow the Christian faith.
Payment
Is ChristianMingle free?
Registration, profile creation, and searching for matches are some of the things you can do with a free account. However, most of the features you can use to interact or boost your account require a paid membership.
How much does ChristianMingle cost for one month?
A one-month Premium subscription costs US$49.99.
Does ChristianMingle have a free trial?
As of writing, there is no free trial. However, Spark Networks gives out coupons and discounts every now and then. If you're a member of other Spark Networks, these coupons may entitle you to a free trial or a reduced subscription fee.
How can I pay for a ChristianMingle membership?
You may purchase a subscription via credit card, PayPal, or for mobile daters, your smartphone.
How do I cancel my ChristianMingle subscription?
To cancel your subscription, you'll need to stop the auto-renewal function. To do so, do the following:
Click/tap the photo thumbnail, or ☰ if you are using the app, and then select Account Settings
Tap Manage Subscription
Select Stop Subscription to stop any future billing
Submit the reason for ending your subscription, click Continue, then click/tap on Stop Subscription
Usability
Can you message members at ChristianMingle with a free membership?
Initiating a message is a function reserved for paying members only.
What is the "LookBook" function at ChristianMingle?
The LookBook function allows you to review profiles one at a time. These profiles are based on your Discovery Preferences.
How do I change my Discovery Preferences at ChristianMingle?
Click on your photo thumbnail, or ☰ if you're on mobile. Select Discovery Preferences to customize.
How do I delete my ChristianMingle profile?
To permanently delete your profile, follow these steps:
Go to Account Settings.
Click on Profile Display Settings.
Hit the Permanently Delete Profile button.
On mobile, tap on Profile Display Settings and select Permanently Delete Profile.
Security
How do I block someone at ChristianMingle?
To block a member, visit their profile page, or if you previously corresponded, go to your inbox. Click the horizontal three-dot menu, then select "Block" and tap "Yes" to finalize.
Is ChristianMingle safe?
A dedicated team of moderators reviews every profile information to ensure the safety of its users. Accounts exhibiting suspicious behaviors face suspension, and members are encouraged to review, report, and provide information on any concerns, spam messages, or offensive actions.