Apart from making or breaking a relationship, first dates can eat up your resources. But at WhatsYourPrice, your first date is on your own terms. Will it be better? Only one way to find out!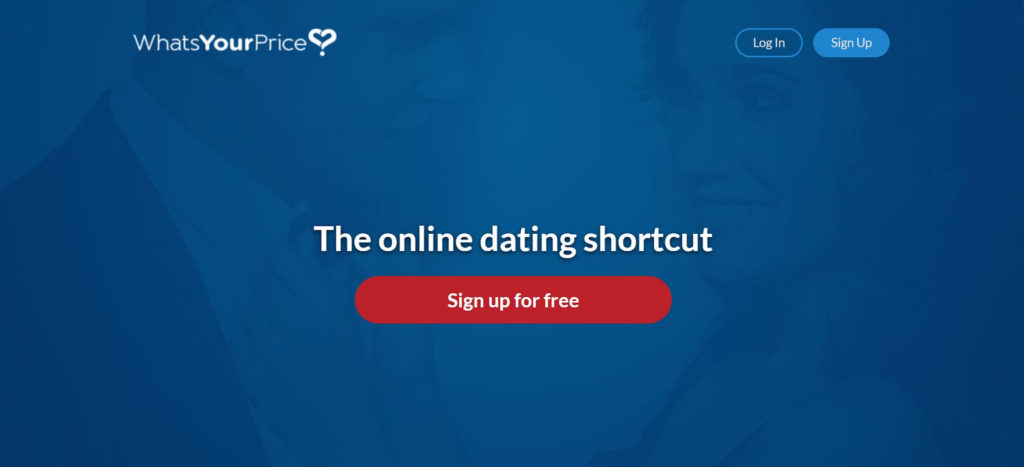 The surge in popularity of dating sites is both a good and bad thing. On the one hand, you have many options. Sign up for the dating sites that interest you. On the other hand, you have too many options. Dating sites are enticing, but which among the sea of plenty will give you the most amazing results?
If you're going to allot some time and effort towards finding a date online, why not do so in a dating site that lets you name your terms and price?
Aptly named WhatYourPrice, the unique adult dating site adds a rather practical spin towards dating: members bid north of US$5 to ask you out on a date. Now, you're not just the bachelor or bachelorette handing out the final rose. Your final match is someone who had to work hard for a slot in your dating schedule.
WhatsYourPrice is the sister site of the known sugar dating site, SeekingArrangement. Both sites may have added money into the equation, but at WhatsYourPrice, a second date doesn't warrant another payment. You'll both meet each other again because you genuinely had a good time.
Member Profile
The fresh concept attracted over three million members worldwide. Users are also active, as demonstrated by the 1.6 million members who monthly check-in and bid for a first date at WhatsYourPrice.
In terms of sex, males outnumber females by a slight margin. Before, WhatsYourPrice used descriptors to categorize their members. "Generous" were mostly the males, while the "Attractive" group were younger females. Now, anyone with a deeper pocket can be a generous member. Females also aggressively place bids to land a first date with a dashing bachelor.
Most of the members are single. Some used to be married, but the consensus is that you're dating someone unattached in the hopes of forming a relationship.
WhatsYourPrice is popular in the United States, the United Kingdom, Canada, and Australia. A smattering number of members from Brazil, Germany, Spain, and France also hopped aboard the bidding train. In terms of age, the bulk of the user base belongs to the 25-34-year-olds, closely followed by the 18-24 and 35-44 age ranges. Members who are 45 years old and above are also joining and bidding at WhatsYourPrice.
WhatsYourPrice claim it's the online dating shortcut with members finding dates in just three days tops. But is it?
When in doubt, we do what we do best: investigate. We thoroughly inspected every cost and feature of this adult dating site. Read on, and together, let's see if you should hold your money tight or put your bidding skills to the test.
Sign-Up Process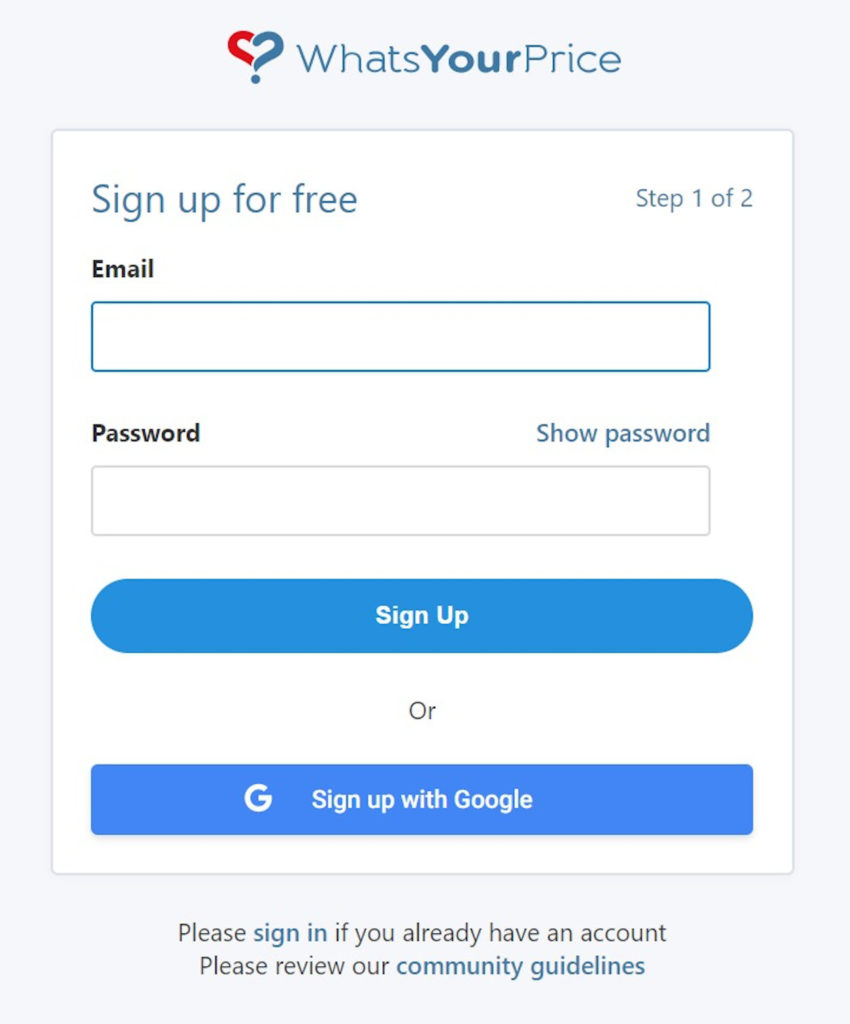 ---
Sign up for free
Easy registration process
Registration takes up 5-8 minutes of your time
Facebook registration is not an option
Verify your email to finish registration
---
Like its no muss, no fuss objective, registration at WhatsYourPrice is as direct. You'll need to complete two simple forms and verify your email to start.
For the first form, input your preferred email and nominated password, then click sign up. Although you can't link your Facebook account, you can register with your Google account if you like.
Take note that WhatsYourPrice is a bit strict when it comes to your password; choose something strong, not-hackable ones such as 'qwertyuiop'.
The second form will ask about your orientation (male or female), what type of member will you be (bidder or the one being offered bids), your preference (male, female, or both), your display name, city, and birth date.
Click "Continue" and you'll immediately receive an email verification. Confirm your email, so it's easy for WhatsYourPrice to help you recover your account if you forgot your password or got hacked.
What happens if you registered as a bidder when you intended only to be the receiver? You'd have to create a new account. WhatsYourPrice doesn't allow multiple accounts for one email, so you will need to submit a new email as well.
After completing the registration, you are encouraged to customize your profile. You may choose to edit it later, but it's best if you finish your profile right after signing up. WhatsYourPrice will approve every detail and photo, plus you'll need a complete profile to join in the fun. Might as well get over the process immediately.
Profile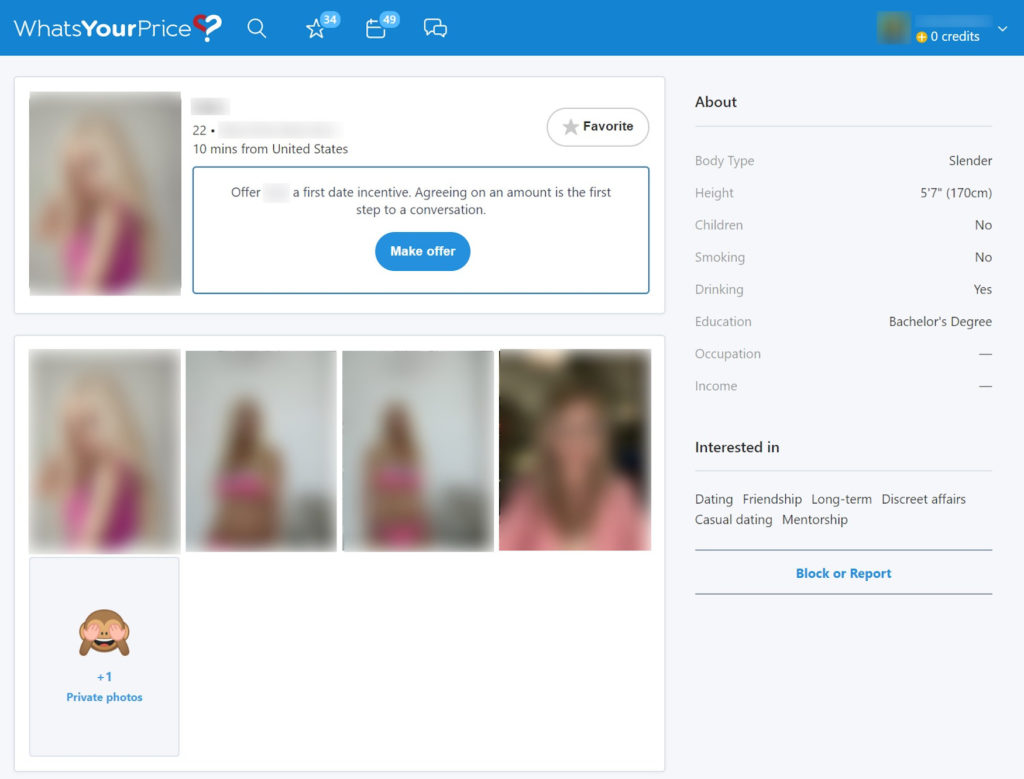 ---
Paying and non-paying members can view profiles
Only basic details make up a member's profile
Details can be edited later
Members can add private photos
Photos are viewable with or without Credits
---
Profiles at WhatsYourPrice may not be as detailed, but when completed, it features enough information to help you say yes or no to a date.
Apart from the member's display name and age, the profile will include their location and the approximate distance from yours.
Additional photos and a private gallery (if the member added more private ones) follow the necessary information section. Anecdotes that describe the member's personality and their ideal date are also featured.
More information, such as a member's body type, height, education, parental status, vices, and occupation, are also displayed. One can also see the kind of relationship a member is looking for (dating, casual, friendship, mentorship, long-term, or discreet affair) at WhatsYourPrice.
Contacting Functions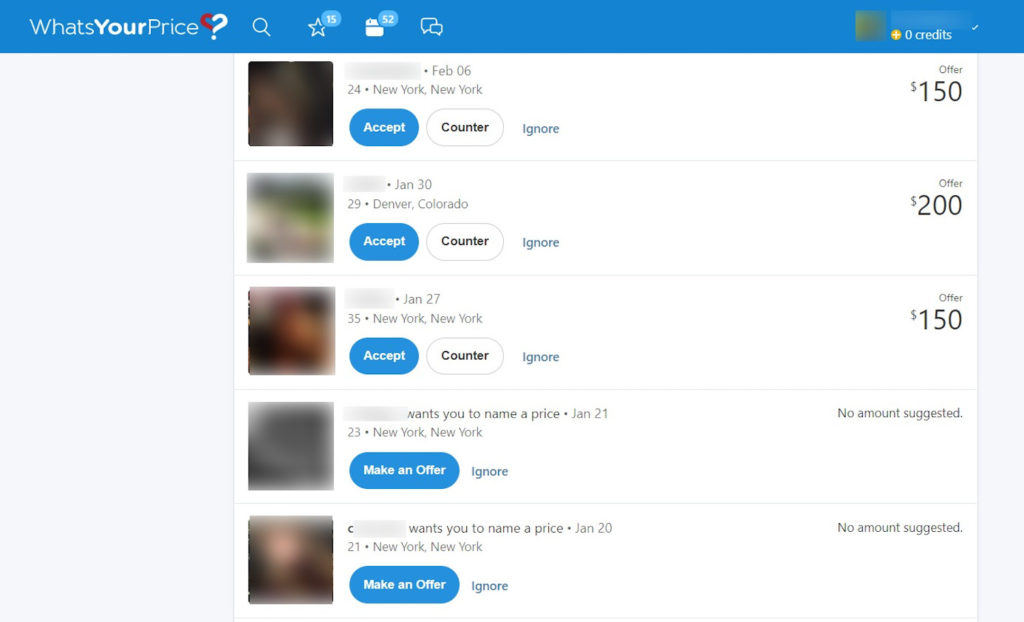 As its primary goal is to help you score a first date, WhatsYourPrice doesn't have much in the communication department. All it has is four functions to help you flirt and ask out a member.
Search
This free feature generates a directory of members who live nearby. Depending on your account type, catch their attention by bidding or fliting.
Add to Favorite
Keep track of all the members who caught your eye by adding them to your favorites. Once they're part of your list, say no more to cases of forgotten user names and missed opportunities.
Direct Message
How are you going to coordinate the time and place of your date if you can't chat? WhatsYourPrice allows you to interact one-on-one if, and only if, you agreed on the bid. Once you do, you can unlock the conversation function with your Credits.
Bid
The primary and most unique function of all, land a date by giving or accepting the highest bid. Members can start bidding at US$5. The bidding wars can go as high as US$250 or more, and it's payable once you meet up for your first date.
Although the bid is a separate payment, it seems like purchasing Credits is still a necessary move. That way, you can start a conversation with the member you're going out with.
Costs

Instead of monthly subscriptions, WhatsYourPrice offers credits that serve as the website's currency. Choose between 100, 450, and 1,000 credits to unlock features such as direct messaging members who accepted your bid.
Unlike a monthly plan, Credits don't expire. The only way you'll end up credit-less is when you used it all up. There also won't be an autorenewal function, so keep track of your credit wallet and repurchase if you are running low.
You can purchase Credits via PayPal or credit card. If you paid using the latter, your transaction with WhatsYourPrice would appear as either PMW8TECH, 2BUYSAFE.COM, 2BUYSAFE.COM/W8TECH, WYPW8TECH, or W8TECH.COM*WYP for your privacy.
As for credit refunds, WhatsYourPrice will only consider cases wherein an Administrator removes your profile, or if you contact a member who violated the Terms of Use and is, therefore, pending suspension or termination.
App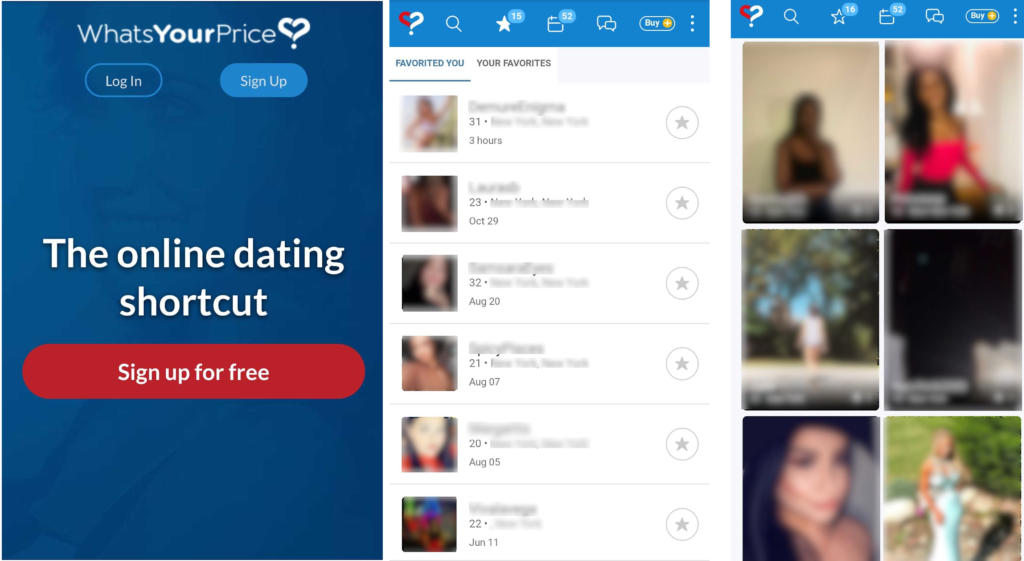 Figures show that most of the members of WhatsYourPrice access the dating site via their mobile phones. Interestingly, the dating site does not offer a mobile app.
Instead of a downloadable app, WhatsYourPrice is mobile-responsive. Android and iOS users alike can use the site through their preferred mobile browsers.
Since it's a mobile version of the desktop, the colors and functions are the same. New members can register using their mobile phones, and existing users can pick up where they left off just as quickly as if they're using their laptops or PCs.
Overall, WhatsYourPrice on mobile isn't something new. But for members who are mostly on the go, it's a convenient and reliable alternative.
Experience Reports
The premise of this dating site is so intriguing. I mean, earning money while you date? Heck, count me in! It was hard at first because I literally have no idea how much is enough. Also, there's this thing about your safety. Let me just say, ladies, WhatsYourPrice is not for you if you aren't confident and street-smart.

Kim, 27, Translator
I mostly meet young women needing some extra cash for school, and I was glad to help. I've dated probably five times thanks to WhatsYourPrice, but all five didn't bother connecting after the first date. I am not fond of the way they treat men at WhatsYourPrice: as mere cash cows. Maybe it's best if I sign up for another dating site.

Martin, 38, Banker
Conclusion
WhatsYourPrice is a dating site where single men and women place bids to score a first date. With a huge user base, fresh and incentivized premise, and crystal clear objective, WhatsYourPrice is revolutionizing the dating scene.
Frequently Asked Questions
Facts
Is WhatsYourPrice legitimate and legal?
Yes, WhatsYourPrice is a legitimate and legal adult dating site operating globally. In fact, WhatsYourPrice is featured in reputable publications such as The New York Times, DailyMail, Forbes, and Time.
Who owns WhatsYourPrice?
W8Tech Cyprus Limited operates WhatsYourPrice. Its founder, Brandon Wade, is as hands-on as possible. He opened a Facebook account (@AskBrandonWade) to get in touch and help sort out issues reported by members.
What are the contact details of WhatsYourPrice?
Contact WhatsYourPrice through:
Address:

Room 2103, Futura Plaza, 111 How Ming Street, Kwun tong, Hong Kong
Nikola Ioannou 1, Flat/Office 002, 2236 Latsia, Nicosia, Cyprus

Email Address: [email protected]
How is WhatsYourPrice any different to an escort service?
WhatsYourPrice is not an escort service; in fact, escorts are banned. Escorts are individuals you pay per encounter (mostly sexual). At WhatsYourPrice, the only time you are expected to pay is on your first date. Besides, the members you'll meet are also willing to provide more than their time and body; if you click, you can be friends or lovers at WhatsYourPrice.
What's the difference between Seeking Arrangement and WhatsYourPrice?
Brandon Wade founded both dating sites. The former is a known sugar dating site, while WhatsYourPrice lets men and women, regardless of the age gap, interact.
Payment
Is WhatsYourPrice free?
Signing up at WhatsYourPrice is free. However, most of the features are accessible for women, while men have to pay an additional fee for some functions.
How do I cancel my WhatsYourPrice subscription?
Unlike other dating sites, WhatsYourPrice offers credits instead of a monthly subscription.
Usability
How do you get paid at WhatsYourPrice?
WhatsYourPrice won't have any portion of the bids you receive as the payment will happen during your first date.
Why can't I send messages or offers at WhatsYourPrice?
New accounts need to complete their profile, upload a photo and have both details approved before they can send bids to other members.
Once the member agrees on an offer, only then can they start a conversation. For the generous members, they'll need to purchase credits to unlock the conversation function.
Why does it take long to get approved at WhatsYourPrice?
The team reviews every profile and photo submission. The more photos and edits, the longer it will take for the WhatsYourPrice team to approve. It's best if you upload a primary photo and customize your profile in one go just so your page does not look suspicious.
How do I deactivate my WhatsYourPrice account?
Login to your WhatsYourPrice account and click on the "Settings" located in your profile dashboard. The "Deactivate Your Account" button will be at the bottom of the Settings page.
How do I let someone see my private photos at WhatsYourPrice?
To let another member see your private photos, you'll have to:
Make them an Offer
Wink at them
Make them a Counter-Offer
Respond to a Wink with a Wink
Security
How safe is WhatsYourPrice?
WhatsYourPrice is safe as long as you employ all means possible so you won't get scammed. As mentioned, the transaction is on your first date; WhatsYourPrice won't receive any cut out of your pay. So, you'll have to be smart about your first date: meet in a public space, ask that half of the money gets wired to you before you see each other, these are some of the precautions you can do.
How do I block someone at WhatsYourPrice?
To block a member at WhatsYourPrice, visit their profile first. Click the three horizontal dots located at the top then select Block.
How do I report a member at WhatsYourPrice?
To report a member at WhatsYourPrice, visit their profile and click the three horizontal dots. Select "Report" then complete the form with the reason behind your decision to block them.