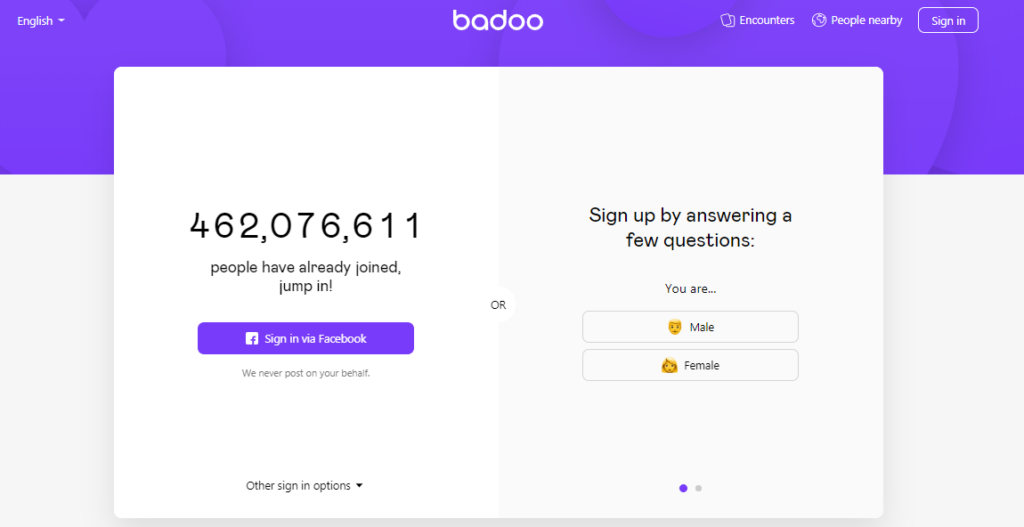 Created in 2006, Badoo has since gained popularity mostly among young to middle-aged adults. It was the most downloaded app in 2016 in more than 20 countries.
Records show that it now has around half a million active users from about 170 countries worldwide. However, this is quite far from the site's claim of having almost 500,000,000 registered users.
It was said to have started as Facebook games and quizzes to get attention and be recognized until it was officially launched as an independent "social networking" platform focusing on the dating.
Whether you like to meet a date or find some new friends, Badoo claims that it can be one of your go-to sites. It offers the features of matching its members to meet up for a date, at the same time, being able to add other users to your friends' list, less the flings, and romance.
Learn more about Badoo by reading our detailed review below.
Sign-Up Process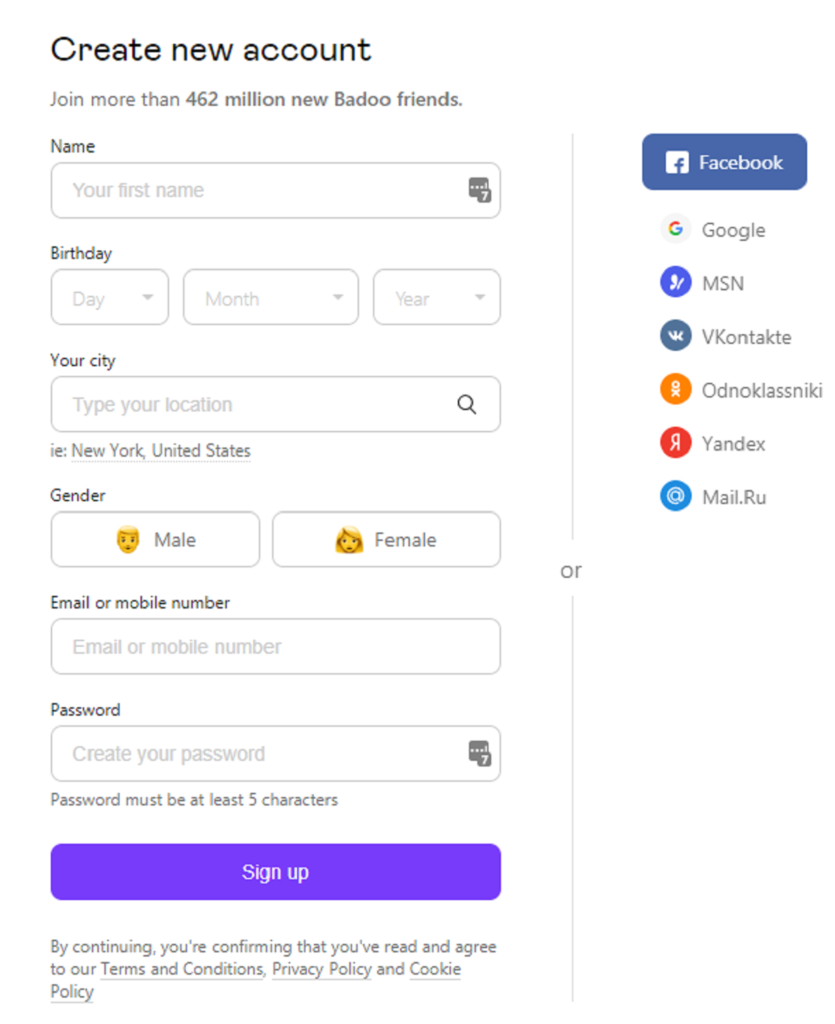 You can sign up for Badoo using your email address. On the main signing up form, you need to provide your first name, date of birth, location, gender (whether male or female), email address or mobile number, and your password.
An email verification will then be sent to you. Once you click on the link, you will be redirected to the photo verification page. You have to copy the pose of the photo that will be shown on the page after giving the site access to your webcam or phone's camera.
Badoo claims that they are very strict when it comes to verification, and bogus profiles are not welcome on their site. However, during testing, it was observed that there are still some fake profiles that exist because some users have the same profile photos.
For faster and easier registration, you can use your accounts on the following social media accounts:
Facebook, Google Plus, MSN, Vkontakte, Odnoklassniki, Yandex, and Mail.Ru.
Badoo Profile
Profiles of Badoo members are not quite detailed. It contains basic information such as relationship status, sexuality, appearance, living set-up, children, and smoking and alcohol drinking habits.
There's also a portion where you can write down a short bio about yourself, your interests, work, and education.
You need to complete your profile to at least 60% to view most information on another member's page. Among the 20 featured profiles viewed during testing, only half of them have completed their profiles.
Upload profile photos and videos but make sure to follow these rules:
it should contain you and your friends only
the focus should be on your face
sexual and inappropriate contents shouldn't be uploaded
it should only be in jpg or png format
it shouldn't be bigger than 128mb
Links to other features such as chat, crush, gifts, and lookalikes can be found on the right side of the profile page.
Messaging and Other Functions
It's very important on a dating site to have features that help you interact with other members. Check out the listed functions below:
Badoo Chat
This is the primary mode of communication in Badoo. It's free as long as you have verified your account with your photo. There are two ways to go to start a conversation.
First, you may click on the"Messages" link on the left side of the page. When you have unread messages, you will see a blinking number beside it, which represents the number of new messages that you have.
Another way is to click on the "Chat Now" button on a member's' profile page. It will redirect you right away to the Messages page.
For both ways, you may send stickers for free.
Send a Gift
Grab a member's attention by sending him/her a gift. You will also find the "Gift" button on the profile and conversation page.
You have the option to keep the gift in private and send it with an additional message.
Sending gifts needs some credits. The regular gifts start at 100 credits each.
Send crush
This feature can be found on a member's profile page. You will see the heart icon struck by an arrow at the upper left part of the page. It is also available on the Encounters page.
This is an instant and free feature.
Badoo Encounters
The "Encounters Feature" resembles Tinder Swipe. However, instead of swiping, you have to click on the heart icon if you like the photo and profile of your match. You may click on the X icon if you don't.
Once both of you liked each other, you will be notified that you've got a match. A pop-up box will show up where you can type your message to the other member. You may opt to skip this and wait for him/her to make the first move.
Lookalike
This feature lets you find not only your lookalikes but also other members as well. If you like the looks, but you're not matched with all the other aspects, just check on the lookalike of that member who might give you the spark that you are looking for. It will show you even hundreds of similar-looking members.
This feature can be accessed by all members with or without credits.
Get Featured
If you want a faster matching process and more interaction with members, Badoo recommends that you feature your profile. You can pay some credits to get your profile to be on the top of the list.
Badoo Live
For vloggers and vloggers wannabes, Badoo offers this feature for you. It's basically like Facebook Live. You can stream your video and audio in real-time to your friends and followers. However, remember to follow the site's guidelines to avoid inconvenience on your part and the viewer's part too.
Rules for Badoo Live Streaming
Don't stream while driving.
Don't include minors in your live video.
Wear decent clothes.
Violence, hate, and contents about discrimination and illegal activities are prohibited.
No bullying and harassment, especially about gender or sexual preferences, and racism.
Advertisements and selling of products or services are not allowed.
No scamming.
For the viewers, they also have to be mindful of what they post and comment on. They are not supposed to spam the comments section, and they have to refrain from rude and offensive feedbacks.
Not following the guidelines may lead to the banning or closure of your account.
Costs
Badoo has three payment options:
Credit Card: Pinch of 100 credits: 4$; Handful of 550 credits: 18$; Pile of 1250 credits: 36.5$; Mountain of 2750 credits: 70$
Paypal: Pinch of 100 credits: 4$; Handful of 550 credits: 18$; Pile of 1250 credits: 36.5$; Mountain of 2750 credits: 70$
Mobile (using your AppStore): Pinch of 100 credits: 4$; Handful of 350 credits
BADOO PREMIUM
Discover and be the first to contact popular users
Reverse your "no" votes
Place your messages on the top of the line
Anonymously view other users' profile
Chat with the newest members of Badoo
BADOO CREDITS
Be on top of the line
Get your profile featured
Increase your visibility across the site
Give gifts
Add stickers to your chat messages
Meet more Badoo members
Chat with more members
Show your "Online" status to other members
App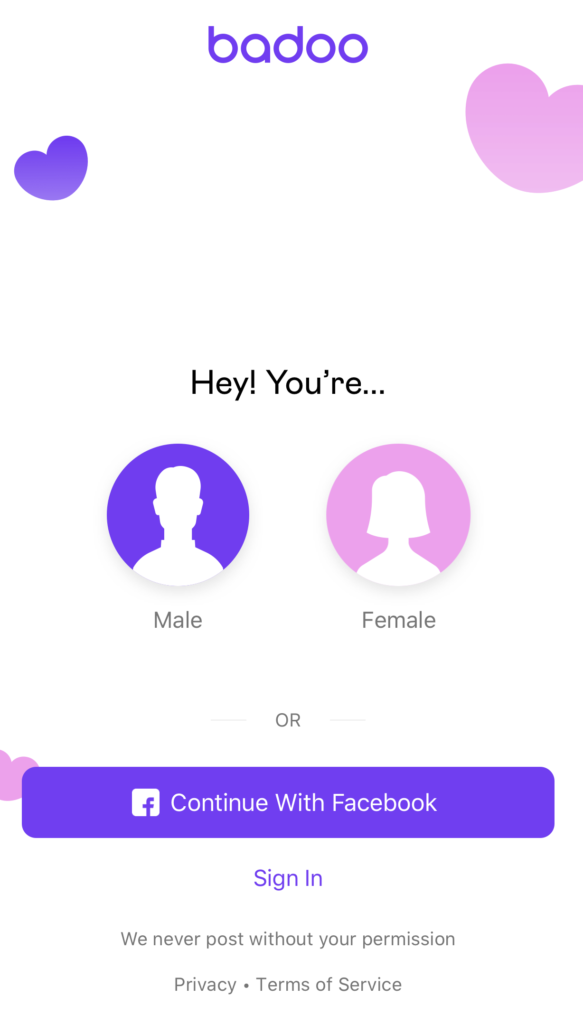 Badoo is downloadable from the Apple Store and Google Play Store.
As mentioned, it has been one of the most downloaded apps today.
Data shows that more than half of the members prefer using the app. It is convenient and great for members who are always on-the-go, which is perfect for members who wouldn't want to miss any notification from their Badoo accounts.
One good point about the app is you can directly pay for credits and membership using your mobile phones. It is more convenient for some users, especially those who can pay through their mobile carrier.
When it comes to the design, both the Badoo website and the app are inviting to the eyes. It has a chic purple and pink theme, and a minimalist layout.
Features are the same for both platforms. They are not very complicated and can easily be navigated even by newbies.
The registration process is quite a hassle. However, I realized that it's actually good. I met real people on this site, and I reallly had a great time. At least I am sure that the members are real. That's really a good point for me. -Rianna, 27
" I enjoyed all the features of Badoo, especially the free ones. But it's also good that I bought some credits because that's when I met my match. I was not expecting it, but I'm happy to have met my boyfriend. We're taking things slow, let's see where it goes. –Arianna, 29
Badoo is great for those looking for some casual fun. But since I want to find something real, I was not satisfied. I hope I can find a site that's really for me. -Mandy, 25
Conclusion
The features of Badoo are appealing since most of them are free and easy to use. It has been effective in connecting people with its social-media-like approach. The Badoo Live is considered to be a timely feature knowing that people nowadays are fans of vlogging and live-streaming. However, as much as it promotes matching for potential partners, most endings of Badoo encounters are for casual dating and flings only. So if you're not ready for some serious relationship, Badoo might be worth the try.
Frequently Asked Questions
Facts
What is Badoo?
A casual dating site and app which offers both social media and dating site features.
Who owns Badoo?
Badoo Trading Limited owns and operates the site. It is based in London.
Does Badoo have an app?
Yes. It is available in AppStore, google play store.
What is Badoo Livestream?
It is like a Facebook live function wherein you stream your videos or audios in real-time.
Usability
How do I sign-up for Badoo?
Use your email address or connect using your social media account to register for Badoo.
How can I search for users in Badoo?
You can search for specific members in Badoo through the featured list, people nearby, matched, liked you, visitors, and favorites.
How to search for favorites in Badoo?
Favorites can be searched by clicking on the link on the left side of the page.
How to change a password in Badoo?
Go to your profile and click on the "Settings" Icon. Edit by clicking on the "Your Account Pencil Icon" and change the password.
How to change location in Badoo?
Go to your profile settings and click the pencil icon for the location. Enter your location or choose from the suggestions.
How to delete Badoo account?
Go to your profile settings. At the bottom of the page, you will find a "Delete Account" button. Click on it and get verified. After verification, your account will be deleted.
Membership and Payments
Is Badoo free?
Badoo has free features, but it also offers credit to let you maximize your use of the site.
How to pay for Badoo subscription?
There are four ways to pay your subscription. First is through your credit card, then using PayPal, and lastly, through your mobile carrier.
How can I cancel my Badoo subscription?
Go to your profile and click on the payment options. Click on the Unsubscribe button to stop your subscription.
How to get a refund from Badoo?
Go to the feedback page and request a refund. However, your refund privileges will expire after 14 days upon purchase. You may also be ineligible for a refund if you download any content within the 14 days period.
Is Badoo subscription in auto-renew?
Yes. Badoo subscription is by default in auto-renew.