Is finding love a possibility in a pool of millions? eHarmony says it has never been easier to find your one true love through its platform and build meaningful connections.
Dating online is supposed to get you on a romantic ride at warp speed — everything should be fast and results are expected almost instantly. This orientation makes it an excellent breeding ground for casual dating relationships.
Nonetheless, a number of dating sites including eHarmony want to break off this pattern and help millions of singles find true love in the virtual dating space. If your ultimate online dating goal is to find the love of your life, then you might want to get a closer look at what eHarmony is offering.
A huge chunk of eHarmony's general population hail from the United States, but there is also a considerable number of members who live in Canada, the United Kingdom, and Australia. Anyone can create an account with eHarmony so its membership base is scattered across continents.
eHarmony's members are single men and women who are looking for long-term commitment and serious relationship. The site says that it is dedicated to creating meaningful connections which will lead to long-term love through relevant and updated matching models for its users.
The majority of these single men and women are from the younger age ranges of 25 to 34 years old, but only by a few percentages as the membership by age is almost evenly distributed across all age groups. This makes for a good general dating site as anyone is sure to find a match within eHarmony in that particular sense.
The site is founded by a clinical psychologist named Dr. Neil Clark Warren who had envisioned creating a tool to put two people together for relationship success. Because of this, the site is very big on compatibility which became its basis for the algorithms behind its patented "Compatibility Matching System.
It may have a good reputation on the surface level, but we still took a closer look at eHarmony for you! We checked its cost, features, functions — every nook and cranny — to find out if it is truly worth your time. Is love a possibility at eHarmony? Read on to find out how far eHarmony can get you in your search for love!
Sign Up Process
---
Creating an account is free
Sign up using your Facebook account
Take a required, extensive Compatibility Quiz upon registration
Compatibility Quiz results are available on your profile
Registration process takes about 20 to 30 minutes
---
eHarmony's registration process will immediately feel like you are in a psychology clinic signing up to find you a compatible partner.
Anticipate the long, extensive Compatibility Quiz that alone will take more than 20 minutes of your time in peace and quiet. But the makers of eHarmony advise that you must answer spontaneously and avoid dwelling too long on a question as there are no right or wrong answers.
Your quiz results will be read by eHarmony's Compatibility Matching System which is a technology they patented to give you a personality profile. Your unique profile will then be used as the basis for your matches.
The quiz has questions that tackle on your values, interests, and hobbies. It also has a series of questions where you have to choose images that appeal to you the most. The quiz is well thought of and scientific in nature. You cannot skip it, but what's good is that it is free and in turn, you will get an insight into your own preferences and personality.
Once you are done with the quiz, eHarmony will take you to your match recommendations where you can start browsing for profiles.
Profile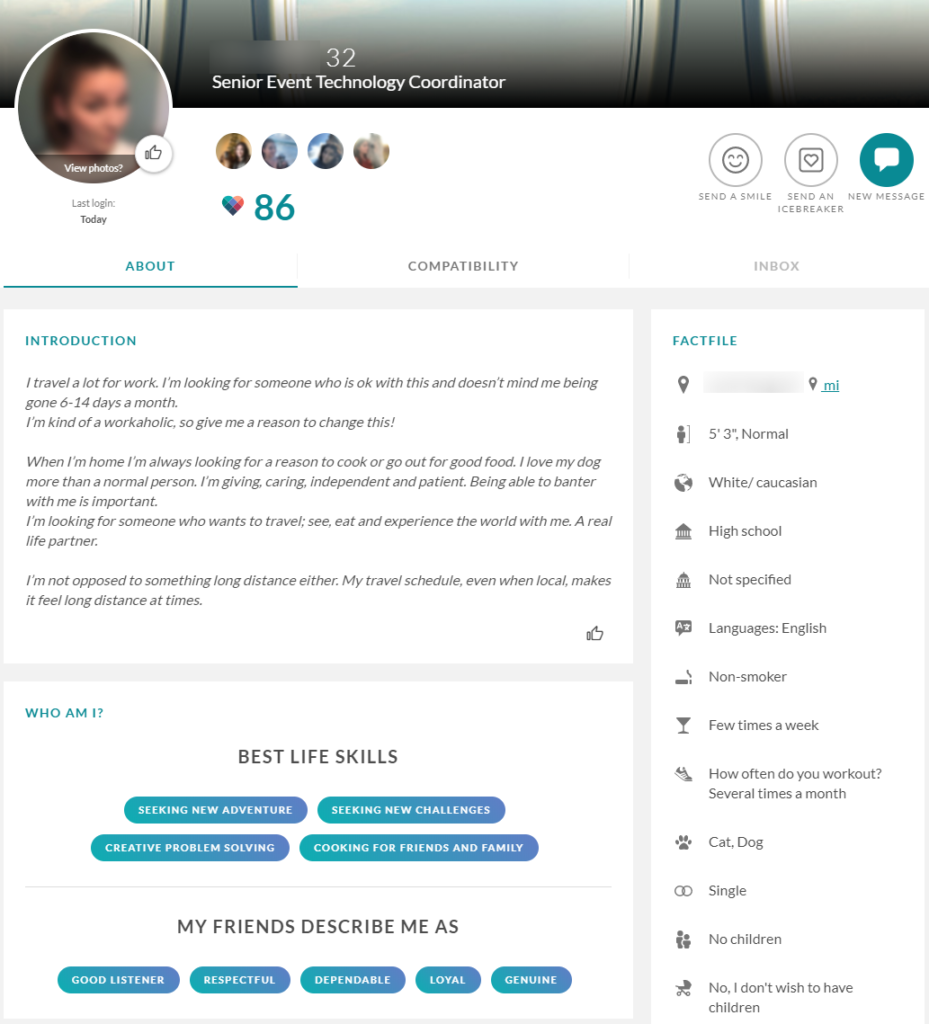 ---
Profiles are detailed
Viewing a member's profile is free
Viewing photos inside a profile is a premium function
You will only see profiles that are compatible with you
Compatibility Quiz results show up on your profile
---
Every eHarmony profile has two main tabs: the "About" tab where you can easily customize for a personal touch, and the "Compatibility" tab which has graphs and illustrations showing how compatible you are with a member.
The Compatibility tab's content will differ for every member profile that you visit. The site is basically comparing your Compatibility Quiz results to every member profile that you visit. The site predicts that higher compatibility scores are more likely to yield better relationships.
As a general overview, eHarmony will immediately show you how compatible you are based on personality, habits, and interests through a bar graph. If you read further, it will take you into a more detailed comparison of your profiles. It will compare different aspects of your life such as communication styles, behavior, and the fundamentals of your personality.
If you are not that much of a bars and graphs fan, you can take the About tab as a breather. It has ample space for a personal essay where you can write anything under the sun. Most members fill this page with their introduction essay.
Overall, eHarmony profiles do their jobs in helping you get to know a member's personality at a glance.
Contacting Functions
---
Unlimited messaging is available for premium members
Sending winks is available for free
Play compatibility games in messages
Reply for free if a member messages you first
Basic messaging feature available without photos or videos
---
eHarmony offers basic messaging features with some free functions. If you are using a free account, there is not much that you can do to communicate with other members. Unless another member sends you a message first, a premium account is required to talk to other people.
Locking the messaging feature as premium is actually a double-edged sword; only serious people who are genuinely interested will put in the effort and filter out those who are looking to fool around.
Smile
Send some feelers first if you are a bit shy about initiating the first contact. You can send a "Smile" to let a member know that you are interested to talk.
Icebreaker
There is also the "Icebreaker" which is a compatibility game designed to help you break the initial barriers of online conversation. This is also a manifestation of how big the site is on compatibility.
Dating Advice
eHarmony has its own library of articles to guide you on your online dating journey. From dating tips and advice to first dates and surviving singledom, love&harmony blog has got you covered.
Profile Compatibility Tab
Get a comprehensive report complete with bars and graphs showing how compatible you are with another person, for free! Just visit a member's profile and go to the Compatibility tab to get the detailed report.
Costs
eHarmony offers three premium plans: Premium Light, Premium Plus, and Premium Extra. Each plan only differs on the length of membership that you are buying. Of course, buying longer packages will get you a lower monthly fee when computed.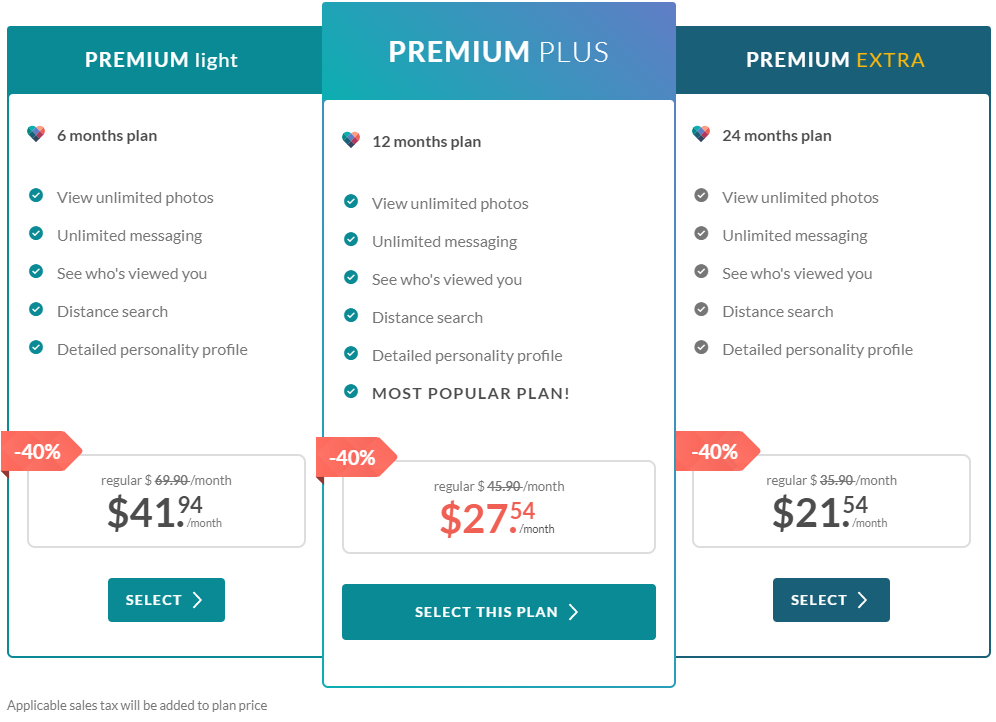 As a premium member, you are entitled to unlimited messaging, viewing photos, extra search filters, a more detailed personality profile, tweaking distance in search results, see who has viewed your profile, and getting regularly updated matches.
When purchasing a Premium Membership, you will be asked to supply certain payment information, including credit card, debit card, or PayPal account number.
Memberships automatically renew unless canceled at least 24 hours before the end of your current term.
App
---
Free to download
Available on both Android and iOS
All desktop features are available on the app
Layout and design is similar on desktop and the app
App is easy to navigate
---
If you want to date on the go, you can use eHarmony's handy app! You can download it for free on your Apple or Android device.
The features and functions are similar on the app and on the desktop version. There is not much difference in the layout, although the mobile app is compact.
A pro-tip: Answering the Compatibility Quiz is more convenient on the app. You only need to tap among the choices and finish a lot faster than when doing it on the desktop. You can also create an account using the app and do it on the go.
Overall, the eHarmony app is worth installing if you already have an account.
Experience Reports
I tried many dating sites before so I was amazed with the organize approach of eHarmony. They really are there every step of the way. The community is good and so far, I have not met anyone who is not up for a serious relationship like me. I haven't found a girlfriend yet but I am talking to a few women who have become close friends now.

Matt, Sales Manager, 45
I eventually got tired of dating apps that can only get me short-time relationships like hook ups so I decided to try eHarmony as suggested by a friend. I was amazed how respectful people are inside the site. Nobody asked for nudes and went straight to having real, human conversations. I am enjoying my time at eHarmony!

Kelly, 24, Student
Conclusion
It may be a harder feat to achieve than getting you a casual date or two, eHarmony has become effective so far in creating long-term relationships and even marriage among its members. It employs psychology and science in its platform making its results more reliable than randomly matching based on location. With this, finding love online is a possibility at eHarmony. Don't miss out on the promise of great love, so sign up at eHarmony now!
Frequently Asked Questions
Facts
Is eHarmony a legitimate dating site?
Yes, eHarmony is a legitimate dating site for singles looking to find serious relationships.
What is eHarmony?
eHarmony is an online dating website, launched on August 22, 2000.
Who owns eHarmony?
owned by German mass media company ProSiebenSat.1 Media.
How do I contact the support team of eHarmony?
You may contact the eHarmony Support Team through any of the following:
Address: P.O. Box 241810, Los Angeles, CA 90024 USA or emailing
Email: [email protected]
Does eHarmony work?
The site claims to have paired over 2 million members over the course of its operation.
Cost
Is eHarmony free?
eHarmony has both free and paid features. Creating an account is free.
How much is eHarmony?
eHarmony offers three premium plans for 6-month, 12-month, and 24-month subscription terms.
How much is eHarmony a month?
You can have a premium plan of 6-month, 12-month, and 24-month subscription terms for 41.94 USD, 27.54 USD, and 21.54 USD per month rate, respectively.
Usability
How to delete my eHarmony account?
You can delete your profile within your account by clicking on the arrow next to your photo at the top of the screen to open the dropdown menu. Go to the "Data & Settings." Under the "Profile Status" section, click the link within ​​​"To permanently delete your profile, click here."
How to cancel eHarmony?
For subscriptions purchased on the web
In order to turn the automatic renewal feature off, you can do so within your account's Data & settings section by clicking on the "Amend subscription" link.
For subscriptions purchased through iTunes (Apple)
Apple does not provide developers with direct access to manage subscriptions purchased through iTunes. All subscriptions purchased through Apple must be managed through your iTunes subscription settings. Reach out to Apple directly if you need assistance with updating your renewal.
How do I hide my eHarmony account?
An alternative to deletion is available by hiding your profile. If you wish to simply "Hide" your profile to take a break from the service, you can do so within your Data & Settings page:
Log into your account
Click on the arrow next to your photo at the top of the screen to open the dropdown menu
Click the "Data & Settings" link
Under the "Profile Visibility" section, click the green slider to make your profile invisible
You'll see a banner on your Home Page telling you that your profile is currently not visible
Can you retake the eHarmony questionnaire?
You can retake the quiz by going to your Data & Settings or visiting any of your matches and clicking on the Compatibility tab.
How to send a message on eHarmony?
Simply go to the profile of your match and click on the "New Message" icon located at the top-right corner of the page.
How to unblur eHarmony photos?
If you are on a free account, member photos are automatically blurred. To unblur, you may choose to upgrade your account to premium.
What does "Favorited" mean on eHarmony?
If someone has "favorited" you, it means that they saved your profile to their list of favorite profiles.