Discreet and quiet, Ashley Madison promises an adventure of a lifetime. Read on below to see if it's real or just a scam.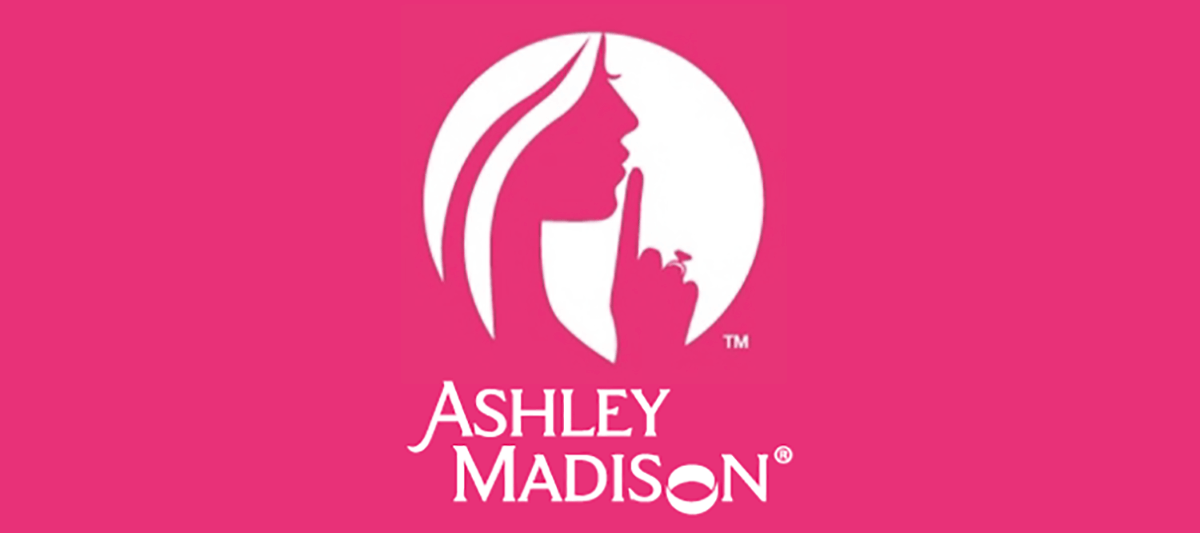 Ashley Madison is not your typical dating site and the media controversy it went through in 2015 was an affair to remember and nothing new. Despite being hacked and information of its millions of affair leaked on the internet, this continues to grow its user base.
Find out why Ashley Madison reviews remain to get positive feedbacks, still trusted even in the media and the go-to for infidelity and discreet extramarital affairs among its 50 million patrons worldwide. What is Ashley Madison and the Ashley Madison list? We've got you covered in this review.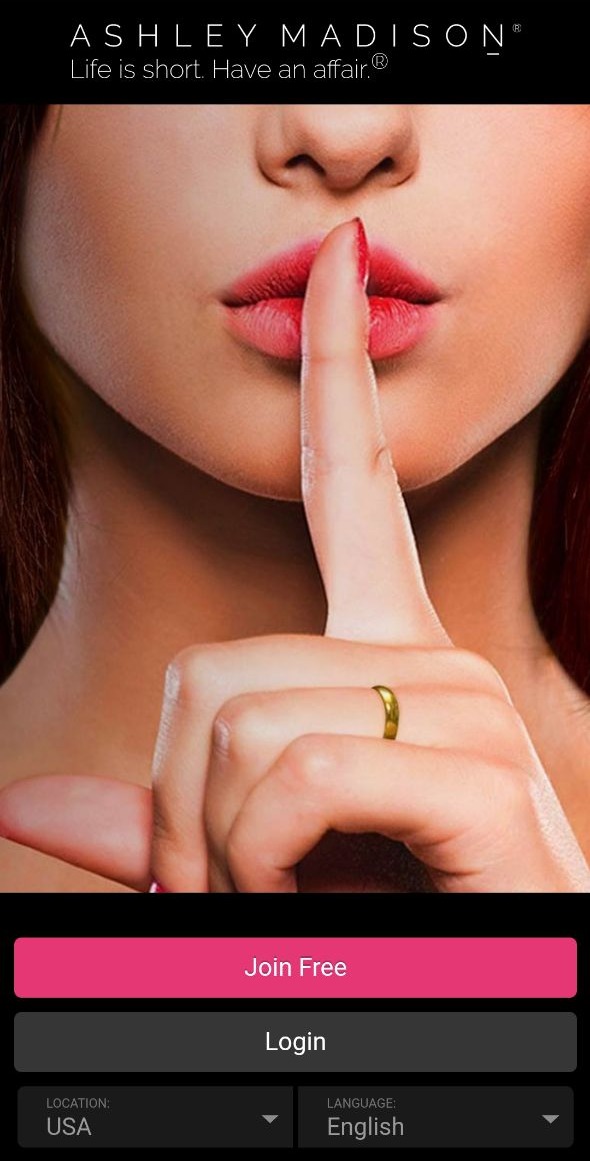 The "Cheating" Site
Initially, the then-new Ashley Madison targeted "bored men and lonely housewives" and encouraged its users to meet other bored and lonely married users. They encouraged extramarital affairs among its users and is widely known as a "cheating site." Its affair dating patrons enjoyed the convenience of looking and finding someone who is willing to be a third party in a committed relationship regardless if it's in secret or in an open one.
Then in 2015, hackers stole its data and posted them online revealing over 37 million confidential account information of its users. Because of this, Ashley Madison received backlash online and from the media. The backlash was not just about its lack of security but also for tolerating dalliance and extramarital relationships.
Due to these criticisms, Ashley Madison was prompted to make severe changes to its features. It took out many of its controversial features but still offered the it as a place for discreet extramarital encounters.
Discreet Adventure
Despite the tough criticisms Ashley Madison received during the data breach, it continued to operate as a website with a new image for people looking to explore outside their relationships. However, it also opened to all new people in different stages or types of relationships for a discreet adventure.
You can now go to there to create an account as a single man or woman looking for an affair with the opposite or same gender orientation and even for those individuals who are in a relationship. This new change welcomes anyone–singles or not, as long as they are looking for a dating or relationship adventure in a discreet manner.
Regular Members
Despite the business intrigue and drama, its users continue to stay in the platform for pleasure and to find different kinds of romantic or sexual affair. Most of its patrons are coming from the United States, Canada, and Australia. They are men who are in their 30s and older, and they want to experience mutual arrangement and discreet affair relationships.
As an "affair site," it attracted more men who want to have a sexual encounter with other people who are okay being with someone in a relationship. Ashley Madison com has become their go-to place to meet fellow adults for discreet dating or online flirtation.
Sign-up Process
---
Free to sign up
Quick and easy registration
Minimal information requirement
Region-locked access to the website
Not required to connect social network accounts
---
For a website that encourages extramarital affairs, you would expect that its registration process is stringent but signing up at its website was a breeze. Filling up the registration form only takes about a minute of your time.
Given its business nature, it doesn't require any personal information from you. All you need to do is provide your relationship status and what you're looking after. Then you will also have to provide a username and password, location, date of birth, ethnicity, and email. After that, you have to indicate that you are over 18 and agree to their terms of use and privacy policy.
Once you have entered all of your details, you may upload a photo of yourself or skip it. On the next page, a photo-sharing agreement will pop up and you need to agree to it in order to proceed. After creating your account, you can now provide initial information and something about yourself.
It's all up to you to share any information you're comfortable sharing. It could be about what you're looking for, a one-liner greeting, or your height and weight.
You may skip this step and come back to it later if you want to take some time to complete your profile. After registration, you don't need to go to the Ashley Madison login page as you will be redirected to the member's dashboard.
Profile Information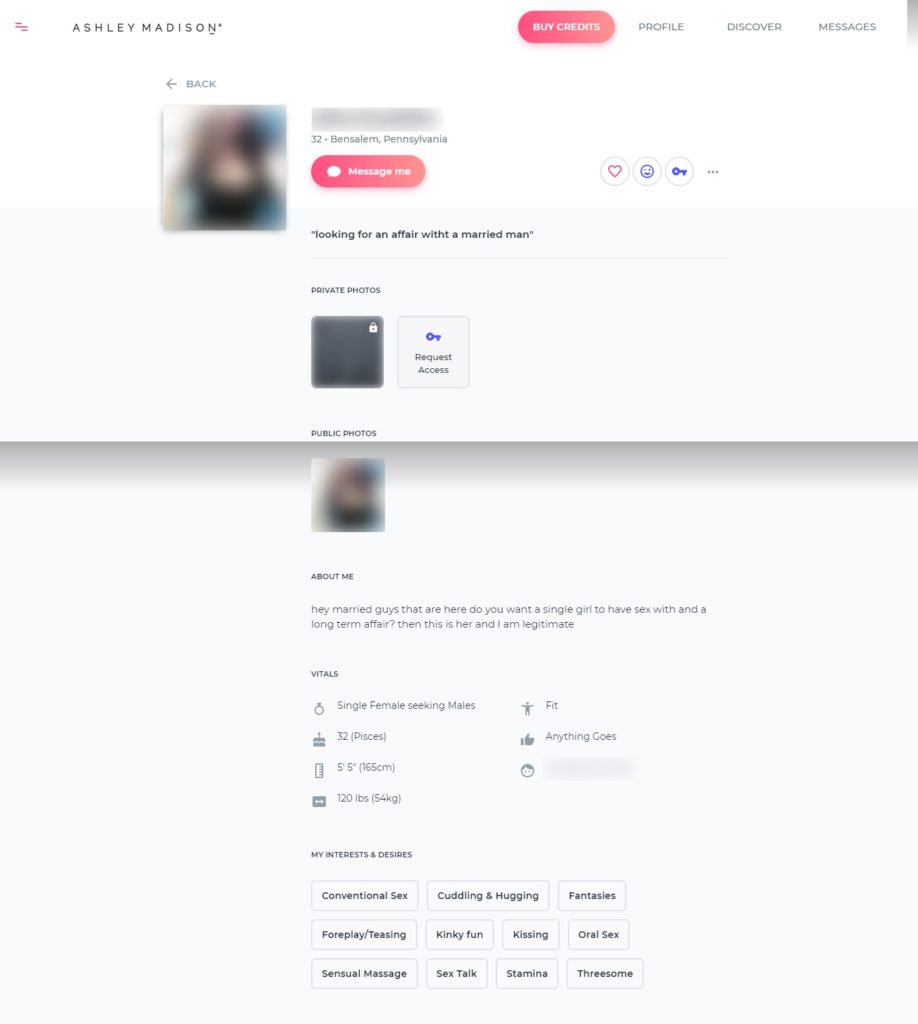 ---
Profile information is not detailed
You can upload discreet photos
Profiles can be viewed for free
Member's profile can be edited at a later time
Relationship status is vital information
---
As everyone knows, Ashley Madison coms is strict about keeping your private life private, you can't expect it to be detailed and filled with reliable information. You need to understand that a platform promoting infidelity is still frowned upon. Although there are information fields that are available, you still have the option to fill them in or not.
In any member's profile page including your own, username, age, and location will be shown. All the other information fields can be answered during registration or filled in at a later time. Similar to any sites, completing your profile information increases your chances of meeting other users.
At Ashley Madison, it is important that you provide your relationship status because this will help its algorithm in finding you a match. Moreover, you may also provide other vital information like your body type, date of birth, your limits, weight, height, and languages spoken. There are also information fields where you can write about your interests and desires so that you can further help other members know you more.
Aside from that, Ashley Madison doesn't really monitor what others have written on their profile page. So whatever you can share whatever information you want others to know about you.
Overall, there's nothing much that you can take away from each member's profile. What you get to learn about them is totally up to them and how much information they want to reveal about themselves.
Making Contact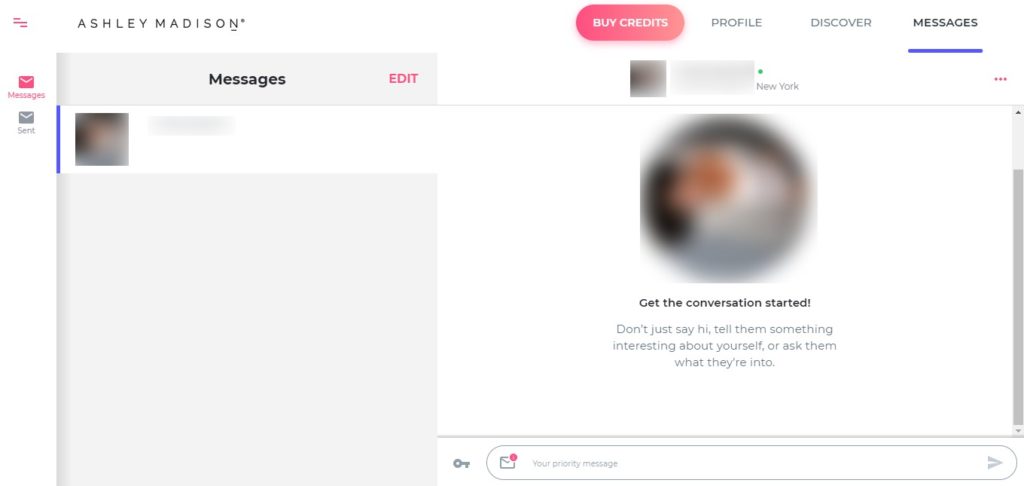 ---
Need to purchase credits to access messaging features
Females can send messages and chats for free
Multiple ways to connect with others
Advanced Search options are available for free
Quick reply to favorites and winks
---
Communication features play a crucial role in the successful match-making of any dating sites. Below are the contacting tools within Ashley Madison that you can utilize to connect and interact with each other.
Priority Man
To help you boost your profile and get ahead of the competition in your area, you may opt to become a Priority Man. If you subscribe to this feature, your profile will be highlighted in the search results so that its visibility is increased.
As a Priority Man, your profile will be highlighted in the search results for 30 days at $29.70 per month (taxes are added where applicable). This feature renews automatically unless you cancel it.
Priority Mail
Avail of the Priority Mail feature to get your mail highlighted to the recipient's inbox. Through this feature, you can be sure that your message is not buried among all the other messages and it ensures you that they will read your mail.
Traveling Man
If you are going to or visiting another area, plan ahead of your trip. Connect with other Ashley Madison members from that area days ahead of your visit. You can do that if you subscribe to Traveling Man feature.
Member Initiated Contact
Save on your credits when you avail of this paid feature. This is offered to Ashley Madison members who purchased credits. With this feature, you can read and respond to messages sent by females for free without additional cost. And even if you run out of credits, you can go on communicating with your conversation.
Member Initiated Contact feature is a 30-day free add-on on your first purchase of Ashley Madison's service credits. You will be charged $29.99 per month if you don't cancel your subscription before the free trial is up.
Message Plus
You can gain free access to this feature on your initial purchase of any credit package. Through this feature, you can read and reply to messages without using any of your credits. Should you run out of credits, you will still be able to send and reply to ongoing conversations.
Add to Favorites
Regardless of your membership status, you are free to curate your own gallery of members by adding them to your Favorites list. Also, you can add up to 100 Ashley Madison profiles so that you have easy access to profiles that you're interested in. And if someone added you to their list, a notification will be sent through your messages.
Send Winks
Sending someone a wink is akin to letting them know that they caught your attention. To send a wink, simply go to the user's Ashley Madison profile, click on "Send Wink" under their profile picture. The best part about this is that it's free.
Discover
The discover feature helps you to find users that tickles their fancy. Without additional charges, you can try the search filters to narrow down their preferences such as location, body type, age, etc.
Similar to most dating sites, Ashley Madison also reserved access to their messaging features and communication tools to its subscribers. However, females (those who are seeking men only) can use all features free of charge.
Costs
Those who are women seeking men enjoy full membership at the site for free. Others (men seeking women, men seeking men, and women seeking women) must purchase a credit package to gain full access to the site. You may also sign up as a guest member for free to explore and use the site at limited access.
Guest Membership Features
Account creation
View profiles
Add to Favorites
Send winks
Discreet photo
Access to blogs
Full Membership Features
Access to Messages
Priority Man Feature
Send personalized messages
Send priority messages
Travel Man feature
Message Plus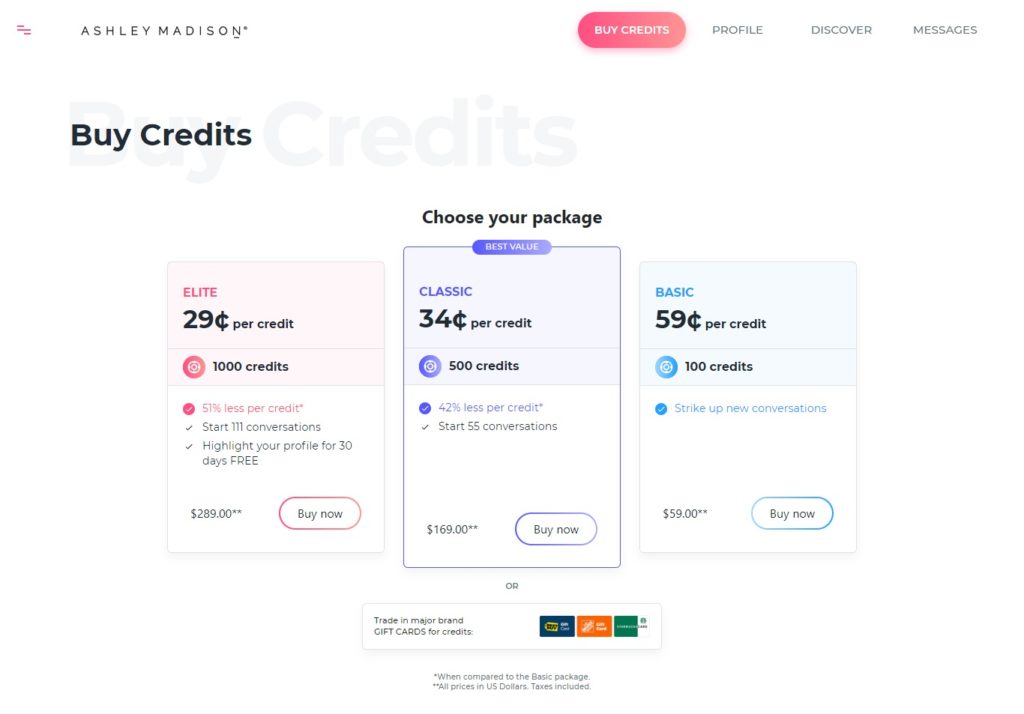 They offer three credit packages for purchase:
Elite Package which includes 1000 credits that can start over a hundred conversations and comes with free profile highlight for 30 days
Classic Package for 500 credits and can start 55 conversations
Basic Package for 100 credits that you can use to initiate conversations with others
Ashley Madison accepts major credit cards, PayPal for discreet payment. Your charge will appear as AMDA on your billing statement and not as Ashley Madison.
They also accept gift cards from over 90 retailers such as Walmart, Starbucks, Best Buy, and Home Depot. Please note that you may only trade gift cards worth $49.00 and above on the site.
In addition, to use credit-based service on your mobile, you have to pay a one-time activation fee of $19.99. This service is optional and to remove this charge from your sub-total if you do not want to have mobile access to the site.
App
---
Free to download
Available to both Android and iOS users
Same features as the website version
Perfect for people always on-the-go
Simple and easy to use
---
In order to make the platform accessible to more users, it offers a free-to-download Ashley Madison app on both Android and iOS mobile smartphones. The app's logo is discreet and simple. Unlike the web version, it's all in black with a white underscore icon so it can easily be hidden.
In terms of features, both the app and the desktop version are the same. The only difference is that if you purchase credits, you have to go through the App Store or Google Play Services.
Other than that, there's no notable difference between the two. You can still add users to your Favorite's list or send a wink, as well as subscribe to the paid features should you wish to.
Moreover, if you choose not to download the app, you may still access Ashley Madison through your phone wherever you are. Its website is mobile optimized so its content will fit your phone screen even if you're not using its app.
Note that Ashley Madison has an optional charge for Discreet Mobile Access offered to people using credit-based service.
Experience Reports
As a woman, it's difficult to find a place where I can embrace my sexuality and not be labeled as a bimbo. When I found Ashley Madison, it became my place to engage in activities that I've always wanted to try without judgment. I met guys and girls that helped me be me.

Hanna, Bank Associate, 30
I have been looking at dating sites to find someone to just chill and have fun with. But the other dating sites were too congested with men and women were unresponsive. So I gave Ashley Madison a chance and the experience so far has been great. I've interacted with more women than I have in the years I spent on the other sites. Women didn't care if I was on a relationship or not and we were on the level enough that we both know that what we're doing we're just chillin' and nothing serious. That's why it's so great for me.

Marcus, Engineer, 42
It's been years since I felt there was a connection between me and my girlfriend. It felt like we're just together because we've been together for so long. Then I heard about Ashley Madison. I didn't want to leave my girlfriend, but I also wanted to try something else. So I registered and it was so easy. I continued on with my search, discovered someone that I really liked and was interested in. So I messaged and she messaged back. It was easy and it was fun. I liked it. I didn't told my girlfriend about it and I don't think I will ever tell her.

Jerry, Graphic Artist, 39
Conclusion
As a pioneering site of its kind, Ashley Madison has cemented itself as a reliable venue for adults seeking adventurous affairs. Since its data breach in 2015, it has buffed up its security and took out its most controversial features so that it can prevent further backlash. Most of the people are open-minded individuals. They are exploring their sexuality with other people while being in a committed relationship. So if you think this is for you, or you and your partner want to try a polyamorous set-up, you might want to give this site a try.
Frequently Asked Questions
Facts
What is Ashley Madison?
Ashley Madison is a website for people looking for extramarital affairs and other adventurous encounters. It offers like-minded individuals a community that is open to infidelity without any judgment.
How does Ashley Madison work?
People who are interested in the site can sign up for free and set up their profiles based on their preferences. They use credit-based services in order to connect and interact with other people using its different features.
What is Ashley Madison's company information?
Ashley Madison is being run by the company below:
Company Name: Ruby Life Inc.
Address: PO Box 67027, Toronto, ON M4P 1E4 Canada
Phone: (416) 480-2334
Customer Support: [email protected]
How many members does Ashley Madison have?
Despite the controversy, Ashey Madison continues to grow. As of this writing, it has about 50 million people worldwide and 34 million of them are from the United States.
Account and Membership
Can singles create their own Ashley Madison profile?
Ashley Madison is open to all individuals looking for discreet fun. It doesn't matter if you are single or in a relationship, as long as you're looking for discreet relationships or extramarital affairs, this site is for you.
What's can I do with my free feature profile?
Guests or those with a free membership at Ashley Madison can enjoy some of the site's features such as viewing of profiles, photo sharing, sending winks, and adding to the favorites list.
To maximize the site's full features, you will have to purchase its credits or subscribe to their paid features.
How can I delete my Ashley Madison profile?
If you want to deactivate or delete your profile, simply go to your Manage Profile page and choose "Delete Profile" using your desktop computer.
Account deletion includes the removal of your profile and photos from the site and the search results, as well as the removal of all your messages, winks, and gifts from your inbox and the recipient's inbox. Moreover, your usage history and identifiable information will be removed from Ashley Madison.
Safety and Security
Is Ashley Madison a legitimate site?
While we can't guarantee the legitimacy of any website, we always encourage our readers to take proper precautions when joining any dating websites.
Sign up at Ashley Madison and see if you can find what you're looking for at the site.
Is my privacy protected at Ashley Madison?
After the data breach in 2015, Ashley Madison beefed up its network to protect its members' data from another cyber hack attack.
How can I safeguard myself while using Ashley Madison?
There are several ways that you can safeguard your privacy:
Create a separate and exclusive to Ashley Madison's email. Register Gmail or Hotmail email addresses since they do not require addresses to register
Choose a username that cannot be linked back to you.
Always be wary of who you talk to and what information you share with other users of the site.
What does Privacy by Design mean at Ashley Madison?
Ashley Madison's Privacy by Design Certification is an assurance that the site has achieved the highest protection possible in terms of network infrastructure and business practices.
Payment
Is there a way for me to pay privately on Ashley Madison?
To discreetly pay for an Ashley Madison credits to purchase or paid features subscription, you may redeem gift cards from retailers and trade them on the site during billing.
What payment options does Ashley Madison accept?
Ashley Madison accepts major credit cards as well as gift card trades. You also have an option to directly mail a cashier's cheque or money order payable to Ruby Life Inc.
How much does a paid status at Ashley Madison cost?
Anyone can sign up at Ashley Madison for free but in order to fully enjoy the site, you will have to purchase credits at a base price of $59.00 for 500 credits and subscribe to some of its key features at less than $30.00 each.
Can I have Ashley Madison's full features for free?
Yes, but only if you are a woman seeking for a man, you can have full access to Ashley Madison. Otherwise, you will have to pay to enjoy the entire benefits that the site has to offer.