Ask couples how they met and bonded, and you're bound to hear one or two of them mention an app. What happened to networking, asking friends to hit you up with an acquaintance, or bumping into love at first sight? How do technology and algorithm match us with a potential lover? Let this online dating sites guide explain.
If you haven't lived under a rock for the past two decades or so, chances are you've heard how online dating sites and apps took the world by storm. There's even a probability you've signed up in one or two to see what the fuss is all about, right?
Don't worry; you're not the only one. The latest figures show that over 40 million Americans use online dating sites to find hookups, dates, or their one true love. This surge of online daters prompted developers to launch websites left and right. Still, it's not enough to tide over the number of people eager to try these platforms out. No one's complaining though—the more, the merrier, right?
These stats didn't answer the questions, though. What are online dating sites? How come these sites became the top of mind, the "authority," when it comes to our love life? Check out this online dating sites guide.
Online Dating Sites Guide: How it all started
There was a time, several eras to be exact, that the Internet was not a fixture in our lives. Still, people fell in love and got married, but how did they get to know each other? Before technology-mediated romance was a thing, people had to rely on their relatives, friends, and connections to hook them up with the right man or woman. It was even customary for parents to arrange marriages. Betrothal was in.
But for those who exhausted connections and had no betrothed, they relied on a professional. Matchmakers helped arrange meetings between people who fit each other's status, needs, and ideals. Depending on culture, matchmakers were either spiritual, influential, or smart. Ultimately, they made use of criteria and reasoning to help match would-be couples up.
Fast-forward to several eras; matchmakers upgraded their means. They relied on a computer to help them, well, compute. It may come across as a surprise, but the first computer dating services sprang up in the 1960s (the first was in 1957), an era long before the age of the Internet.
Back then, these computerized matchmakers relied on exhaustive profiles that clients put together in dating company offices. Later on, these services may have included extra features like videotaped interviews or messages that interested parties can view.
For its time, such "technological" services were cutting-edge. Just imagine how advanced it seemed: everybody answered the same series of questions which were, in turn, fed into a massive (an understatement, considering one unit filled an entire room) computer. After making computations, it spat out a list of the most compatible with each other. It was magic—for its time.
The magic continues
We all know that the magic didn't end with these ginormous computers. As we ushered in the year 2000, the 21st century and third millennium, the Internet was no longer a technology that only the scientists and businesses can avail.
Pretty soon, home computers and smartphones rolled out. Instead of technology being a want, it's now a need. The first online dating site said hello to the world in 1995. Two decades passed, and here we are, living and thriving with dating apps.
Online Dating Sites Guide
But what are online dating sites?
Simply put, these platforms are systems. People in search of a relationship, personal, romantic, or sexual, sign up to one. Once they're in, they complete profiles and questionnaires, browse the website's directory of users or get daily matches, and interact via the platform's messaging functions—all these in the hopes that they get together with someone.
Sounds too good to be true? Well, it is true. But like anything else in the world, online dating sites have pros and cons.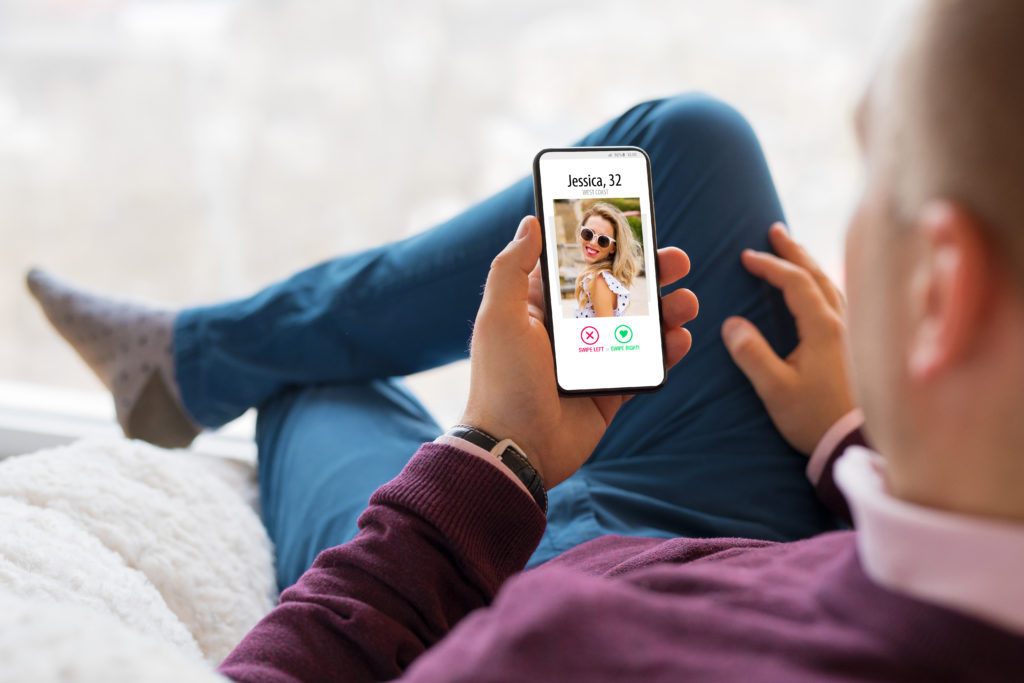 The Pros
Options
We mentioned a lot of developers launch dating websites nowadays, right? That means you have so many options in terms of platforms and their offerings. Even better, the market isn't saturated with dating sites that cater to a specific or general audience. No matter your age, orientation, sexual preference, status, or fetish, there's an online dating site for you.
Cost-efficient
Before the Internet made it possible to meet someone without leaving home, imagine how much transportation or fuel expenses and phone bills skyrocketed to date. And we're not even counting the cost for your actual date in there! Dating online is possible even when you're in the comfort of your own bed. Logistics-wise, it's cost-efficient.
Privacy
There's a lot of factors why you may wish to be a little private with your dating life. You may not be out and proud yet, someone diagnosed with curable but stigmatized infections or a person who's just up for extramarital affairs while you work out divorce papers and such. At dating sites, you can hide under aliases and security features while you scrutinize a potential match.
The Cons
False claims
Yes, there may be a lot of dating sites to choose from, but in reality, not all deliver the quality and service they claim to provide. Sometimes, the team behind these platforms bombard you with words, images, and enticing advertising that leaves you with no choice but to sign up. However, you'll soon regret your decision as it's an apparent and classic tale of false claims.
Premium fees
Yes, joining dating sites is cost-efficient compared to the expenses you'll incur if you were to barhop or travel in search of the one. Still, dating sites are not free services. Most of these websites require you to upgrade to monthly subscriptions or purchase coins in exchange for essential functions such as communicating with other members.
Catfishers and scammers
Ah yes, the air of mystery surrounding the aliases and profiles at dating sites. It is enticing but two-pronged. On the one hand, you maintain your privacy. On the other hand, so are the identities of scammers and catfishers who prowl dating sites for unsuspecting victims. Fortunately, websites are aware and are doing the necessary steps so they can catch these frauds ASAP.
How do I succeed in the world of algorithms?
Dating online is not a bad place to start your quest for romance or sexual adventures. The thing is a lot of people are doing it, too. So, how does one succeed in the world of online dating? Here a five simple but effective steps you should do:
Know what you want
Seriously, there's a lot of dating sites and app options that getting a suitable date or lover is like finding a needle in a haystack! But you see, the search is hard because you have lots of bases to cover. If the search range were more apparent, you'd be more efficient in sifting and swiping profiles left or right.
How can you be more efficient? It will help if you know what you like.
Have an idea of the type of relationship you're willing to pursue. Are you looking for friends? Fun dates? A hot one-night stand? A couple who swings? Or is it true love you're searching for? Dating sites are usually categorized according to intentions and activities, so it will significantly help if you know what you want.
If you're undecided, at least know who your type is. Are you looking for older or younger matches? Business-oriented individuals? Degree-holders? Interracial matches? It's easier to find the one if you're decisive.
Do your research
Once you have a list of what and who you want, an online dating sites guide is your friend. Read one that targets your selected categories. And then, do some research.
Read up reviews done by independent blogs or services, check out the comments left by those who signed up for the dating site—Google is a powerful friend. Before signing up (and paying a premium), make sure you have enough information first.
Prioritize your safety
Not to be a buzzkill, but the Internet is such a vast playground for malicious people with enough skills and intent. You'll have to prioritize your security and safeguard your identity before wading into the online dating pool.
Some of the things you can do are:
Create a dummy or secondary email account which you'll solely use for online dating.
Use an alias. It won't hurt if the only time you reveal your real name is when you meet the match in person.
Never reveal personal information such as your email, home address, occupation, and birthday.
Let your friends know if you're going out on a date. Always keep your friend's number as your emergency contact and update them of your whereabouts and current feelings. This is important: let them know if you feel uncomfortable so they can come to fetch you.
Brush up your profile
You're not the only one using the dating site, so what makes you think that an empty profile will rake in the views?
Of course, prioritize your safety, but it wouldn't hurt if you brush up your profile a bit. Answer personality tests, add at least two photos, and fill out the fields (as long as it doesn't divulge personal details) of your profile.
Keep it exciting and reflective of your personality; that's how you use your profile to catch the attention of potential matches.
Make an effort to grow the relationship offline
In the offline world, new relationships often begin with introductions, then a few chats, and a blind date. A series of phone calls follow this until the two people involved are comfortable with one another.
Online dating is different. It begins with a profile and a matching algorithm.
The next step isn't a blind date, but an exchange of emails, instant messages, or video chats. You do all of these things before you can even meet face-to-face.
And sometimes, you never get to meet. You become too comfortable in the virtual realm, grow tired of each other, or suffer through an inconsistent schedule. Dating online can only go so far.
For your relationship to blossom, you'll have to put in the effort to meet up offline.
To cap it off
Without an ounce of doubt, online dating sites changed the dating game. These advanced systems made the world smaller. It allowed us to meet, interact, and get to know singles from all parts of the globe.
Apart from race, our dating pool significantly widened as we are no longer limited to the physical and societal limitations imposed on us.
The technology-mediated platform is also godsent for shy daters and people who are still breaking boxes and labels. These platforms aided a person's eagerness to find companionship and love in the most efficient and convenient ways.
But alas, online dating sites are merely tools. Whether you make it past the becoming "matches" stage is up to you and your willingness to start something more offline.