Are you looking for your big love? Look no further. The BBW and BHMs of BBWCupid are all ready for a love story, too.
One of the best things that technology gave its users is the ability to celebrate and represent bodies of all shapes and sizes. Now, it's pretty common to see models and personalities flaunting and owning their plus-sized physiques.
And it's even more common to fall in love with a big man or woman.
Big Beautiful Women (BBW) and Big Handsome Men (BHM) take front and center at BBWCupid website, one of the leading authorities when it comes to search for bbw dating.
Cupid Media, a network of dating website that is also the force behind popular niche and regional dating sites around the world, operates the dating website. Apart from boasting an impressive user base of BBW and BHM singles, it is also for people who admire bbw singles.
Member Profile
BBWCupid has over a million bbw singles globally and enjoys an average of over a hundred thousand monthly new members. In terms of sex reviews, male users outnumber females.
There is currently no review and data available to indicate if there are more bbw members than admirers; however, most of the profiles we encountered were that of BBW and BHMs.
Age-wise, the members are on the younger side. The most active age range is the 25-34-year-olds, but the dating site is also popular with the young (18-24) and mature (35-44) audience. Some silver-haired members are also taking part in the fun.
Since its launch way back in 2005, it has gone even more global. It's immensely popular in the United States, the United Kingdom, and Canada. Interestingly, it's also gaining traction amongst South Africans, Polish, Greek, and Latin American members.
The dating website aims to be a safe and comfortable space where members can respectfully interact, converse, and flirt. Some of the members may be in it for friendship or sex, but a sizable number is looking for long-term relationships and even potential spouses.
With a considerable population and popularity, it seems like Cupid's arrow reviews is bound to find you at BBWCupid, right?
We thought so, too, but to be on the safe side, we decided to do a BBWCupid review for you. Get yourself comfy and read on this review as we thoroughly check every cost and feature of this plus-size dating site.
Sign Up Process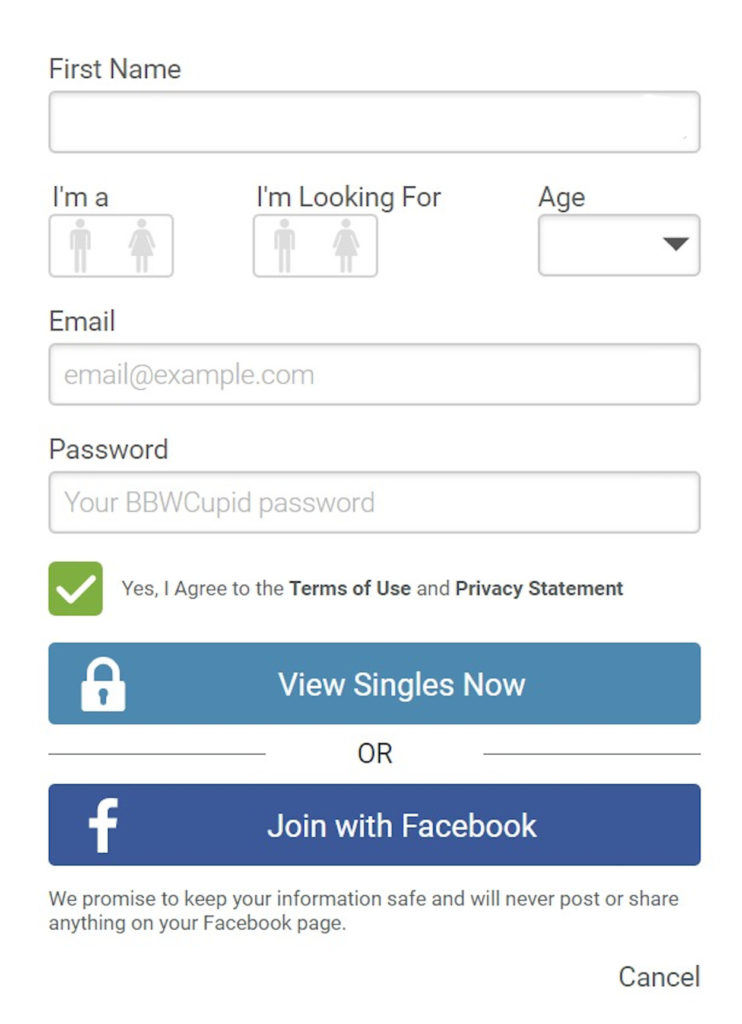 ---
Sign up for free
Easy registration process
Registration takes up 3-5 minutes of your time
Opt to sign up by linking your Facebook account
Welcomes members looking for same-sex relationships
---
If there's one word to describe the registration process, it's straightforward. The dating site will only require you to complete a single registration form.
Before you can access the BBWCupid login page, it will need you to provide your first name, orientation and preference, age, and your preferred email and nominated password. It reviews security so the password should be at 8-20 characters.
We found out in this review that most of the registered members may be straight, but it also welcomes new users who are looking for a same-sex relationship. The dating site is not into labels; instead of identifying themselves as gay, lesbian, transgender, or pansexual, members need only to click the male or female icon for their preference.
After inputting all the necessary information, tick "Yes, I agree to the Terms of Use and Privacy Statment," and select "View Singles Now." Unlike other dating sites, email verification is not a required step.
There's another button in the signup form: "Join With Facebook." It allows users to register by linking in their Facebook account. To ensure your social media account is secure, restrict the dating site's access by not allowing it to post anything on your behalf. After inputting all the details, you won't need to go to the BBWCupid com login page as it will redirect you to the individual member's page.
If you prefer to test the waters first, you can read reviews but most importantly, it lets you explore the dating site immediately. You won't upload a profile photo or customize your profile; the catch though is that you won't get match suggestions nor any attention. You'll need to polish your profile first.
Profile
---
The profiles, if completed, are detailed
Members can update their profile details for later
Primary and gallery photos are accessible with or without a paid subscription
Members are encouraged to review their information and verify their profiles
A member's online and subscription status will be reflected in their profile
---
When filled out completely, the profiles can be very detailed and telling of the member's personality. This is advantageous as members, paying and non-paying, can make precise and learned inferences.
Although profile customization is not mandatory, doing it will lead a member to quality and compatible matches. The site sectioned profiles this way:
Profile
This section includes your basic details: name, age, location, occupation, and what you are looking for.
Photos
One of the most generous features is that even standard users can browse a member's profile and gallery photos. The moderators verify uploaded photos one-by-one; the BBWCupid com watermark will appear on all images.
To make sure your's gets approved, take care to follow the guidelines:
Smile in your photo
Solo shots only
Recent photos are preferred
Select ones that clearly shows your face
It should be of good quality
Taken in a well-lit environment
Most importantly, it should not contain any form of nudity, abuse, or violence
Personality Questions
This essay-type test allows members to express their likes and dislikes freely. There are 12 questions, and it includes basic chitchat such as what your favorite movie and music genre is. It also includes in-depth questions telling you to describe your ideal type or date. You'll need to answer at least seven of these questions for it to become a part of your profile.
Interests
Sharing the same interests may be the best way to bond with someone you meet on dating sites. Include all of yours by ticking all that applies. The questions you'll have to answer will include:
your idea of fun/entertainment
food you like
the music you are into
type of sports you play or watch
Match Criteria
It takes note of your preferences when it suggests matches to you. The dating site calls this your Match Criteria. You'll need to give details on your ideal type's necessary information (sex, age, location), physique (ethnicity, body type, etc.), lifestyle (vices if any, marital and parental status, their plans to relocate), and their background and cultural values (nationality, languages, education, and religion).
Cupid Tags
A fun way to find your match is by using Cupid Tags. As the name suggests, these tags are descriptors of who you are; your traits, characteristics, hobbies, and interests.
It may not check your emails, but they do allow you to verify your profiles, and therefore, your credibility.
To do this, you will have to upload or mail a colored scanned copy or photo of any identification documents (passport, driver's license, and national ID cards are preferred). The moderators will only use your document to verify your identity, no more, no less. Once verified, you will receive a badge.
Apart from the verification badge, your profile will also reflect your subscription status (a gray male icon for standard members, orange icons for gold, and a blue icon diamond for the platinum subscribers). Your online status will also be included in your profile (Online, Busy, or Offline).
Contacting Functions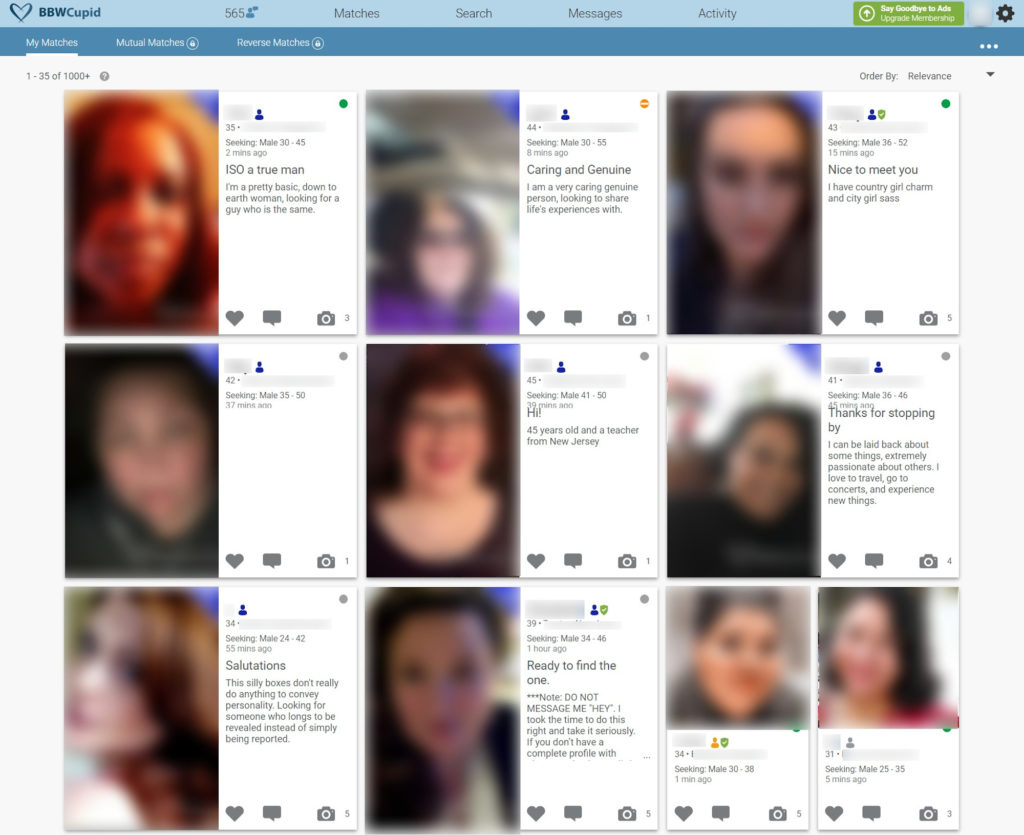 In terms of functions, it may not have an extensive list. Instead, the dating site offers features members can use to instantly bond and interact.
Add to Favorites List
So you don't run the risk of forgetting a member's user name after browsing, add them to your favorites list for free.
Send Interest
As the name suggests, clicking on the "heart" button lets a member know you are interested in them.
Matches
Based on your Match Criteria or Cupid Tags, it will list down members who in one way or another matched you. 
Search
If you'd like to get more options other than the profiles listed as your Matches, you can search. You can customize basic search filters such as location and age range and even more advanced options to get more suggestions.
Instant Messaging
Only accessible if you are a paying member and if the other party is online, BBWCupid's IM function is one way to get in touch and flirt.
Messages
Of course, you will need to have a function that allows you to interact with an offline member. It lets you do so, but this communication feature is only available for paying members. If you are a standard user, you can only hope that a Gold or Platinum member interacts with you first; that's the only way you can chat and flirt.
Attracting a paying member's attention may be one way to start interacting with others. But what if you wanted to initiate the conversation? It seems like you'll have to consider subscribing to a paid membership.
Cost
It neatly categorized their paying members into two: Gold and Platinum. Both types cover 1, 3, and 12 months payable via Credit or Debit Card, PayPal, Paysafecard, bank transfer, or Skrill. The member can also purchase a plan through Google Play. If paying via credit card, your billing statement will reflect "BBWCupid.com Southport AU" or "Cupid Media Internet GB" as the merchant.
Gold members have access to most of its functions. But unlike the Platinum members who can do it all, Gold members won't have as much profile boost, profile space, and a VIP highlighting. Advanced matching algorithms and translation services (since it is a global dating site) are only available to Platinum members as well.
As with other dating sites, it automatically renews subscriptions. This is to ensure that the members will have access to the dating site's paid feature without pause. If you want to bow out of the subscription, you'll have to cancel the auto-renew first.
To cancel, log in and hover your mouse on "Settings." Select "Billing" then click the slider next to "Your membership auto renewal is ON." Make sure to suspend the function 48 hours before your plan's expiration.
If you subscribed via Google Play, ensure you also turned off auto renewal here. Otherwise, your account will be renewed.
App
The free-to-download BBWCupid app is only available for Android users. Still, iOS users who are members of the dating site can continue flirting and interacting with their smartphones, too. The web design is mobile responsive, allowing the members to enjoy the website even while on-the-go.
It retained its no muss, no fuss color palette and functions on mobile. Users can purchase a plan via the mobile app or view and can even directly upload photos from their devices.
Overall, for members without access to their desktops or laptops, the mobile app and version are reliable alternatives.
Experience Reports
The app is excellent, and all but the price I have to pay is not friendly. Figuratively and literally. He's probably the exception, but I met a rude male at BBWCupid. I reported him, and it took quite some time for the moderators to act. It's quite pricey here, so I do hope we keep BBWCupid a safe space always, please.

Meryl, 23, Teaching Assistant
As a photographer, I've seen up close how confident plus-size women can be. One of my models told me she loves using this app because it's an easy way to make friends and dates. So I signed up and so far, so good. I'm not looking for love, just inspiration and friends, and BBWCupid introduced me to a lot of them.

Kirk, 32, Fashion Photographer
Conclusion
BBWCupid is a dating site aiming to cultivate a safe, warm, and supportive space where plus-size members can thrive and interact. With no muss, no fuss communication features and a growing global population of involved members, it is an excellent place to start searching for your big love. Ready to start dating? Click on our affiliate link and sign-up at BBWCupid now!
Frequently Asked Questions
Facts
Is BBWCupid com a legitimate dating site?
Yes, it is a legitimate dating site operating globally.
Who owns BBWCupid?
It is part of Cupid Media, the company behind a vast network of popular niche and regional dating sites.
What are the contact details of BBWCupid?
Contact the support team through:
Address: BBWCupid.com, PO Box 9304, Gold Coast MC, QLD 9726, Australia
Telephone: +61 7 5571 1181
Fax Number: +61 7 3103 4000
Email Address: [email protected]
Is BBWCupid good for finding hookups?
It advocates for friendships and committed relationships, but you may also come across members looking for casual dates and hookups.
Payment
Is BBWCupid free?
Some of its features are free. If you intended to find love or friends, however, most of the communication functions require a paid subscription.
How do I cancel my BBWCupid membership?
To cancel your membership, go to "Settings" and click "Billing" from the drop-down menu. In the section referring to the auto-renewal function, move the slider to "Off." Stopping the auto-renewal at least 48 hours before your membership expires ensures that you won't be billed for a paid membership.
How do I get a free BBWCupid gold membership?
As of writing, a Gold membership requires users to pay for either 1, 3, or 12-month coverages.
What are the available BBWCupid membership options?
Members can opt for either the Gold or Platinum Membership plans.
Usability
How do I hide my profile at BBWCupid?
Go to "Profile Settings" in the Settings menu. Click "Hide my profile from users" then hit save. Note that this feature is only available to paying members.
How do I delete my BBWCupid account?
You can opt to switch off your profile if you no longer wish to be a member. To do so, visit the Help section of the dating site. You will choose your reason for leaving the site. You can also share feedback or your testimonial if the reason behind your leaving is that you found the one.
Why was my photo rejected by BBWCupid?
Your uploaded photo may have violated any of the following guidelines:
You uploaded group photos
Your photo is outdated
The photo is of low-quality
You aren't easy to identify in the said photo
It contains nudity, abuse, or violence
How do I strengthen my BBWCupid password?
Create a password containing a combination of letters, numbers, and symbols, and is at least eight and at most 20 characters long. Also, if another member asks for your password, report immediately to the Support Team as he or she may be a scammer.
Security
Does BBWCupid have security measures in place?
The moderators routinely inspect and suspend suspicious, reported, or inactive profiles. The dating site also encourages members to verify their accounts by submitting a scanned copy or photo of their identification documents.
How do I block a member at BBWCupid?
You can click the block icon by visiting the member's profile or through the message they sent. If they interacted through the Instant Messenger, click the "More" menu (3 dots) then select "Block User."
How do I report abuse at BBWCupid?
As with blocking, you can report a person by clicking the "Report Abuse" (! icon) while reading their message, visiting their profile, or using the "More" menu in the Instant Messenger function. Select the reason for your report and provide as much information and screenshots you can manage for a smoother and faster investigation.