Are you looking for your own love story? Match says they can help you achieve it through its platform which is one of the pioneers in online dating.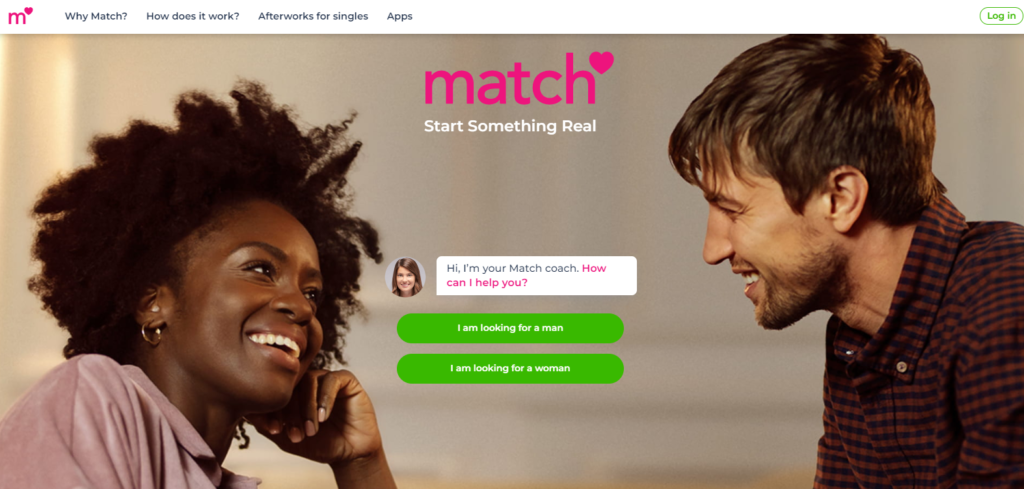 Finding a serious relationship in the virtual world is not exactly easy, but there are dating sites that offer their services to help you realize a love story that's worth keeping.
Under the category of serious online dating for singles is Match — one of the oldest dating sites in the history of virtual love. It offers a variety of services to make let its members find what they are looking for including Singles parties.
A huge percentage of its members come from the United States, but it has memberships across continents. Although not as popularly used in the US, there are a number of users coming from the United Kingdom, Canada, Japan, and Sweden.
The majority of Match's members belong to the 25 to 34 year age group who are looking for serious and long-term relationships. During these years, singles begin to look for ways to settle down with a partner, a contributing factor why Match's membership is high in this age group. There is also a significantly higher number of males which makes up for 60% of the membership compared to females with 40%.
Match has been serving singles for decades now since the site was founded in 1993 by entrepreneurs Gary Kremen and Peng Ong, and became a dating site two years later. But does being a pioneer equate to better services in this ever-changing industry?
Read on as we're not leaving a single stone unturned as we check Match's cost, features, functions! Is this site worth checking out, or have its younger competitors gotten the better of it being old? Find out in this review!
Sign Up Process
---
Registration is fast and easy
A virtual assistant guides new members through the process
Uploading a picture is required
Gay and lesbian members are welcome to join
You may verify your email address but it is not required
---
Match's registration process is one of the most convenient out there. You can finish it within a few minutes so you can also do it while on the go.
Initially, you will be asked to provide your basic personal information such as your birthday, email address, and location.
After giving out these primary details, you will be redirected inside the site so you can start using its features.
A verification email will be sent to your email address, but it is not a mandatory task to perform. However, verifying your email address strengthens the validity of your account so you can avoid getting tagged as a fake user.
Profile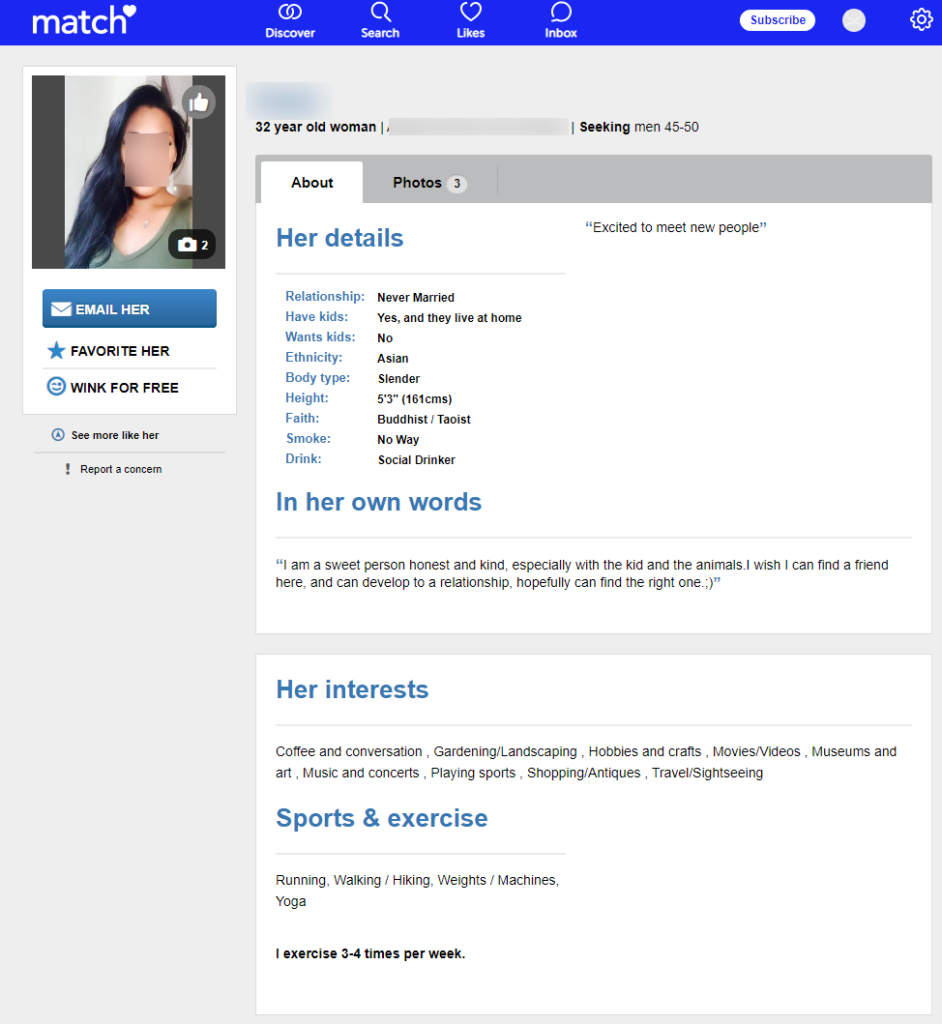 ---
You can view a member's profile for free
The profiles are well-detailed
Upload up to 26 photos in your profile album
Members' last active status is available
Viewing photos is a premium feature
---
Profile pages are an important gateway to a person's personality. When you read through the bio, you will get an overview of how a person is through their choice of words and how they present themselves in their own words.
Match has these elements present in their profile pages. You can get a detailed list of a member's basic information such as their name, gender, ethnicity, and body type. Some information on a person's physical attributes is also available on the profile.
There is a bio that you can customize if you want to give your profile some personal touch. You can introduce yourself here in any way you want, and in any language that you choose. Different personalities are reflected here because all members can be as creative as they want in this section.
Match's profile pages are an ideal place to start if you want to know further about a person who caught your attention.
Contacting Functions
---
Unlimited messaging is a premium feature
Messaging feature is basic
There is a chatroom for premium members
Sending likes is available for free
Search functions are extensive
---
Match has a basic messaging feature all members can use for having text conversations. Take note that Match's messaging features are mostly available for premium members only, including a chat room that is only accessed by paying members.
Most new members have a look around the site first to gauge whether getting a premium is worth it. The first thing they look for is a quality membership pool as this determines the possibility of actually getting a compatible partner inside the site.
Aside from the basic messaging, Match also offers the following contacting functions on the site:
MatchPhone
This feature will allow you to call another user through a custom phone number assigned by the site. If you use this feature, Match will connect you and the other member to an anonymous line so you could freely talk without being monitored. You can also block the user from calling you if you decide to do so.
Match Me
This feature will get your profile to appear on a specific member's match list. This will only apply to members whose criteria fit your profile.
Events
Match arranges local singles events for their members. You can find the listing inside the site.
Boost
Boost is an add-on special feature that will get your profile on top of the suggested members' list for an hour.
Reverse Matches
This is a list of people who are not compatible with you. You may browse through this list and interact with them if you wish.
Costs
Match paid subscription is classified into two membership plans—Premium and Standard. These are both offered in package durations of 1, 3, 6, and 12 months.
A Standard Plan has all the basic paid features such as unlimited messaging and getting access to the list of people who viewed your profile.
Match paid subscription is classified into two membership plans – Premium and Standard. These are both offered in package durations of 1, 3, 6, and 12 months.
A Standard Plan has all the basic paid features such as unlimited messaging and getting access to the list of people who viewed your profile.
On the other hand, a Premium Plan will get you all the exclusive features such as browsing anonymously, knowing when a person has seen your messages and voice calling.
App
---
You can download the app for free
App is available for Apple and Android devices
Functions and features are similar for the app and desktop site
Takes up only a small space in your device
Contacting features is more handy to use in the app
Mobile notifications is flexible and easy to control
---
The Match app is just like its desktop counterpart in terms of functions in features. The only difference is that the app is handier in terms of mobility and accessibility.
For instance, the MobilePhone feature is easier to use on the app than on the desktop version. It just makes communication a lot smoother and easier.
The mobile interface is also clean and straightforward. It comes in a blue and white motif that makes for a clear and easy-on-the-eyes experience.
Experience Reports
I am still trying out my luck with Match. Although I have found a few people to talk to, and there were fun conversations too at times, I can't say that I've finally found the "one" on the site. Maybe this kind of thing really need some time to work out.

Josh, 25, Engineer
I got less nudes solicitation and the like messages in Match than the other dating sites I've tried before. Good to know that there are still dating apps that are like that. People are nice and want to know you more. That is good enough for me to stay and keep using.

Cherry, 21, Student
Conclusion
Match's strength lies in its ability to pair people together who have high potentials to hit it off. This feature is a must-have for every dating app that wishes to make its members satisfied — especially for a dating site that is after making serious relationships happen. It's time you find your other half, so sign up at Match now!
Frequently Asked Questions
Facts
What is Match?
Match is an online dating service for finding dates, serious relationships, and marriages.
What company owns Match com?
Match dating site is owned by IAC, as part of Match Group, a group of online dating companies.
How can I contact Match com?
Match's customer service form can be accessed by going to their site homepage and clicking on "Contact Us."
What is the phone number for Match com?
You may reach Match by telephone at (800) 952-5210.
Where is Match com headquarters?
Match is a company based in Dallas, Texas.
How many users on Match com?
Match claims that it currently has over 20 million members across continents.
Usability
How to chat on Match com app?
To get in touch with another Match member, open their profile and tap on the envelope icon located beside the profile picture. You may access the conversation again inside the inbox.
How do I join Match com?
Visit the Match website homepage and sign up using the registration form where a guided form is provided.
How does Match dating app work?
The Match dating app works exactly like the desktop version. All the functions and features on the Match.com site is available on the app.
Do you have to pay to message on Match?
Yes. Unlimited messaging is available to premium members only.
Cost
How does Match work for free?
Match has a combination of both free and paid features. You can choose to use a free account for the limited services, but most communication features are only available for premium users.
Does Match cost anything?
You can join Match for free, but most communication features are available only to premium members.
Does Match com send fake emails?
Match will only send you emails and newsletters about your profile activity and site updates.
Is Match free?
You can join the site and download the app for free, but some features are available only to premium users.