Who says you can't find love when you are way past your "prime?" They say love knows no time or age at OurTime.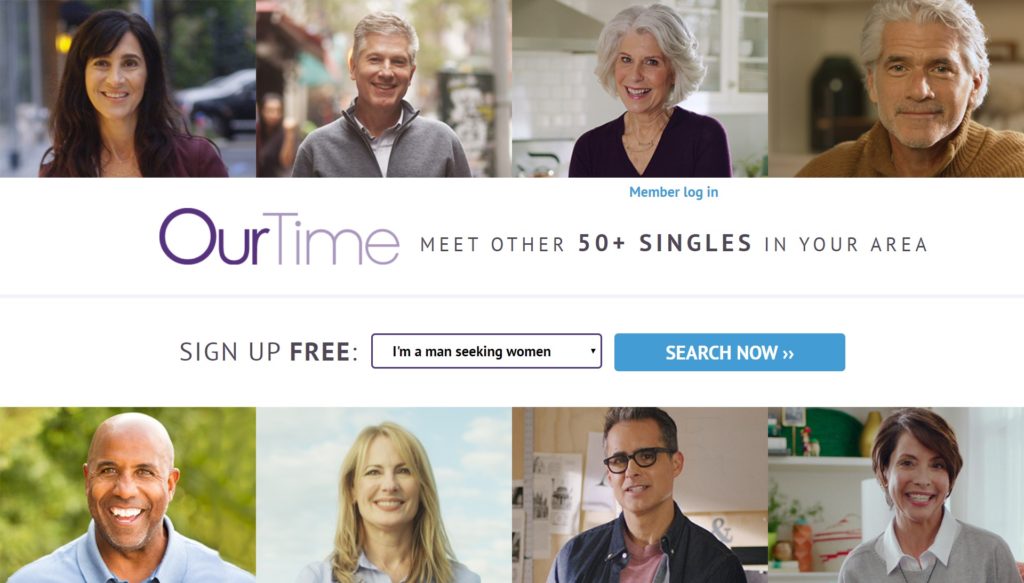 Gone are the days when "it was too late." Now, falling in love follows no timeline; even the men and women who are way past the society-approved "prime-age" are on the lookout for love.
At OurTime, silver-haired singles looking to find the partner they can spend the rest of their lives with abound. Mostly aged 50 and up, the members of OurTime can be flirty, but they're in it for the long-run.
Member Profile
This senior dating site is by US-based company, People Media. Compared to similar sites, OurTime enjoys probably the most extensive user base, which is more than 20 million at the time of writing. The ballooning population is due to its merge with sister sites, SeniorPeopleMeet and SeniorMeet.
The platform strives to give senior users a safe space where they can interact, converse, flirt, or freely date another member. OurTime suggests matches according to preference and proximity. That way, it is easy to arrange meet-ups and eventual happy endings.
In terms of sex, males slightly outnumber women at OurTime. As a senior dating site, most of the members are in their 50s and up. A small portion of the populace also includes men and women who are in their 20s up to their mid-40s.
The members are mostly from the United States, Canada, and the United Kingdom. Aside from these English-speaking countries, the senior dating site is also popular in Sweden, Spain, and the Netherlands. OurTime's global reach continues to grow; figures show that almost a million new members sign up monthly.
At OurTime, the members are empty-nesters who were either divorced or widowed. They look for companionship in the form of new friends, pen pals, or even potential marriage partners. They may not be too keen on short-term and casual arrangements; they've seen it all, and they want someone who'll be a permanent fixture for all the days of their life.
Everything's looking good for OurTime, but is it? To ensure you are signing up for a lifetime of happiness, we took the liberty to investigate this senior dating site.
Read on as we uncover every cost and feature to help you decide if OurTime is a go or a no.
Sign Up Process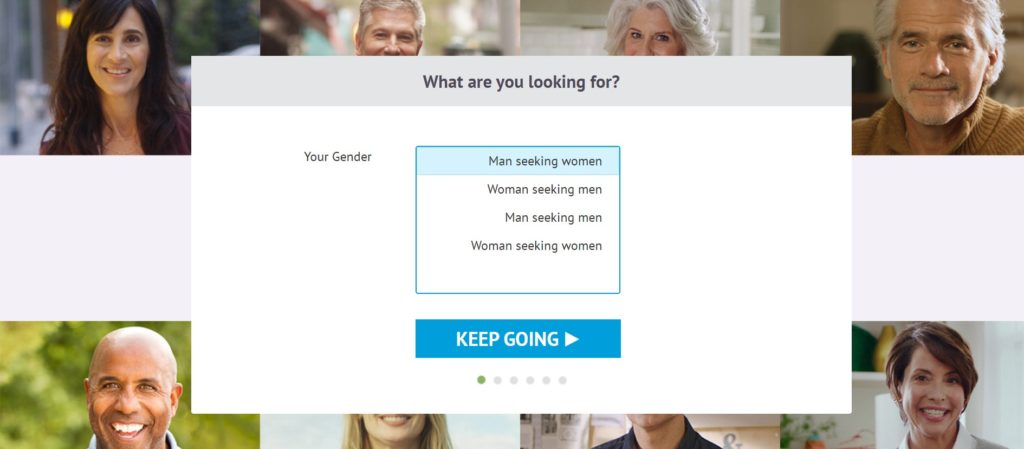 ---
Sign up for free
Easy registration process even for the non-tech-savvy
Registration takes up only 8-15 minutes of your time
Facebook registration is not offered
---
Although an option to register via Facebook would have been arguably easier, the signup process at OurTime is as straightforward. This ease will no doubt be convenient since the intended audience of the dating site may not be as tech-savvy.
OurTime divided the registration form into six tabs. You'll be required to provide the necessary details, which are:
Orientation and preference
Your country
Zipcode
4-16 characters first name and password; this can include apostrophes and hyphens if desired
Birthdate
Email
To make sure nothing is amiss, OurTime allows you to go back and check the details you provided. Once everything is good to go, hit "Keep Going."
The Process
The next step of the registration is your profile customization. First, you'll upload a primary photo. You can upload directly from your computer or mobile phone, or you may opt to use a photo from your Facebook page. In case you don't have a suitable photo with you yet, you can skip this stage.
Then, OurTime will ask you to describe yourself in 200 characters or less. Most of the members describe the type of relationship they're looking for at OurTime. This move is rather wise; without doing any talking, your profile effectively sifted out those who are not on the same page as you.
A short, but entirely skippable, Personality Test is up next. Here, OurTime asks you questions about your hobbies, interests, and likes. If you opted to answer the questions, these would be displayed on your profile.
Lastly, OurTime will present to you their subscription plans. Should you decide to sign up for one immediately, you may do so right away. If you'd like to take a look around first, select "Skip" and be on your merry way.
Profile
---
The profiles are adequately detailed
Members can update their profile details for later
Primary photos are accessible with or without a paid subscription
The site does not employ any identity verification system
Reports claim there's plenty of bogus accounts
---
Reminiscent of defunct social platforms MySpace and Friendster, the profiles at OurTime are detailed and easy to read.
Unlike other dating sites, OurTime does not use any identity verification system. Frankly, it was pretty easy to create a bogus account, which, of course, is any dedicated member's enemy.
The silver lining is that paying and non-paying members can freely browse profiles and photos at OurTime. This freedom grants a user the ability to scrutinize and decide if the profile they're reading is the real deal.
An OurTime profile is neatly sectioned into seven parts. It includes a photo gallery, and will also feature more details about the member's personality and interest. Most of the profiles we encountered were completed. This enabled us to form a solid idea of what a member is like at OurTime.
Contacting Functions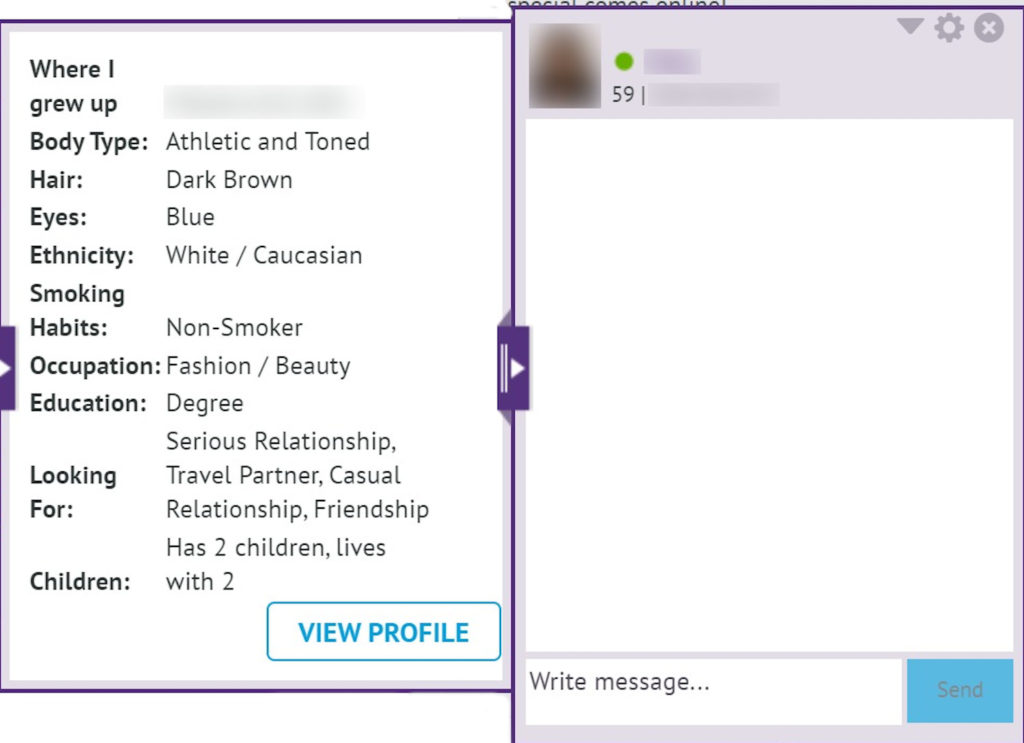 The popularity of OurTime seems to stem from the variety of functions a member can enjoy while using the website:
Chat
The chat function is a quick way to get in touch with other members at OurTime. Take note that aside from having a premium subscription, the only way you're going to get in touch via chat is when both of you are online.
Message and Gifts
So the member you're interested in is not online? No problem; send a direct message to get in touch. You may even amp up the effort by sending them a virtual gift. Like the chat, the message requires you to upgrade to purchase a subscription, while the virtual gift will cost you some tokens.
For free members, the only time you can reply to a message is when a premium member interacted with you first.
Matches
OurTime's version of the infamous swiping feature, the Matches function allows you to browse connections one-by-one.
Select "Yes" if you find the member appealing or hit "Pass" if you'd like to continue searching.
Aside from the member's name, age, and location, you'll also be able to see their primary photo plus other details like what they're looking for at OurTime.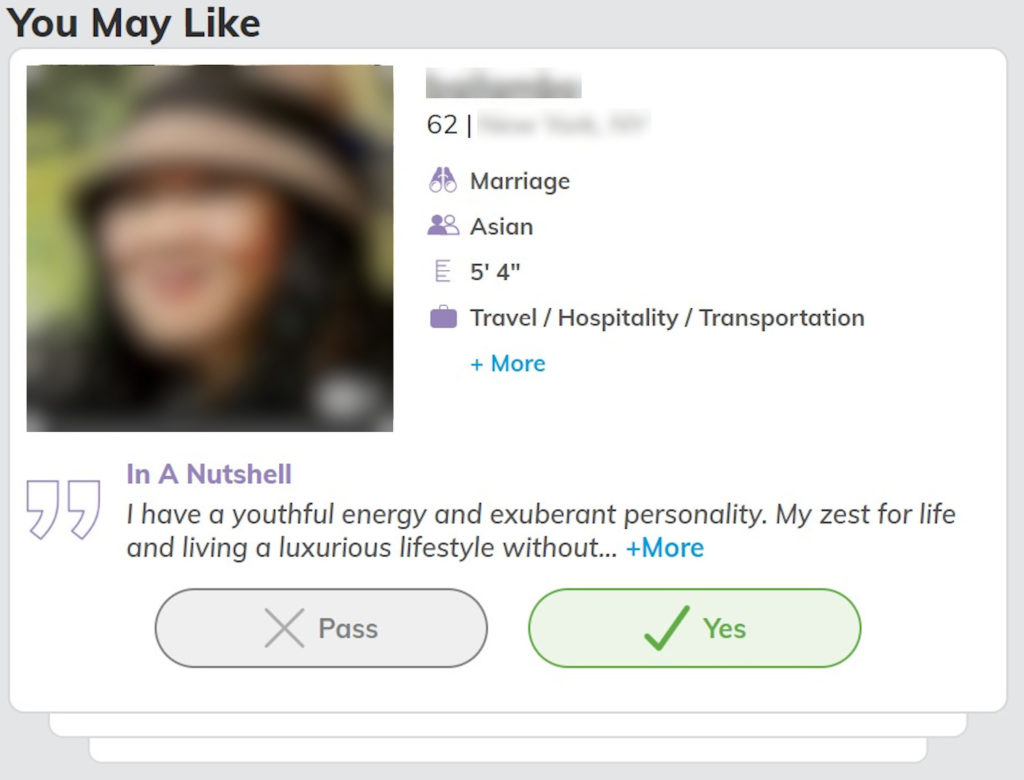 Connections
Isn't it better when you shoot your shot on someone who already showed you some interest? At OurTime, you may do so by visiting your Connections tab. Under this tab, you may check out who viewed your profile and favorited it. You may also see who sent you a flirt and liked your photo.
Events
The Events section is a curated list of exciting activities within your vicinity. Ranging from wine tastings, classes, and the likes, these Events are perfect venues for some precious me-time or a first date.
Notify Me, Promote Me, Match Me
As their names suggest, these paid functions aim to give you the upper hand at OurTime. The "Promote Me" function puts your profile at the top of the search results. "Match Me" places your profile on a member's daily matches list. "Notify Me" alerts you whenever the member you're keeping an eye out is back online.
Sure, signing up and customizing your profile at OurTime are free functions. But if you're in it for some real results, shelling out some money seems to be the way.
Costs
Unlike other dating services that packaged all their functions in one subscription plan, OurTime has several. You can opt for a monthly plan or purchase some tokens to get your flirt on.
The monthly plans cover 1 and 6 months only and entitle the subscriber to full access to OurTime's messaging functions.
Other features such as "Promote Me" and "Gifts" will require a certain amount of tokens. Another unique feature, the Profile Boost, is available to purchase for either 1, 5, or 10 boosts.
Making use of tokens instead of integrating the other functions into the plan is a somewhat flexible move. Some members may not want the added attention, or may get confused with the many features; thus, making these add-ons options are helpful.
To avail of a premium plan or any of the add-ons, members may pay via credit card or PayPal. If they installed the app, they can also purchase through the App Store or Google Play.

Like most dating sites, OurTime automatically renews subscriptions for the member's ease. If a member wants to stop their premium membership, canceling the auto-renew is the first step. To do so, visit the "Settings" and access "My Account."
For members using OurTime via the mobile app, they should cancel their subscriptions and auto-renewal via Google Play or the App Store.
App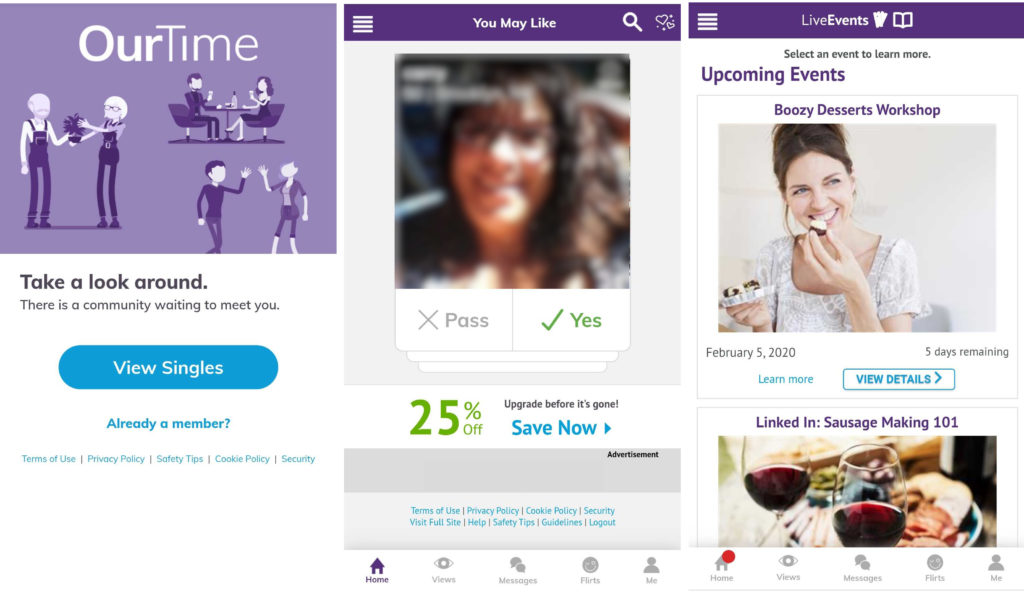 OurTime launched a free-to-download mobile app available for Android and iOS users alike. During our research, we discovered that in terms of preference, mobile and desktop viewing are neck-in-neck.
Like its web counterpart, the mobile app is considerate of its target demographic. It sports a neat and simple design that is easy to navigate regardless of age and tech-savviness.
The functionalities that desktop users enjoy are also accessible via the mobile app. Even better, senior users can sign up and purchase a subscription or token directly through the app.
Overall, the mobile counterpart of OurTime is a reliable alternative for seniors who'd like to date even while on the go.
Experience Reports
Fingers crossed I'm an exception, but I haven't interacted with a promising woman since I subscribed to a premium plan. It's a good thing I only signed up for the one month plan; if this expires and I won't make it out on a date, then I guess OurTime was nothing but a sham.

Mick, Retired Fireman, 65
Its lonely to grow old without a family of my own. So I used dating sites to search, and the women of OurTime also seem to be looking for someone committed, so I signed up. Not only did I meet a beautiful woman here; her kids and grandkids made me the happiest man.

Victor, Banker, 55
Conclusion
OurTime creates a safe space where silver-haired singles looking for companionship and love can freely interact and date. With a lot of communication features, a simple design, and tens of millions of registered members, OurTime seems to be an excellent place to start your search for the one. Ready to fall in love all over again? Click on our affiliate link and sign-up at OurTime now!
Frequently Asked Questions
Facts
Is OurTime a legitimate dating site?
Yes, OurTime is one of the biggest senior dating sites globally.
Who owns OurTime?
People Media owns and operates OurTime.
How do I contact the support team of OurTime?
Contact the support team through:
Address: PO Box 12627 Dallas, TX 75225-0627
Telephone: (866) 727-8920
Is OurTime the same with SeniorPeopleMeet?
SeniorPeopleMeet and SeniorMeet were once independent senior dating sites managed by People Media. Since it caters to the same demographic, People Media merged the two sites with OurTime.
Payment
Is OurTime free?
Most of the communication functions are only available for paying OurTime members.
How do I cancel my OurTime membership?
To cancel your membership, go to "Settings" and click "My Account" from the drop-down menu. Click the "Account Status" to access the "View Account Status" link. From here, select "More Account Status Changes" and click "Remove Automatic Renewal." Once your subscription expires, you'll no longer be a premium member of OurTime.
How much is a month at OurTime?
A one-month subscription at OurTime is priced at US$31.96 or US$7.99 per week.
Why is my OurTime account still free when I already upgraded to premium?
Please check with your financial institutions if they've already wired the payment. If you mailed the payment, note that it takes up to 10 business days before the company receives it.
Usability
How do I hide my OurTime profile?
To hide your profile, visit "Settings" and click "My Account." Under "Account Status," select "View Account Status," then "More Account Status Changes." The "Hide My Profile" link will be available here.
How do I delete my OurTime profile?
To delete your profile, head over to the "More Account Status Changes" link and select "Remove My Profile." Follow the additional instructions to confirm your decision.
How can I delete a photo from my OurTime profile?
Go to "Settings" and click "My Photos" from the drop-down menu. Under the photo you want to remove, click "Delete" and select "yes" once the confirmation window pops up.
What's the difference between chat and message at OurTime?
Both are paid messaging functions, but the Chat is only available if the member you are about to contact is also online. If they are offline, you can use the Message to get in touch.
Can a non-paying member contact a paying member at OurTime?
The only time a non-paying member can reply for free is when the premium member messaged them first.
Security
How do I block a member at OurTime?
Go to the member's profile and click the "Block" icon.
How do I report a member at OurTime?
Visit the member's profile and click on the "Report a Concern" icon. Supply the details needed for a swift investigation.