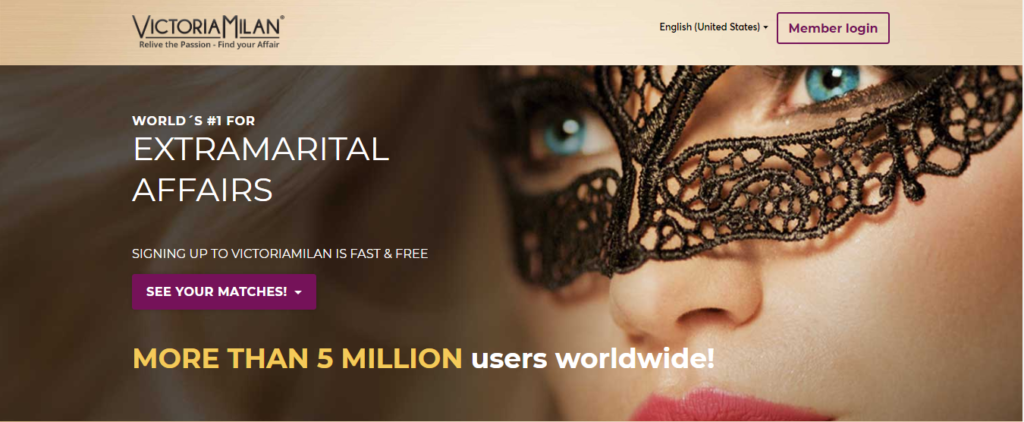 Victoria Milan is an extramarital dating website where members have anonymous identities. Members of this site don't usually aim to have serious long-term relationships. Nonetheless, single members who are or are not involved with others are also welcome to register to the site.
Data shows that it has more than 6 million registered users worldwide with most members coming from the USA. Around 60% of the site's total population are males and most of them belong to the 25-34 years old age group.
Victoria Milan promises to be a safe haven for members who are already married or committed but still want to engage in sexual encounters with other people. That is why it offers a unique feature called "anonymous blur tool," where members can blur their faces on their profile photos. This is to prevent others from recognizing them and causing any trouble.
Victoria Milan might not have a traditional and widely acceptable concept, but that can also be the reason while people get hooked to it. As everybody knows and supported by studies, people are naturally inclined to defy social norms and morality.
Are you willing to take the risk with Victoria Milan? Read more of our in-depth review and learn about its pros and cons, functions, and costs.
Sign Up Process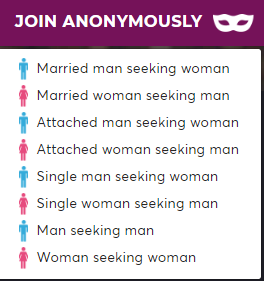 Signing up for Victoria Milan is not as complicated as it seems. You will remain anonymous to all other members. However, it will still require you to provide information about yourself upon registration.
The homepage will let you choose the set-up that you want as you can see on the image on the left.
You will have to answer a series of one question per page about your location, height, weight, looks, body type, the color of your eyes and hair, and birthday.
The next two steps will ask you to provide your email address and your preferred password respectively. Note that a password should contain at least one letter, one number, and have at least six characters.
Once you've set-up your login credentials, you will be asked to provide your first name or code name. It's up to you if you prefer to be extra anonymous.
Accept the terms of use and privacy policy then you will be notified that a verification message was sent to your email. Just click on the link and you will be redirected to your profile.
A pop-up window will show up and give you the option to upload a profile photo. You can skip this part if ever you are not comfortable posting it on the site (yet).
The last part of the registration process is connected to the site's Honesty Policy, where members provide their answers to your real intention of joining the site, three things which turn you on, education, salary, work and wealth, drinking and smoking habits, and sex drive. You may opt not to answer some of the questions.
Victoria Milan Profile
A member's profile in Victoria Milan is quite detailed.
There are tons of information where you can know more about your anonymous date. As ironic as it sounds, Victoria Milan members are very open about themselves, aside from their real identity.
Name and photos are the only secrets here. Real names are no encouraged to be posted. As for the photos, a mask or a blurry tool is available for the members to use to keep them from being identified. Who would want to be caught anyway?
Learn more about the physical appearance of other members on their profile pages, as well as their background and lifestyle, interest, personality, turn-ons, and what they are looking for.
How to Make you Victoria Milan Profile Appealing
Have a Catchy Username
This is the first thing that your profile visitor will see on your page. Make sure that it's interesting. Something that can create curiosity. With that, you can show your witty side and how good you are with this kind of detail.
Complete your Victoria Milan Profile
Admit it, you yourself wouldn't appreciate checking out an empty profile. So start with yourself and provide if not all, most of the information about yourself.
Upload a Profile Photo
Photos are profile magnets. Make sure that your photo/s have good quality, sexy, but still classy. If someone will cheat it's common that he/she will do it with a person who is hot and good-looking.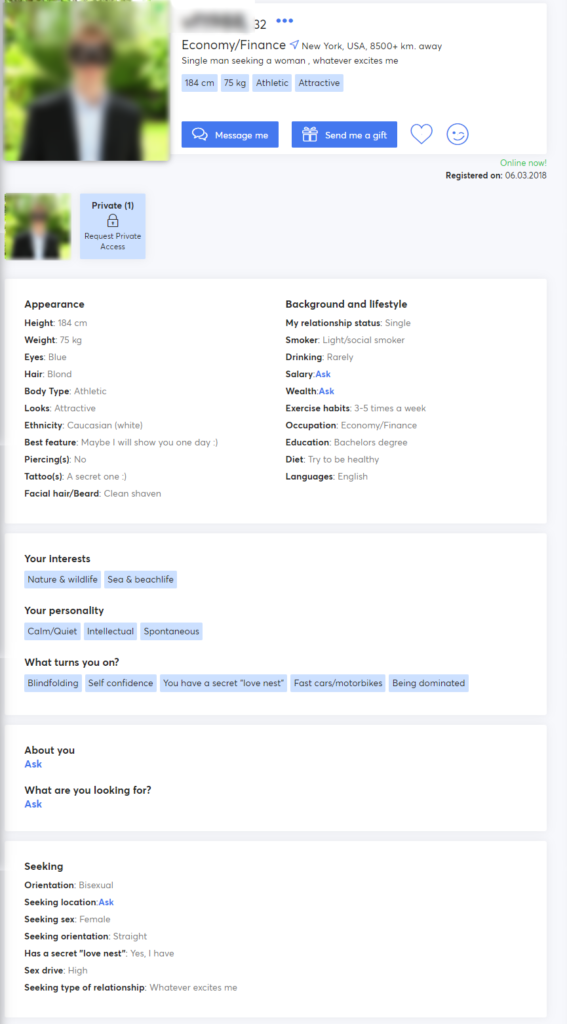 Messaging and Other Victoria Milan Functions
To contact other users via chat, Victoria Milan requires you to upgrade to premium. You also cannot view messages in your inbox with your free membership.
During testing, we have received several messages from other members. It can't be opened without the premium membership, but a notification will show on the conversation list.
There are also other ways to connect and interact with others on the site. Check them out below:
Wink
Get a member's attention by clicking on the "winking emoticon" on his or her profile. This feature is free and doesn't need a premium membership. On the other hand, you cannot view the list of members who winked at you, unless you upgrade.
Favorites
Keep track of members who you like by clicking on the heart icon on their profile. It adds their profiles to your favorites list. However, this feature is not free.
Gifts
This feature requires some credits. You can send a gift to another member by clicking on the "Send a Gift" button on a member's profile. Gifts cost around 20 credits to 50 credits depending on the kind that you choose. You can include your message that is no longer than 100 characters to keep it short and simple.
Basic and Advanced Searching
Basic searching requires you to filter your search by location, distance, age, and if they have a photo or not.
Advanced searching, on the other hand, allows you to extend the filters to the physical attributes, interests, and backgrounds of the members.
This feature can be used with free membership.
PANIC BUTTON
This feature is not for contacting. It actually is the opposite. When you click on the panic button, you will instantly disconnect with the site. You can use it for emergencies like when your partner comes over while you are on the site. This feature is exclusive for the website version.
Cost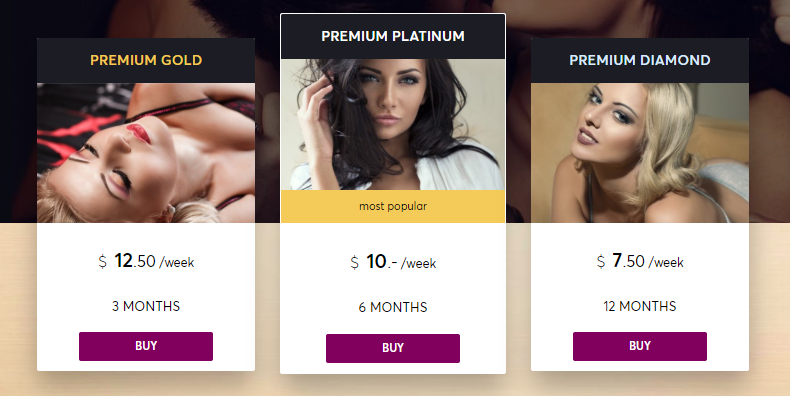 To fully enjoy the features of Victoria Milan, you can purchase their premium membership.
Premium Gold: USD 12.50/week for 3 months
Premium Platinum: USD 10/week for 6 months
Premium Diamond: USD 7.50/week for 12 months
Premium members can enjoy the features:
Send, read, and reply to messages.
View the complete profiles of other members.
Get a chance to request access to other members' private photos.
View your notifications (members who winked at you, sent you a gift, visited your profile, and your favorites list.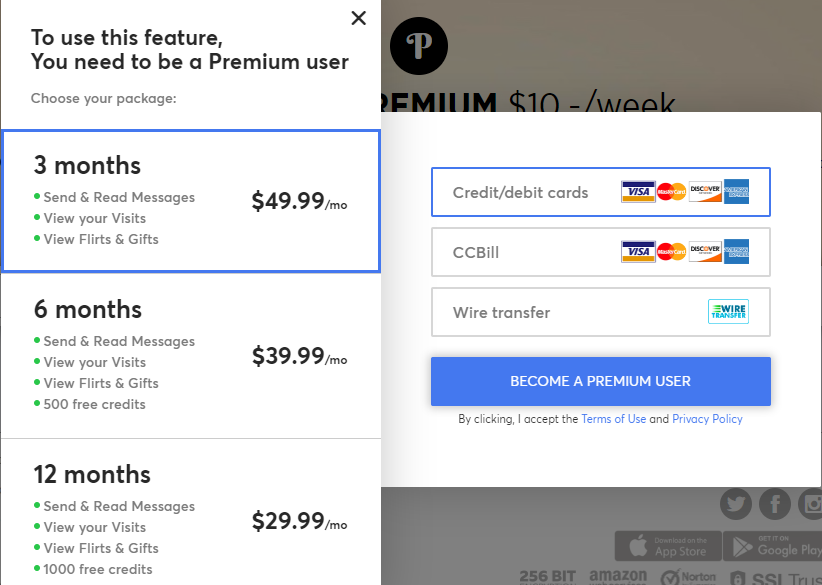 You also have the option for the membership packages shown in the photo above. Unlike Premium Gold, Premium Platinum, and Premium Diamond, these Premium Packages Cost are on a monthly basis.
3 months: USD 49.99/month or a total of USD 149.97 
6 months: USD 39.99/month or a total of USD 239.94
12 months: USD 29.99/month or a total of USD 358.8
The cost is relatively high which can be paid in three ways: credit card, CCBill, or wire transfer.
Membership is set to auto-renew, which you can edit on the payment settings. It also protects your identity by not sending a billing under the site's name.
Get free credits if you fully verify your account. You need to verify your mobile number plus either your google account or your windows account.
App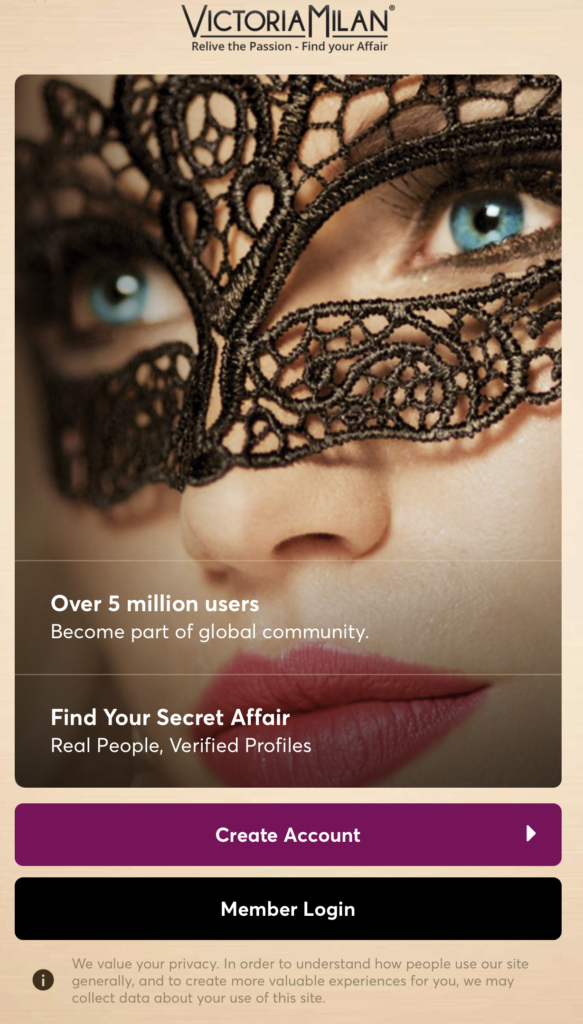 Victoria Milan has an app version that can be downloaded for free on the Apple Store and Google Play Store for free.
Data shows that almost 85% of registered members use the app version. This can be because of convenience especially when you are trying to communicate with another member, away from your partner, your home, and from your computer.
The app and the website version has almost the same features. However, they still have some differences like the "People Nearby" which is only available on the app. Aside from that, the two platforms are fairly the same in terms of design (colors and aesthetic sense), and functionality.
Like the site version, the app is secured with 256-bit encryption, Amazon Web Services, and SSL Trust which keeps your data and your identity anonymous.
You can easily send a message to the customer service team using the icon like a speech bubble. However, you cannot guarantee a fast response especially when it's beyond working office hours.
Lastly, unlike the site, there is no "Panic Button" on the app. It can be a little risky to get caught if you are not careful enough when you use the app.
I never thought of getting involved in something like this but Victoria Milan added some fun to my boring married life. –Anton, 34
I came across this app on my phone's app store. Curiousity let me download it and register. At first it was just nothing, but then I met this guy. I feel guilty most of the time for my real partner, but I guess my secret is safe with Victoria Milan. I've been seeing this guy for almost a year now and my partner doens't have any hint about it. –Veronica, 30
I was shocked to learn that this kind of app exist. I tried it anyway. So far, I haven't meant anyone of my type. Maybe because I kind of feeling guilty about it. -Mica, 24
Conclusion
Victoria Milan is not your typical dating site because it involves extramarital affairs and cheating with partners. However, it is not a platform to judge the members who sign up for it, that's why anonymity is their top priority. As for the site itself, it is quite appealing to its members although you have a price to pay to enjoy its features. If you want to spice up your life and feel the rush that comes with this kind of set-up, there's no reason that you shouldn't try Victoria Milan. Sign up now and experience what this site really has to offer.
Frequently Asked Questions
Facts
What is Victoria Milan?
The site is a casual dating website mainly for married individuals and those in a committed relationship who are up for meeting other people and engage in sexual activities with them.
Who operates Victoria Milan?
Digisec Media Limited is the company behind Victoria Milan. They are based in 33 34, Regent House, Bissazza Street, Sliema, Malta, SLM 1640. For any concerns, members can email them at [email protected].
What is the "panic" button in Victoria Milan?
The panic button is a feature where members can easily disconnect with the site for emergency purposes.
What does "private key" unlock in Victoria Milan?
This feature allows a member to ask another member to share his/her private photos.
Is there a Victoria Milan app?
Yes, you may download the app from the Apple App Store or the Google Play Store.
What is the anonymizer tool?
This tool lets Victoria Milan members hide their identity by editing their photos with a blurring tool or a mask.
Usability
How can I fully verify my Victoria Milan account?
Fully verify your account by confirming your mobile number together with your Google or Microsoft Account.
How can I contact other Victoria Milan members?
You need to be a Premium member before you can contact other users. Once you've upgraded, you have the option to chat, send a wink, add to favorites, and ask for private photo access from another member.
Can I block another Victoria Milan member?
Yes. Just click on "Block a Member" option on the member's profile. He/she will not be able to search or communicate with you.
Is there a limit for messaging other members?
Victoria Milan limits sending messages to up to 20 members per day.
Payments and Security
What are the payment options for Victoria Milan Premium Membership?
There are three ways to pay for a premium membership: credit card, CCbill, or wire transfer.
Is Victoria Milan membership in auto-renew mode?
Yes, it is. You may change this by going to the settings and clicking on "My membership." Choose "Membership Expires on" and cancel "recurring."
Am I going to be billed monthly?
Victoria Milan shows a monthly and weekly pricelist, but it will bill you for a lump sum amount of the package that you choose.
Does Victoria Milan store my payment details?
No, Victoria Milan doesn't store any payment details including credit card credentials.