When chains and whips excite you, then an alternative lifestyle might just be for you. Check out the BDSM dating lifestyle offered to you by Alt.com.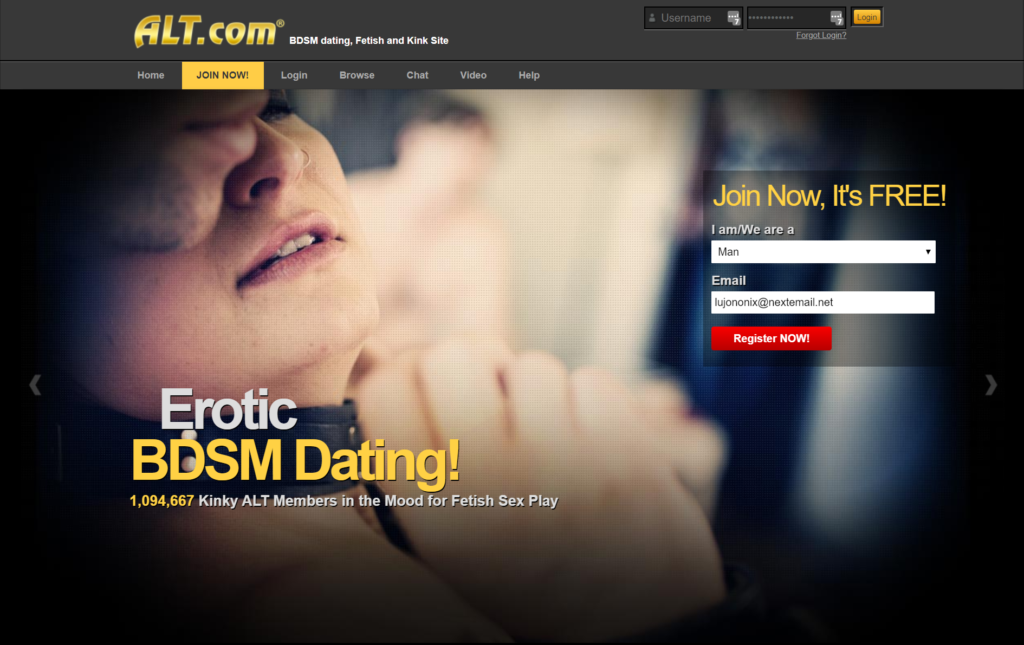 For someone who is interested in alternative dating arrangements, partnerships, and sexual encounters, Alt.com may just be the casual dating site for them. The site intends to connect like-minded individuals who share the same fetish and kinks uncommon to the populace.
Alt.com claims to offer everything that anyone could wish for in an "active online fetish, BDSM, and bondage lifestyle community." As with other online dating sites, Alt.com requires its members to create an account and subscribe to its paid membership to enjoy the site's full features.
Plenty of Fish in the Sea
Alt.com boasts over a million active users on the site. On average, there are nearly 15,000 online members daily whom you can reach out to connect and interact with all around the world. In the US alone, there are approximately 650,000 members on the site.
If you're someone who's exploring and still discovering your sexuality, kinks, and fetishes, Alt.com is open to individuals like you. Newbies and curious are welcome to join the site for an alternative dating experience.
Kinky Members' Demographics
Anyone can join the site–by anyone, it means anyone. It doesn't matter if you're single or in a relationship looking for someone in the opposite sex or same-sex. You are free to join and create your account on the site.
It's unclear how many couples share one account, but the majority of its members are males who are in their mid-20's to late 30's. And the majority of Alt.com's members are from the United States, Canada, and some parts of Europe like the United Kingdom and Germany.
Since the majority of the members are millennials, it's not surprising that they access the site through their mobile devices. The site's
Join and Explore the Community
Alt.com has been around for quite some time and it's one of the go-to sites for individuals who are looking to fulfill their sexual fantasies and engage in their kinks. If you are willing to sift through the free accounts, you might just find your perfect match.
So if you think that this site is for you, pay Alt.com a visit, sign-up and explore the possibilities of finding someone that matches your preferences.
Sign-up Process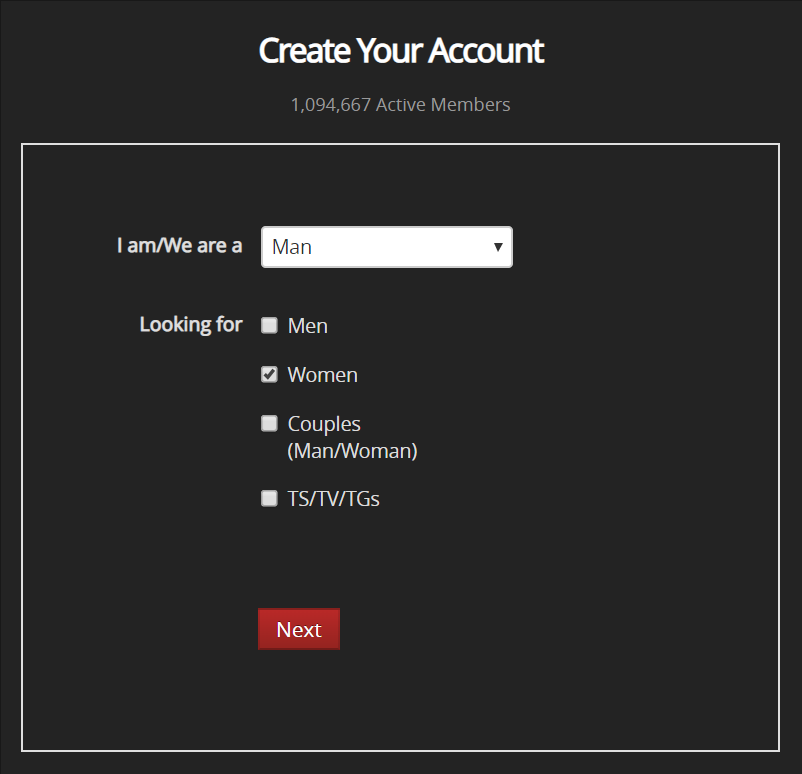 ---
Quick and easy registration
Free account creation
May open a couple's account
Open to LGBTQ relationships
Requires verification email
---
If you are interested in Bondage, Dominance, Sadism, and Masochism (BDSM), then Alt.com is for you. The application for membership on the site is free. All you have to do is go to Alt.com's website and fill out the registration form.
On the website's landing page, you only need to disclose if you are a man, woman, a couple, group, or if you are a transsexual, transvestite and transgendered. You will also be asked to provide your email for verification.
After this, you will need to provide a little more information about you. This part of the process you will need to provide your sexual orientation, body type, race, marital status, and your role in your sexual kinks.
The last part of the process is to provide the required short intro title and a little something about yourself. Tick the small box that you agree to the terms and privacy policy of the site, click on agree and you're done. Your account is already created. However, you will be required to confirm the email Alt.com sent to you so that you can start browsing the site.
Profile Information
---
Requires paid membership to gain access to profiles
Detailed profile information
Can be edited at a later time
Control over information shown
Limited number of photo upload
---
If you're someone who is private and would like to share as little information about yourself as possible, then you'd be glad to know that at Alt.com, you can be as open or as discreet as you want to be. You are given the option to share information up to the level you're comfortable sharing. It's all up to you on how much information about yourself you'd want to share with other members.
However, it is advised that you have a detailed profile on Alt.com. You can also share stuff about you that you think would attract the attention of other members of the site. You don't need to finish your profile in one sitting, you can get back to it next time and complete it at your own pace. Remember, a fully accomplished profile gets more likes and attention from other members.
Most information found on the members' profiles were those provided during the registration process. Your sexual orientation, body type, race, marital status, and your role in your sexual kinks will be displayed on your profile but you can also opt to change your privacy settings.
Changing Profile Information
To edit or add more details, simply go to your profile page and click on the pencil icon. You need not fill in all the details in the information field since some of them are optional. Some of the information in the information field can be a bit personal. For instance, for male members, they are asked to provide their endowment length and width and his circumcision information.
In relation to the site's niche, members are also asked about their BDSM roles and experiences. So you can be new or just curious about BDSM and the other members will not judge you for it.
Profile Viewing
On your profile, you can also control the information that you can view–nice (safe for work content), some nudity, or everything (unfiltered content). The same works for other members if they want to limit "strong parental guidance" content that they can view while browsing the site.
Please note, though, that viewing of members' full profile requires paid membership to the site. Hovering your mouse or tapping on the profile picture of another member will show an in-set window that contains an overview of that member's profile. Clicking on it will redirect you to Alt.com's subscription page.
Contacting and Special Features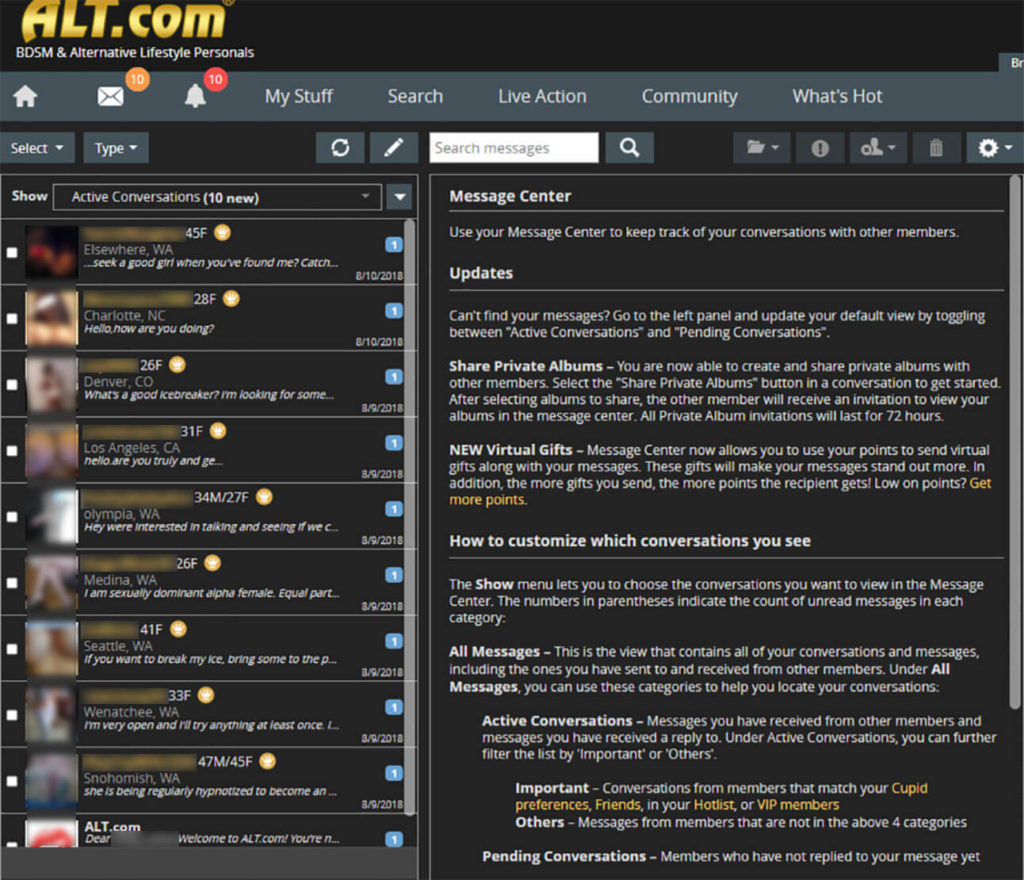 ---
Have several communication features
Requires paid membership to read and send messages
Can search for nearby members
Add members to hotlist
Sends icebreaker messages to others on your behalf
---
Communication tools are the most important features of any dating site. It's the most basic provision that dating sites must offer its members so that they can connect with each other. However, like any other dating site, Alt.com has also monetized these features so that they can continue serving their members. But for those who do are on the fence of getting a paid subscription, there are free services that they can use on the site.
Messaging Features
Alt.com has messaging features that they offer to their paying members such as adult chatrooms and instant messenger. Only those subscribed to either gold or silver membership package can access these features and send messages to other members.
Live Video
Some members host a live video for other members. You can get access to these videos by checking the online members who are streaming their videos.
Share Private Album
You can invite other members to view your private photo albums by using the "Share Private Albums" button and indicate which member you're giving access to. Invitation to view private photos lasts for 72 hours only.
Virtual Gifts
This feature allows you to send a fun "gift" to other members using your points. You may send these virtual gifts while you're watching a BDSM video chat or when you're chatting with another person from the site. These gifts will appear in your message center.
Search
The search function is free and basic information is used to narrow down the members shown to you. The same data during the registration will be used to filter for your preference or type. Nearby search is also an added filter so you can meet people you have mutual interests with.
Cupid Reports
This is a curated list of new matches for you. You may use this feature to find potential matches and sex partners. It's fast and easy and ensures that you match with new members on the site.
Costs
As mentioned earlier in this review, Alt.com has built-in features for its members to enjoy. In order to gain full access to these features, you will need to subscribe to their paid membership.
Paid Membership Options
Alt.com's paid membership offers two membership packages for its members to choose from. These offerings give you options on which subscription fits you best. Below are the membership packages available as well as their corresponding inclusions.
Gold Package
View and contact members
Top results in search
First to contact new members
Full access to members' recorded video intros
Full access to blogs, groups, and magazine features
24/7 Phone Support
Access to extra large photos
Access to ICQ, AIM, YIM & MSN ID's of members in your network
Silver Package
View and contact members
Show up after Gold members in searches
Contact new members
Access to members' live and recorded video intros
Partial access to blogs, groups, and magazine features
24/7 Phone Support
Subscription Add-Ons
Aside from their paid membership packages, Alt.com also have other offerings to their members in order to fully maximize their experience on the site. Some of these paid features are:
Standard Contact
The standard contact feature is an add-on to your Gold or Silver package. Purchasing this add-on gets you unlimited access to all members. This means that free members are allowed to see your full profile and send you messages and chats anytime. Note that this feature is an add-on and would require you to purchase on top of your paid membership subscription.
12 months – $8.32 / month. Billed at $99.90
3 months – $11.97 / month. Billed at $35.90
1 month – $19.90 / month. Billed at $19.90
Highlight Listings
Although your Gold or Silver shows your profile on top of the search results, the highlight listings feature takes it up a notch even further. Makes you stand out in search results and emails
3 months – $8.30 / month. Billed at $24.90
1 month – $9.90 / month. Billed at $9.90
Full Access to BDSM Movies
Alt.com also offers its members BDSM Movies. In order to get full access these movies, you will need to subscribe to it. With your subscription, you will get unlimited access to it, no streaming limits, and no per-minute charges.
3 months – $9.97 / month . Billed at $29.90
1 month – $14.90 / month . Billed at $14.90
Points
If you want to send a virtual gift to another member, you can use your points. These are earned by purchasing them on the site.
200 points – $3.00
500 points – $6.00
1000 points – $10.00
Payment Options
You can pay your subscription and add-on purchases through the following payment options:
Credit Card
Electronic Check (ACH)
Credit Card by Mail/fax
Check/Money Order
Mobile App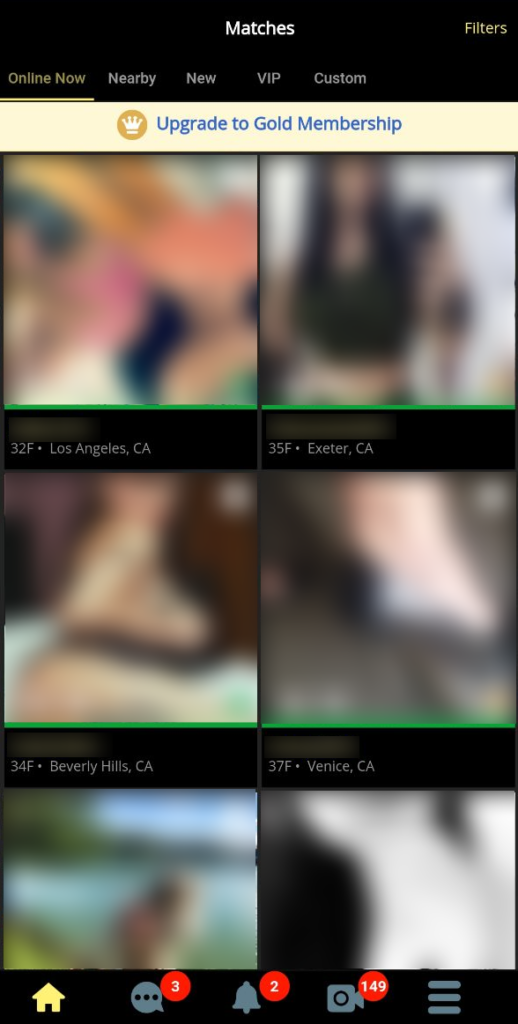 ---
Available only on iPhone
Access to mobile website
Website features are present on the site
Uses another network to sign-in on the mobile website
Great mobile website experience
---
In terms of the availability of a mobile app, Alt.com is only offered to iOS users. There is no available app yet for Android users but they can opt to access the site through its mobile web version.
Most of the members of the site access it through mobile phones since most of Alt.com's features are also included in the site. It is also mobile-optimized for convenient user experience on the site.
Access to site features are all the same as well as the limitations that were put in place. You won't be able to use its messaging and chat options nor view profiles unless subscribed to its paid membership.
Although advertised to have a mobile app for iOS users, it does not have a standalone app. As an affiliate of the FriendFinder Network, you may download its app and log in using a pre-determined email ([email protected]). Using this app allows you to connect to more people but it doesn't mean that they will also have the same interest in alternative dating.
Experience Report
My experience on the site was amazing. This was my introduction to BDSM and I quite like where it took me. I liked how the members that I met here were very supportive and respectful of my comfort level. To be honest, I almost gave up on it since the lay-out and design of the website was really bad. It wasn't pleasing to the eyes and there's just a lot of things going on in there. I got to meet other members and it turned out great.

Trina, 28, Hostess
I found the site to be full of fake people and didn't get to meet anyone nor was I able to talk to someone. I was willing to pay for a subscription, but I thought it wasn't worth my time. There were three similar profiles that I encountered. Those were from the same woman—different photos, but the intro and other information were all the same. I reported it to the site but I don't think they made any actions against the poser. Maybe if I did pay for a subscription, I might have had a different experience.

James, 34, Aviation Mechanic
For over 4 months that I was on the site, I only spoke with one woman despite getting over several messages from different people. I knew only one was not fake because she was the only one who read my profile and used my name when she sent me a message and I specifically put that in my intro. It would've been all right to have just talked to one girl, but I wasn't interested in her. Maybe next time I'll subscribe again when there are more girls in my area.

Derek, 36, Nurse
Conclusion
If your sex life has been in a slump lately, and you want to do something new, maybe it's time that you take matters into your own hands. Alt.com is catered not only for adults who are experienced in BDSM and other kinks and fetishes but also to those who are newbies and curious about it. You should try this one out. The site offers adult dating adventures that are not usual for most people.
Though a bit pricey compared to other dating sites, Alt.com offers its members a variety of features including phone customer support and detailed profile for paying members. It also offers the same security features as other BDSM sites. For added security, they cross-check photos and personal data to ensure that profiles are true identities of its members.
So if you are interested in alternative dating and other kinks, sign-up at Alt.com and discover all other daters who are into the same hot sexy stuff as you are.
FAQ
Facts
What is Alt.com?
Alt.com is an online dating site for individuals who are looking for like-minded people who share the same interests in alternative dating and BDSM.
Who owns Alt.com?
Alt.com is a member of the FriendFinder Network. It is being run by the company Athelstan Enterprise B.V. and it's located at Hoogoorddreef 15, 1101 BA, Amsterdam, the Netherlands.
Where can I talk to Alt.com?
These are the phone number you can call: 1-855-776-8436 | 1-855-794-2242 | 1-855-820-6213 | 1-866-266-0961
How to delete Alt.com account?
Before deleting your profile, make sure that you have turned off auto-renewal to any existing subscription.
You may permanently delete your profile by logging in to Alt.com, go to "My Account" at the top of your page. Click on "Delete Account" in the "Account" tab and then choose "Permanently Delete My Entire Account." Follow succeeding instructions on the site. After confirming your account deletion, it will be automatically deleted and removed from the site.
Payment
How much does it cost to create an Alt.com account?
Account creation at Alt.com is free but to fully maximize the site's offerings, you need to have a paid membership subscription. It has different packages and add-ons to fit your lifestyle.
Where can I view my billing history?
Click on to "My Account" and choose Billing History and Credit Card Info. You'll be directed to a page that shows your billing information.
Is there a discreet payment option available?
Your payment on the site is will be discreetly billed as FFNHelp.com*FRIENDF.
Safety and Security
Is Alt.com a legitimate site?
Alt.com strictly adheres to Friend Finders Network Inc.'s privacy policy. Safety, security, and privacy are the top priority. They have 24/7 phone support for all members who may encounter any issues on the site. Check out the site's privacy policy to know more.
Is Alt.com worth it?
In terms of pricing, it's a bit on the expensive side and you have to sift and filter through members to meet your match. But Try it out to see if it's worth your time.
What do I do if there are users who violated the Terms of Use?
Alt.com does not tolerate behaviors that violate the Terms of Use. You may report violators (i.e. spam, fraud, abuse, and solicitation) to their team.
Membership
What is the difference between being a standard member and a premium member?
If you have a free account, you are considered to be a standard member. Paying members with either Gold or Silver package subscriptions are considered as premium members.
Do free members have access to customer support?
Yes. Alt.com has customer support for all of its members but only those with a paid membership can access its 24/7 phone support.
Why can't I receive messages from other members even if I have paid membership?
Unless you purchased the Standard Contact add-on to your paid membership, you won't be able to receive messages from members if they have a standard or free account. So check your billing history for your current subscriptions.
Usability
How can I improve the visibility of my Alt.com profile?
Gold or Silver package subscribers will appear first on the search list of other members. However, to further improve your profile's visibility, you can subscribe to Alt.com's Highlighted Listings in addition to
Can I change my username on Alt.com?
Yes, you may change your username on the site. Simply go to your "My Account", click on "Change Username" and add a new username and check its availability. Note that a fee for $19.95 for change of username.
Is there an Alt.com app for android?
Alt.com has no standalone app for either iOS or Android. What it has is an affiliation with Friend Finder Network which allows you to access its iOS app and register using your Alt.com member credentials.