Through trial and error, you will eventually end up finding the right one for you — this is the philosophy behind Zoosk and its famous behavioral matching system that reads and collects its members' actions inside the site to provide better match recommendations every time.
Zoosk claims to have figured out the technology to bring you the person who will fit your personality in every way. Most people go to Zoosk for the purpose of providing better matches than their competitors in the online matchmaking arena.
While some people try out Zoosk because of its very general nature, its reputation gravitates towards building serious relationships and dates that are open to blossoming into something long-term. It offers a variety of features to make this possible.
The site is dominated by males, but only with a few points at 57% compared to females, so the opposite sex can surely find a match easily. While the site accepts members whose gender preference is of the same sex, you will mostly find straight singles on the site.
You will find the majority of the members living in the United States in terms of location. There is also a high concentration of members living in Canada, the UK, and Australia. Nevertheless, Zoosk has memberships across all continents.
Sign Up Process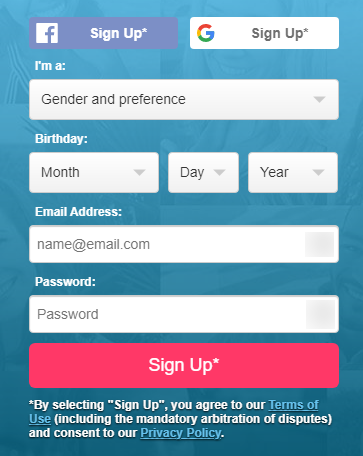 ---
Registration is a quick process
Skip adding a profile photo is allowed
You may sign up using your Facebook or Google account
Email verification is required
Disclosing your location is required
---
Creating an account with Zoosk is a quick and easy process. What made the registration so much easier is basic information it requires. You need to fill out a short personal information form that will ask for your gender and gender preference, birthday, email address, and location.
After accomplishing the form, Zoosk will send you an email that contains an activation link. You need to click on that link to finish the registration. However, your account will have communication limits unless you provide a verified phone number.
Profile
---
Profiles are well-detailed
You may connect your Facebook and Twitter accounts to Zoosk
Upload photos for free
Change your profile information anytime
You may add a personal essay on your profile
---
Zoosk has pretty informative profiles. It is easy to get a quick overview of a member's personality just by looking at their profiles.
Most profiles have straightforward information that is essential to provide better matching. Basic information such as their gender, height, ethnicity, body type, and relationship background are listed on the profile. You will also find the personal essay section a viable source of information as it is written in the own words of the member.
There are many photos inside a member's profile, however, there are instances where you will spot some obviously fake profiles on the site. These profiles are weeded through the joint effort of the community and the administrators. It is easy to report a suspicious profile and the administrators are responsive when it comes to these reports.
There is also a way to strengthen your profile credibility if you are new on the site. You may enhance your profile credibility by connecting your Facebook and Twitter accounts.
Contacting Functions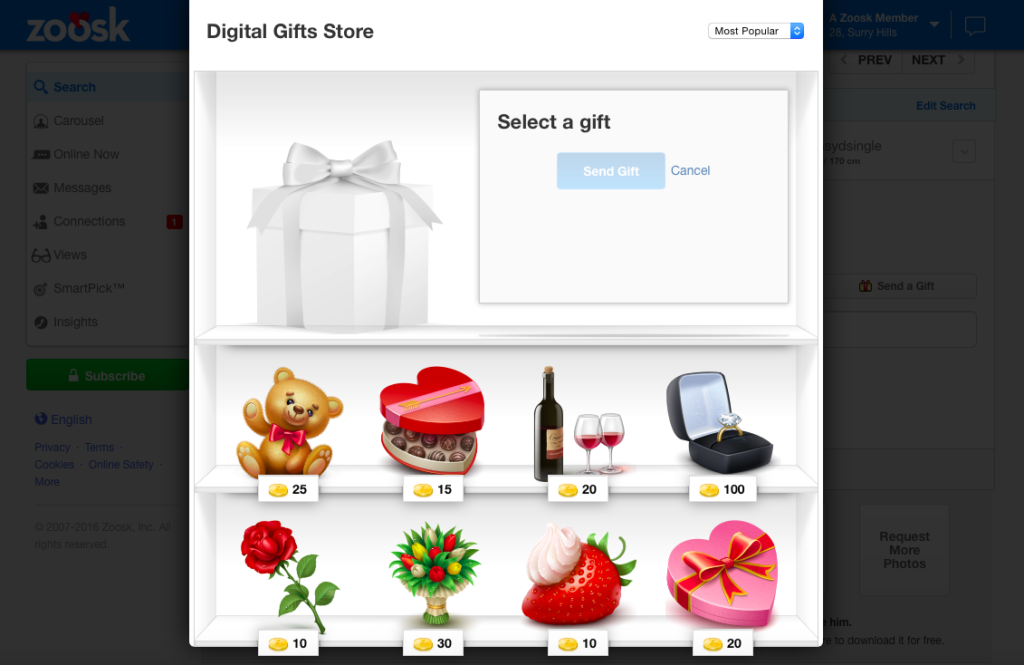 ---
Sending unlimited messages is a premium feature
Hearts and smiles can be sent for free
You can send virtual gifts to other members
There is a public chat room
"SmartPick" feature shows your matches based on your behavior
---
To get in touch with other members better, upgrading your account to premium will definitely help out. It can be a challenge to get a member to notice you with limited features allowed to non-paying accounts.
As a free member, you can browse profiles for free and send out feelers in the form of hearts and smiles, but no more than that.
Here are some of the contacting features that Zoosk offers to its members:
Carousel
This is one of the two kinds of matchmaking features that Zoosk offers. Profile suggestions are shown to you and will ask you to decide whether you want them or not.
SmartPick
This is the other kind of matchmaking feature being offered by Zoosk. SmartPick will show you matches that are based on your behavior on the site—the profiles you view, your search queries, and the profiles you send smiles and hearts to.
Dating Insights
Zoosk will provide you a detailed report or an insight into your dating behavior on the site. Some of the information found on these reports are about who you like, who likes you, and your dating style.
Boost
You can enhance the visibility of your profile to more people by using this contacting feature. Get noticed by other Zoosk members and make even more connections through this paid feature.
Zoosk Costs
The Zoosk subscription is classified into three membership plans according to the duration of time. You can choose to be billed monthly, quarterly, or half-yearly.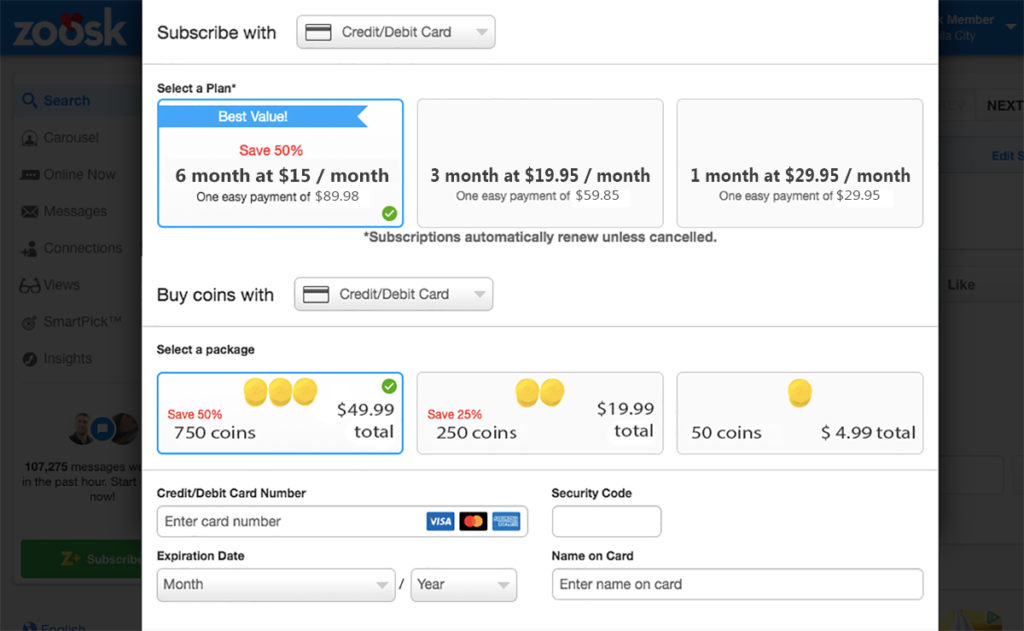 On top of the monthly subscription, Zoosk has a one-time activation fee of USD 24.95.
Upgrading to premium will give you full access to the site. You can send unlimited messages and see the full list of your profiles.
Aside from the regular premium plan, you can also buy coins to use as currency for getting virtual gifts and other services inside the site. A pro-tip: if you are not yet sure whether to get that premium, you can load up on coins in the meantime which gives you enough, although limited, access to Zoosk's paid features.
You can get coins for the following price:
4.99 USD for 50 coins
19.99 USD for 250 coins
49.99 USD for 750 coins
App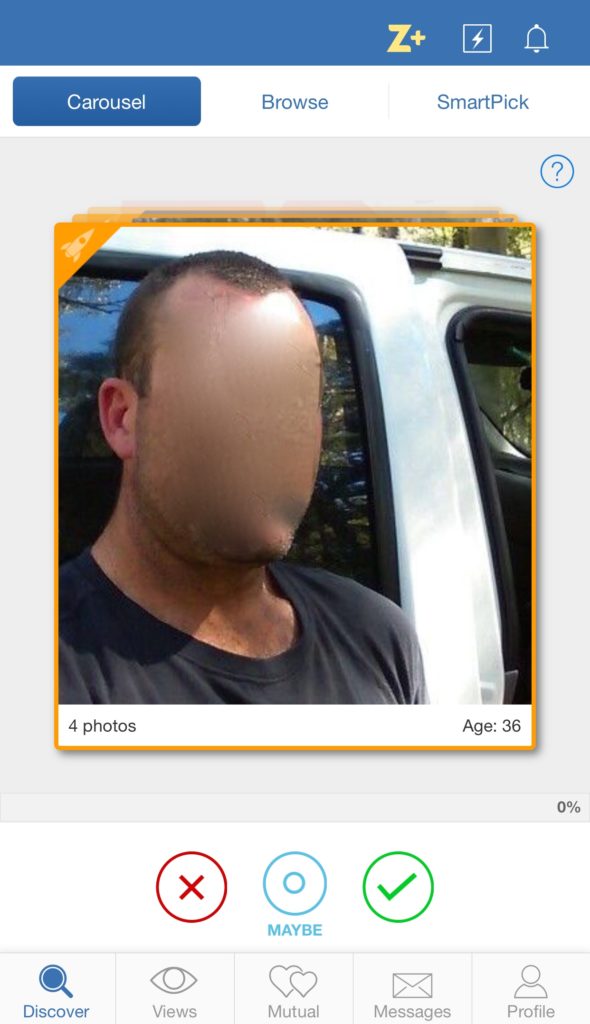 ---
You may download the app for free
The App is available for iOS and Android devices
You may create an account using the app
Features are similar on the desktop and the app version
App design is better for communication features
---
Zoosk has a fully-functioning mobile app that you can download for free whether you are an iOS or Android device user. The app's features are exactly similar to the website's, but using the communication features such as messaging is more convenient on the app.
You may notice a few ads that pop up on the app here and there that may disrupt your activity, but they can easily be closed down. If you get the premium subscription, however, these ads will totally disappear.
Experience Reports
I have met a few people on the site and they seem serious about finding a relationship, but all I found so far were close friends. Personally, I think it is better that way because the search for the one makes it even more exciting. I am just glad that Zoosk worked out for me.

Leonard, 28, Nurse
I just know that without having Zoosk in my life, I would still be single today. True enough, I met my boyfriend on the site. He asked to go out on a dinner date and I said yes. We hit it off naturally and decided to get serious after a few more meetings.

Cheska, 32, Teacher
Conclusion
Zoosk is a fairly good dating site if you are looking to find the other pea that will fit your pod. Its strength lies in its unique matching systems that no other dating site or app in its category has. You can also have a feel of the premium services through the use of coins, before jumping to a premium account. Are you ready to find your ultimate match? Sign up to Zoosk now!
Frequently Asked Questions
Facts
What is Zoosk?
Zoosk is an online dating service that helps singles find their match.
How does Zoosk work?
Zoosk works by matching its members based on their collected behavior and data on the site.
Is Zoosk legit?
Yes. Zoosk is a matchmaking dating site and app that has been around for years.
How do I contact Zoosk customer support?
You may contact Zoosk's customer support through [email protected]
How do I reach Zoosk by mail?
You may send Zoosk a post through this address:
989 Market Street, San Francisco, CA, 94103 USA
What is the phone number of Zoosk?
So far, Zoosk only offers customer support for any type of queries.
What company owns Zoosk?
It is owned by Zoosk, Inc. and is based in San Francisco, California, USA.
Cost
Is Zoosk free?
It has a combination of free and paid features for its members. Creating an account is free though.
How much does Zoosk cost?
The premium subscription is classified into three membership plans according to the duration of time. You can choose to be billed monthly, quarterly, or half-yearly.
How to delete Zoosk account?
Go to your Account Settings from the drop-down menu and edit your Account Status. Select Deactivate and confirm your choice by selecting Deactivate Account.
Usability
What does the heart mean on Zoosk?
The heart button found on profile pages is for sending "likes" for free.
How does Zoosk work?
It works by matching its members based on the members' behaviors and information on the site.
How to cancel Zoosk?
Go to your Account Settings from the drop-down menu and edit your Account Status. Select Deactivate and confirm your choice by selecting Deactivate Account.
What is Zoosk's Dating Insights?
Dating Insights is a report of all your dating interactions and behavior in the dating site.
Security
Is using Zoosk safe?
As with other dating sites, users are expected to keep wary of fraudulent users and scamming.
How do I report and block an abusive user?
You can report and/or block an abusive user by clicking the Report/Block button found on his or her profile.