Whether it's realizing your sexual fantasies or exploring and owning up to your carnal needs, No Strings Attached offers a piece of everything for everyone. Are you ready to play with fire?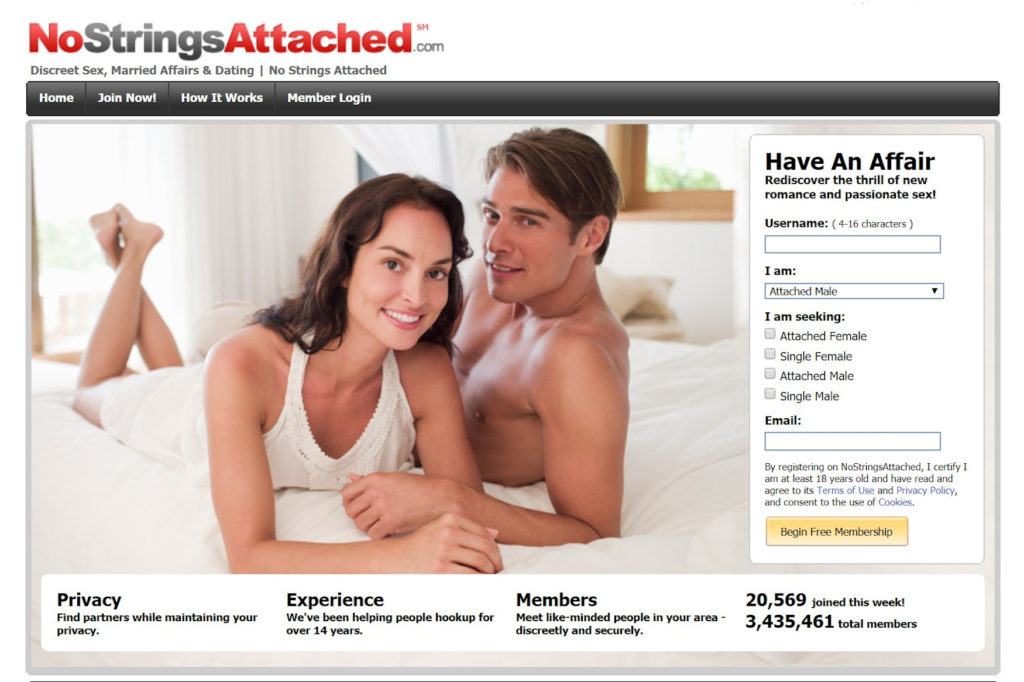 Owning and living up to your sexual fantasies are often recipes for disaster. But not if, and only if, you and your partner were discreet.
At No Strings Attached, unadulterated and adulterous sexual encounters take front and center. In this adult dating site, unattached or unfaithful members get to fulfill their carnal cravings or play with fire.
It is one of the many dating sites operated by Various Inc., and like its sister sites, No Strings Attached offers no muss, no fuss just discreet and direct to the point service.
Member Profile
And it seems like users appreciate this kind of service. The website has a user base of over three million globally.
When we say globally, we mean that the adult dating site is active all over the world; the United States, the United Kingdom, Canada, Germany, France, Belgium, Costa Rica, and India are among the top users of this adult dating site.
In terms of sex, males users greatly outnumber the females. However, this demographic does not take into account the number of live models broadcasting at No Strings Attached.
Most of the members are young. The majority belongs to the 25-34 age range, but users who are 18-24 are not far along. The more mature audience, 35 years old and up, seems to be moderately enjoying this website as well.
For what is basically a cheating site, No Strings Attached amassed an impressive user count. This count can only mean that there's something about this website that gets the wants and desires of its intended audience. But what is that something?
When unsure, we do one thing: check. We thoroughly investigated every cost and feature of No Strings Attached. Should you sign up, or should you hold on to your money tight? Read on to find out.
Sign-up Process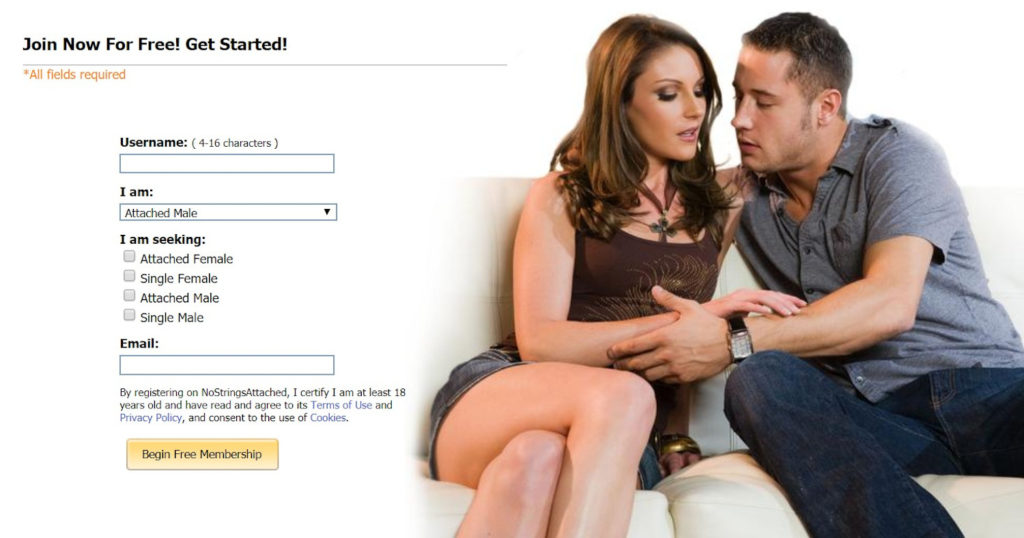 ---
Registration takes up 3-5 minutes only
Email verification is a requirement
The website will generate the first-time password for you
---
As the website's name suggests, the registration process at No Strings Attached is as smooth and breezy as casual sex.
Although the website does not offer an alternative signup option, such as linking your Facebook or Google account, the entire process will only take up five minutes of your time, tops.
To register, input your preferred username and make sure it is four to 16 characters long. Then, select your orientation and status. No Strings Attached also welcomes members looking for discreet affairs, so you can be a single or attached male or female.
Tick the box that corresponds to your preference. Again, you can choose a male or female who's either unattached or in a committed relationship. Lastly, key in your preferred email and hit "Begin Free Membership."
Notice that the adult dating site did not ask you to nominate a password. As part of its security measure, the website will provide the first password for you. You have no choice but to verify your email since they will email the code to you.
After successfully registering, a member may opt to change and strengthen their password. In terms of profile customization, No Strings Attached won't oblige you to complete it after registration. What happens right after, though, is that you receive a list of potential matches you can check out.
Profile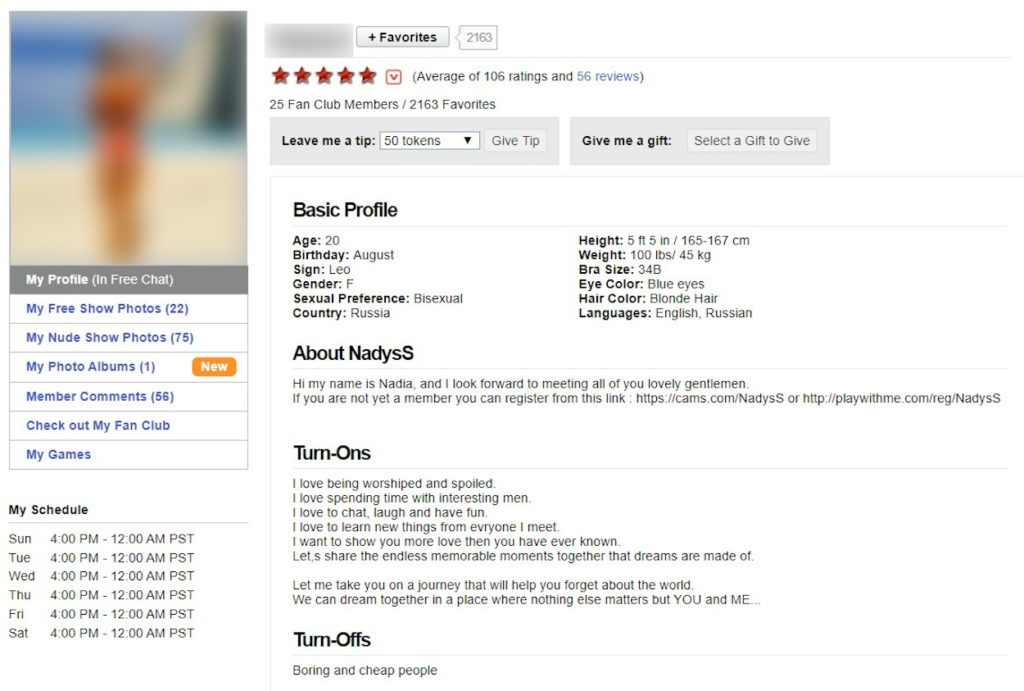 ---
Upgrade to a VIP Membership to view member profiles
Profiles of members and live cam models are detailed
Members can update their profile details for later
Add photos and videos to your profile
If linked, the profile will appear in other FriendFinder network sites
---
Since it advocates discreet affairs, only premium members can access the profiles at No Strings Attached. For standard users, the profiles you can browse are those of live cam models who are also an integral part of the adult dating site.
Aside from this limitation, the moderators at No Strings Attached also approve profiles and uploaded materials to ensure that all members follow the guidelines.
It may take the moderators anywhere from 24-72 hours to approve, so its best to customize your profiles as soon as you can. If you're not in a hurry, live cam models are aplenty at No Strings Attached.
Profiles typically include your username, location, physique, and lifestyle information such as your orientation, marital and parental status, education and occupation, vices, religion, and language. There are also separate tabs for photos and videos.
Since No Strings Attached is a Various Inc. offering, you can link your profile should you sign up (or are already a member) of a sister site.
Contacting Functions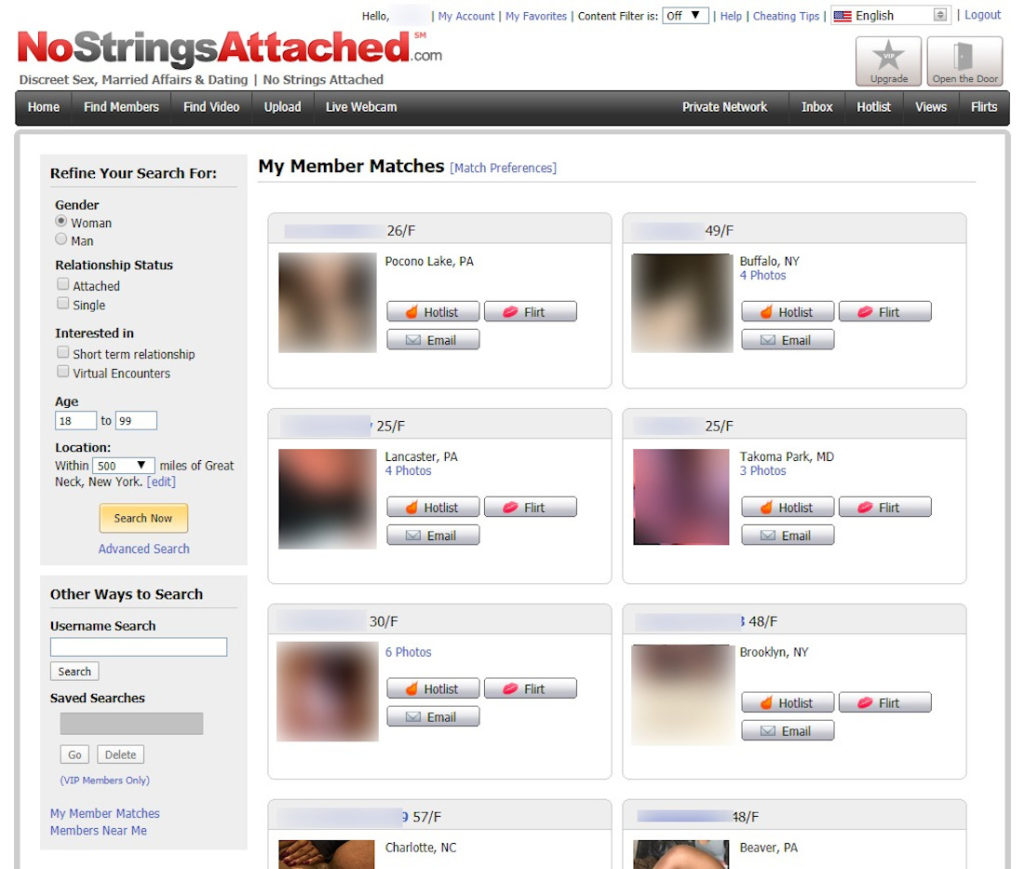 At No Strings Attached, there are plenty of ways to interact and satiate your carnal cravings.
Flirt
As the name suggests, send a Flirt for free to start the ball rolling. This action immediately notifies the receiver, so if the member is online, maybe you'll get some quick interaction.
Hotlist
Save hot members to your Hotlist. Once you're ready to interact one-on-one, look them up here, instead of racking your brains trying to remember their username.
Match Reports
Compiled according to your preference, a Match Report is a list of new members. No Strings Attached will email this periodically so you won't miss out on the chance to get to know new members who fit the bill.
Private Network
You can form close groups with other No Strings Attached members by creating a private network.
Friend Network
As mentioned, No Strings Attached is a part of Various Inc.'s vast array of dating sites. The Friend Network is a social networking community that connects you to members of No Strings Attached sister sites.
Email
Using the email function, you can exchange direct messages or plan meetups one-on-one. Take note that this is a paid feature; if you wish to chat with someone, you might as well consider upgrading your account.
Member Broadcast
You can also broadcast your amateur creations at No Strings Attached. Even better, you can interact with your viewers while broadcasting.
Live Webcam
If you'd rather interact with professionals, No Strings Attached is home to many live cam models. Models often do public broadcasts, but if you requested (and paid them accordingly), you can also enjoy their private shows.
There's quite a lot of features at No Strings Attached. However, you'll need to subscribe to a paid membership or even purchase additional tokens to enjoy and utilize these functions thoroughly.
Cost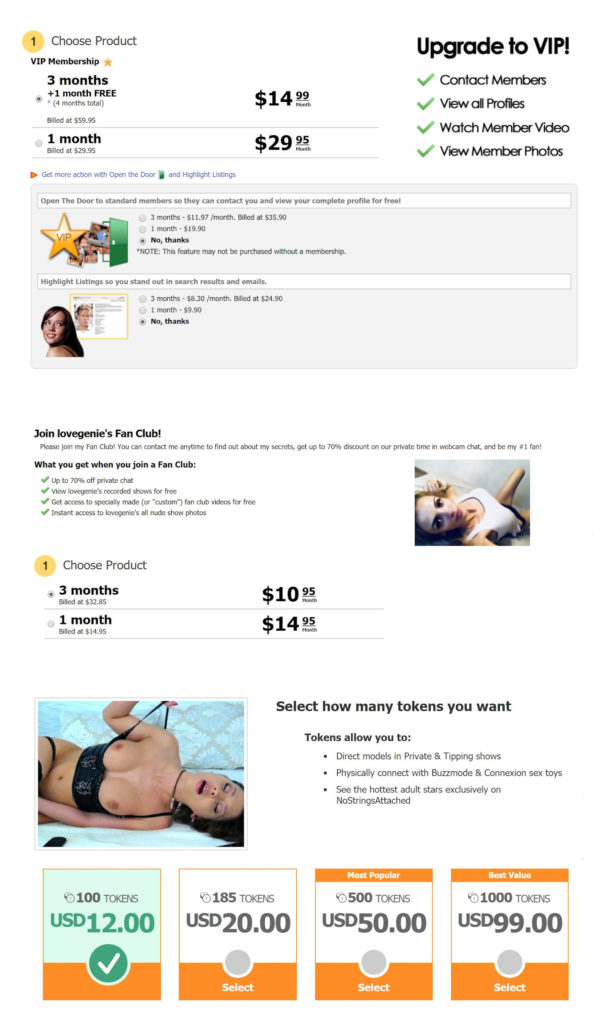 A VIP membership at No Strings Attached means a member has more access and opportunities to meet and hookup with other members. Paid membership covers one and three months and is payable via credit card or money order.
If paid via credit card, a member's privacy is protected as the purchase will reflect as 'FRIENDFINDER 4087021033.'
Although there are monthly plans in place, the website also offers some options which are billed separately.
Open the Door
Not all members subscribe to a premium account. So, if you want to interact with everyone, Open the Door is the function to purchase. It allows standard users to access your profile and reply to your messages.
Search Highlight
Be the center of attention with the Search Highlight function. You'll stand out in search results and email lists with this paid feature.
Fan Club
The website has a substantial amount of live models, and it's not impossible if you become a fan of one.
To make the most out of your fan experience, you can join the model's club and enjoy some perks. You're entitled to 70% off private chats, custom fan club videos, and access to the model's nudes and pre-recorded shows.
Tokens
Tokens are especially useful when interacting with live cam models. You can tip them and buy virtual gifts, for example.
Gender Change
When creating a profile, you are highly encouraged to check and double-check to see if all the details you inputted are correct. This extra step is because you can't easily change details once you're a member. Correcting your gender, for instance, will require a separate fee amounting to US$9.90 first.
The adult dating site also utilizes an auto-renewal function to ensure you enjoy the adult dating site without a pause. But in case you wanted to cancel, you can turn off the auto-renewal function in the "Settings."
Experience Reports
I was looking for some revenge sex, and this website was so aptly named: No Strings Attached. Yes, unattached sex was all I wanted! I met experienced men through this website, and I've never felt as worshipped and powerful—quite an experience.

S, 23, Barista
I wanted to interact with some of the members here, but I can't talk to one even with my VIP membership. It's almost as if the profiles were fake. The saving grace of No Strings Attached is the live models. Beautiful girls and exquisite shows.

R, 38, Chef
Conclusion
No Strings Attached is an adult dating site for unfaithful members. Aside from being a safe space that cultivates one's desire to fulfill their sexual fantasies, No Strings Attached is also home to several professional live cam models who host regular broadcasts. With an impressive user count and sexually-charged functions, No Strings Attached is a promising place to kick off your adulterous cravings. Ready to play with fire? Click on our affiliate link and sign-up at No Strings Attached now!
Frequently Asked Questions
Facts
Is No Strings Attached legitimate?
Yes, it is a legitimate website for members seeking to take part in discreet extramarital affairs.
Who owns No Strings Attached?
Various Inc. owns and operates the adult dating site.
What are the contact details of No Strings Attached?
Contact the website through:
Address: 910 E. Hamilton Ave. Suite 600, Campbell, CA. 95008
Telephone: 888-575-8383/ 408-702-1033
Fax: 408-745-5680
Are there live cam shows at No Strings Attached?
Yes, live cam models regularly do public and private broadcasts for their patrons.
Payment
Is No Strings Attached free?
Some functions are free to use, but the bulk of the interaction will only happen if you subscribe to a VIP membership or purchase tokens.
How do I cancel my No Strings Attached membership?
The first step to cancel your membership is to turn off the auto-renewal function. To do so, click the "My Account" link and go to the "Upgrade Account" section. Click the "Billing History & Credit Card Info link," the "Service Status." Finally, click "OFF" under "Auto Renew."
Why was my credit card denied while trying to pay for No Strings Attached membership?
There may be several factors to explain why your credit card was denied:
Insufficient credit limit
Card expiration
Billing address does not match the card statement
Cvv/cvv2 number is incomplete or incorrect
If it's none of the above, call and a representative will help you get to the bottom of things.
What alternative payment options are available at No Strings Attached?
You may send or cheque or a duly accomplished fax form to Various Inc.
Usability
How do I temporarily turn off my listing at No Strings Attached?
Select the "My Account" link and choose "Profile Availability" in the Account section. Select "Make my profile temporarily turned off" and click update to finalize.
Why was my profile denied at No Strings Attached?
Your profile may have violated any of the guidelines:
Your profile contained your personal contact information
Featured repetitive or invalid content
It included banned or inappropriate topics
The account username is inappropriate
You used offensive language
Why aren't more members listed in No Strings Attached Match Report?
Your preferences may be too restricting. To gather more members, do any or all of the following:
Increase the distance of your search
If you specified a country, verify it's the one in which you live.
Expand the Age Range
Use the "Check all" and "Uncheck all" links in a category
How do I remove my No Strings Attached profile?
Turn off your auto-renewal before attempting to permanently remove your profile. Once turned off, follow these steps:
Click on the "My Account" link
Select the "Change Profile Availability" link in the Manage Account section
Click "Permanently Delete My Entire Account"
Enter your password and hit "Yes, delete my account"
Security
If I forgot my No Strings Attached password/username, what can I do?
Visit the Help section and find this question: "If I forgot my password or username, what do I do?" The answer will include a password/username lookup form to help retrieve your account details.
How can I block a No Strings Attached member from emailing me?
Add the username of the member you want to block in the "Member Blocks." You can also block them by opening the message they sent and clicking "Block Member."
How do I report spam or solicitations that I received why using No Strings Attached?
For a swift investigation, please take note of the following details:
Username of the offender
Details of the situation
The actual email (full header) you were sent
Chat text (copy and paste)
Fill out the Report Member Abuse form and attach the aforementioned details.