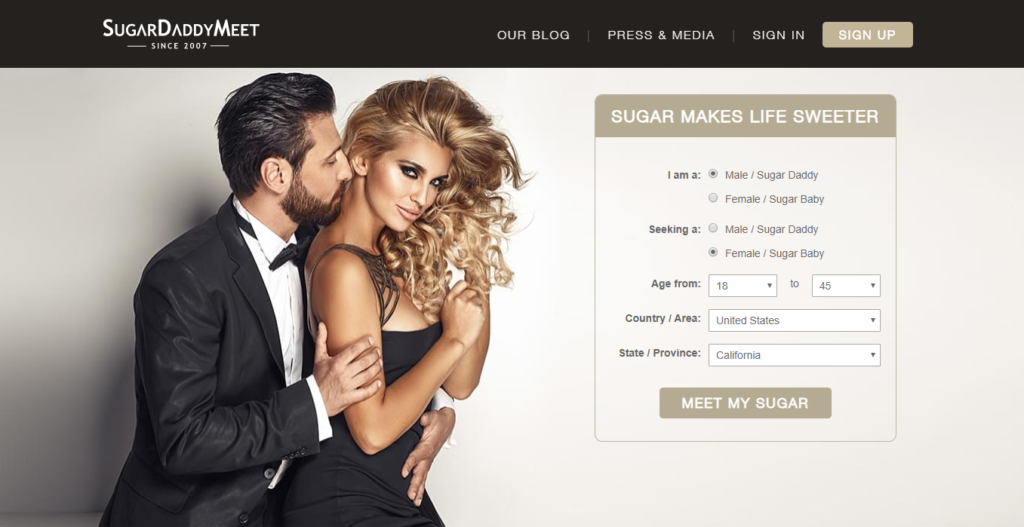 SugarDaddyMeet is a dating site that caters only to rich old men who are called the "Sugar Daddies," and beautiful young women called "Sugar Babies." It strongly emphasizes that it is NOT an escort service site since the relationships formed are not only for one night stands.
The site claims that it is just available to the top 20 richest countries in the world, considering that its concept revolves around its business model where the relationship of the members will be built from the money that can be provided by the sugar daddies to their sugar babies.
SugarDaddyMeet is not for members of the LGBTQ+ community looking for same-sex partnerships. It's strictly for straight members.
It is also not for young men looking for cougars to date. As the site's name implies, it's only for meeting SugarDaddies.
The number of active members, published on the website, has already reached more than 3 million, where almost 700,000 are sugar daddies, and around 2.5 million are sugar babies. With these figures, it is not hard to meet someone you will be interested with.
Aside from that, your profile can also be accessible to others who are members of other SuccessfulMatch sites. Is this good or not?
Read more below to learn more about the SugarDaddyMeet dating site.
Sign Up Process
Registration with SugarDaddyMeet is free. However, only older males (sugar daddies) and younger females (sugar babies) can join the site.
The first step of registration requires you to provide your gender, which automatically chooses who you are seeking for. You also need to enter your age range and location.
The next step is divided into three parts, namely: Create your Profile, Upload Photos, and About You and Your Match.
Create Your Profile: Adding to the initial information that you have provided, you need to type in your specific age, e-mail address, and mobile number (optional). You may also click on sign-up with the Facebook link if you prefer connecting your account to it.
Then, provide your first name, preferred username, and password.
Upload Photo: Choose a photo from your computer or phone to make your profile more appealing. It is also used for additional verification purposes.
About You and Your Match: At this point, you have to provide your location, annual income (for sugar daddies), height, body type, ethnicity, and relationship status. Add a short yet inviting profile headline and a paragraph about you and your match.
A verification message will then be sent to your email, and you have to enter the code within ten minutes after the message was sent to you. If you fail to receive the message or enter the code during the prescribed time, you can click on the "Resend Code" button to get another message.
SugarDaddyMeet Profile
A member's profile in SugarDaddyMeet can be as empty or as detailed as you would want it to be.
You have the prerogative to disclose most of the information that you are comfortable sharing. Those which you choose not to provide will have the "Ask Me" or "No Preference" text instead.
Most profiles are at least 75% complete, and most of them have additional public and private photos.
Aside from the basic information that you initially provided, you can add more about you and share interesting facts about yourself or other topics like your "First Date Ideas."
Your profile's activity will also be shown on your page. Members can like or comment on your new activities like uploading a new photo or updating any of your profile information.
Lastly, there's a comment section/tab where members can leave a public comment.
Aside from the information mentioned above, you can also find the links on how you can reach the member with the site's features like sending a message, winks, favorites, and other contacting features.
Messaging and Other SugarDaddyMeet Functions

If there are essential features that a dating site should have, it is the way/s on how members can connect and communicate. SugarDaddyMeet offers several ways; some are free, some are paid.
Send a Message: This feature is only for premium members. If you want to be direct, send a message right away. Find the message box on another member's profile or the messages tab, which you can find at the top of the page.
Comment: Leave your thoughts on another member's profile for free. However, it will be put under verification for around 24 hours before it gets posted.
Wink: Get other members' attention by sending them a wink for free. You are allowed to send up to 50 winks per day.
Like: You will find a heart icon at the upper-right part of a profile page. A notification will be sent to the member once another member clicked on "Like."
Add to Favorites: You can have a complete list of your favorite members by adding them as your favorite.
Propose First Date Gifts: A sugar daddy can propose a first date gift to a sugar baby to gauge what interests her. The sugar baby can accept or decline this offer.
SugarDaddyMeet Membership Cost

SugarDaddyMeet Premium Membership offers three kinds of packages where you can save up to 60% of the total cost:
1 month: USD 50.00 (at USD 1.50 per day)
3 months: USD 90.00 (at USD 1.00 per day or USD 30.00 per month)  
6 months: USD 144.00  (at USD 0.80 per day or USD 24.00 per month)   
Pay using your credit card, PayPal account, or Bank check or Money Order by postal mail. However, the site encourages its members to use credit cards or Paypal for faster transactions. All information is secured by 256 bit SSL to ensure that your data will be encrypted and transferred privately.
Your statement of account will show SuccessfulMatch, the company which manages the site, SugarDaddyMeet.
Only the 1-month package is set to auto-renew. You may cancel this feature by sending an email at [email protected], or contact their Customer Service Hotline at 1-416-628-1072 or 1-855-599-8811. You also have the option to stop it via the subscription page. The other packages can be renewed manually.
App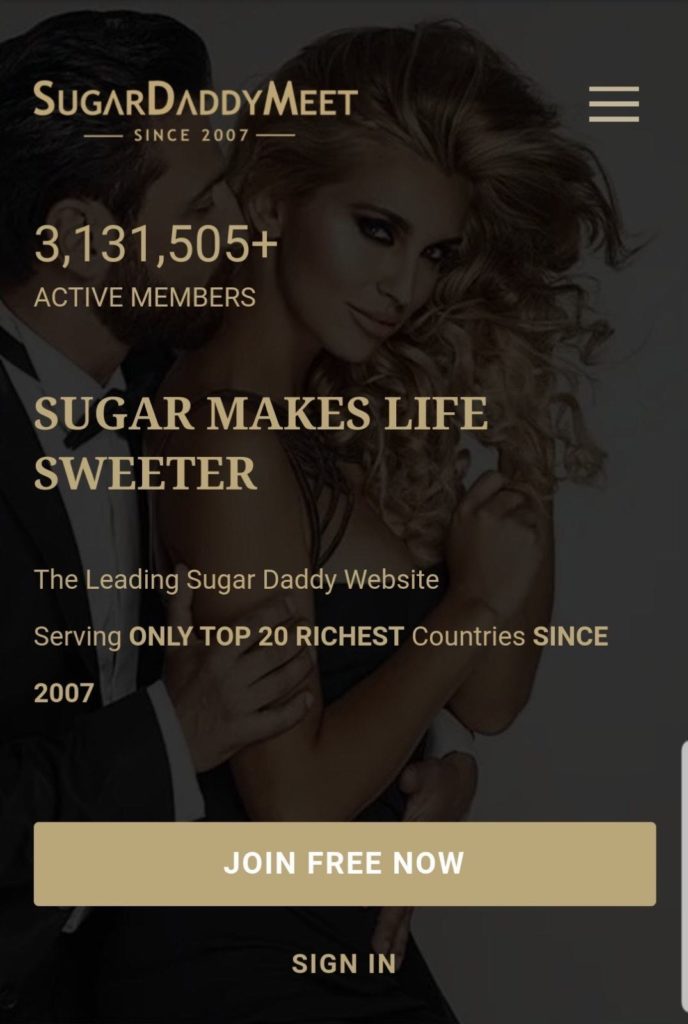 SugarDaddyMeet is available in the Google Play Store for Android devices. It cannot be found in the Apple Store, but you can use the optimized mobile version instead. Safari, Google Chrome, and Mozilla Firefox work properly with the site.
Most features are the same for both the website and the app/mobile version.
However, the app has a swipe feature just like the other dating site, Tinder. This feature lets you swipe to the right if you are interested in the shown member. You can swipe to the left if you don't.
Once you both liked each other, you will be notified of a match and you can start chatting with each other.
More than 75% of the total members of SugarDaddyMeet are using the app or mobile version. Using their phones makes it easier to communicate with other members, especially for those who are always on-the-go.
I started using SugarDaddyMeet when I was still a student. Met a few Sugar Daddies along the way, but now, I think I'm settling for with the last one I dated. We really enjoy our time we spend together. Our ages don't matter even a bit. -Kara, 29
SugarDaddyMeet gave me a new adventure in life. After I lost my wife, I thought I couldn't find another woman who I will take care of and vice-versa. Rica and I have been seeing each other for two years now. I couldn't be any happier.
–Manny, 57
Been using the app for quite some time now. I still can't find the one for me. I also met some fake profiles along the way. Now I am thinking, this thing don't really work. -Shayne, 24
Conclusion
SugarDaddyMeet, a member of the SucceefulMatch networks, is considered to be one of the most secure dating sites for Sugar Daddies and Sugar Babies. It has a thorough verification process, which makes members feel safer and sure about meeting their matches. You might still find some fake accounts; however, these accounts are those, who were not verified. To be safe from being scammed, make sure to only engage with verified members.
The site easily detects suspicious profiles, as observed during the testing. In less than 24 hours, the monitoring team has deactivated the fake profiles created by the testing team.
As for the Sugar Daddies and Babies, this site has become a reliable platform. The number of members keeps rising, which gives future members more matches.
Are you up to having a sweeter life? Sign up now and enjoy what sugar life can really offer.
Frequently Asked Questions
Facts
What is SugarDaddyMeet?
A dating site that caters to heterosexual sugar daddy-sugar baby relationships.
Who owns SugarDaddyMeet?
It is owned and operated by SuccessfulMatch.com. A network of dating sites popular all around the world.
What does the heart icon stand for in SugarDaddyMeet?
Heart icon stands for "Like." If you click on it, the member will see it on the profile activity.
What is the SPARK Feature of SugarDaddyMeet?
SPARK is where you can like a member's profile photo by swiping right and disliking it by swiping left.
Which has a greater number, sugar babies or sugar daddies?
There are more sugar babies than sugar daddies.
Usability
How can I send a message in SugarDaddyMeet?
There are two ways on how you can go to the messaging box. First is by going to the message tab at the top of the page. Another way is to go to the member's profile and type in your message on the message box.
How do I delete my SugarDaddyMeet account?
Delete your account by going to the Membership Settings page and clicking on "Delete Account."
How can I turn off SugarDaddyMeet membership auto-renew feature?
Go to your Subscription settings and change the button to "off."
How can I send a Wink?
Send a wink by clicking on the link on the SugarDaddyMeet member's profile.
How can I block another SugarDaddyMeet member?
Protect yourself from abusive members by clicking on the "Report" or "Block" options on that member support team so they can take action against that member.
Payment
Is SugarDaddyMeet free?
Not entirely. The site has free features; however, you need to upgrade to fully enjoy its functions such as messaging.
How can I pay for SugarDaddyMeet membership?
There are three ways: credit card, PayPal, and bank checks sent by mail.
Is SugarDaddyMeet membership set in auto-renew?
The monthly package is set to auto-renew. The 3-month and 6-month packages are not.
Does SugarDaddyMeet offer a discount?
Yes. Once in a while, a pop-up message which is only available for a limited time gives you the option to upgrade with a discount.
Does SugarDaddyMeet offer refunds?
Yes, but only for those with valid reasons. You may call their hotline or send the support team an email to request for a refund.